Promo codes allow you to provide students with discounts on priced courses, paths, or plans. In this article, we'll discuss how you can create and manage promo codes in the Promo Codes section of your Skilljar dashboard.
What are Promo Codes?
Promo codes give students a discount on your priced courses and are created within the Promo Codes section of your Skilljar dashboard. Promo codes can be sent directly to the student to manually input on the purchasing page, or you can send an offer Hyperlink from the promo code page, which will automatically apply this code for the student when they select it.
You can either create a single promo code or in bulk, which can cover just one course or multiple courses.
Before we learn how to create a promo code, there are a few important things to know:
Single promo codes and bulk promo codes are created in the same way.
Promo codes can apply to individual courses, course bundles, or domain access.
A promo code can be associated with a single course or many courses.
You can choose how many times a single promo code can be used.
You can also limit a promo code to one use per student.
Promo Codes can be open-ended or have an expiration date.
You can create your own custom codes or generate random codes.
If a promo code has an end date, it'll expire at 11.59 pm Pacific Time (PST/PDT). For example, the code is set to end on July 25th and will thus expire at 11.59 pm Pacific time on July 25th.
Create a New Promo Code
In your Skilljar dashboard, select the Promo Codes header on the left to open the Promo Codes page.


Select New Promo Code on the top right of the screen. You'll be brought to a new screen to select your options for your promo code(s).


Create a Pool name for your code(s). A pool collects all of your promo codes within a group. The pool name will not be shown to your students and is solely for your reference.




In the Offers section, select +Your Offers to expand and reveal the settings.




Select which courses, course bundles, or domains you would like the promo code to apply to from the list. You can choose one, many, or all of your courses.


Scroll down to the Codes section to enter your codes.

If you'd like to use randomly generated promo codes, select Generate random codes and type how many codes you would like in the Number of Codes box.
If you prefer to create your own codes, enter your custom codes in the text box. Put one code on each line and use lowercase letters, numbers, dashes, and underscores only.





In the Settings section, type the price that you want the promo code to be in the Promo price box (note: this is not a discount, it is the new price of the course when the promo code is used) OR indicate the percentage off you'd like the code to provide in the percent off box.




Enter the number of times the code can be used in the Number of uses box. If you don't want to add a limit to the code, select Unlimited. If you want each code to be used only one time by each student, select One Use Per Student.

Note: The number of uses is how many times the code can be used within a purchase. For example, if it's set to one, it can only be used on one item within a purchase, even if you're purchasing 10 items at that time. To use it on all 10 items, make sure to change the Number of uses box to 10.





Edit the start and end dates if you have an expiration date or a start date associated with your promotion.




Optional: You can remove student access to enrollments after the code pool date expires by selecting the Expire Content Access box. This means students will no longer be enrolled in the content associated with the code after the date has expired.




When you're finished, select Create to save.
You can now view your promo code on your master list available here. To edit the promo code settings, select the code under Pool name to open the settings page.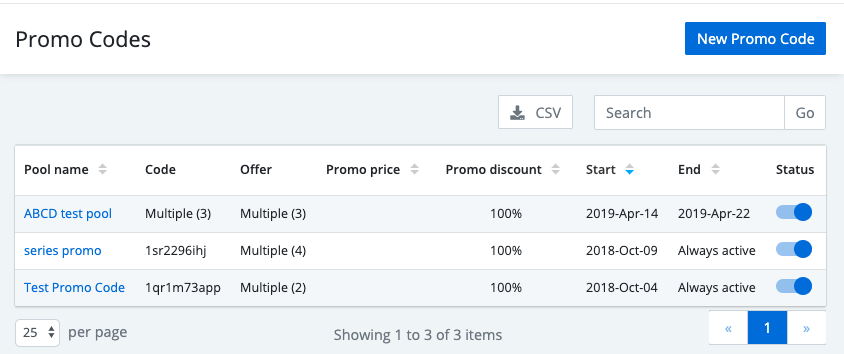 Add a Promo Code to a Course
You can add promo codes to a course directly from within your Skilljar dashboard on the Course Publishing page.
1. Select the Domains & Publishing header on the left and then Domains to open the Domains page.
2. Under Catalog Settings, select Published courses. You'll be taken to a page with a list of your published courses. Select the course you want to add the code to.


3. Scroll down to Purchase Settings. In the Promo Codes section, select Add This Course To One or More Promo Codes Pools to add the course to a promo code pool.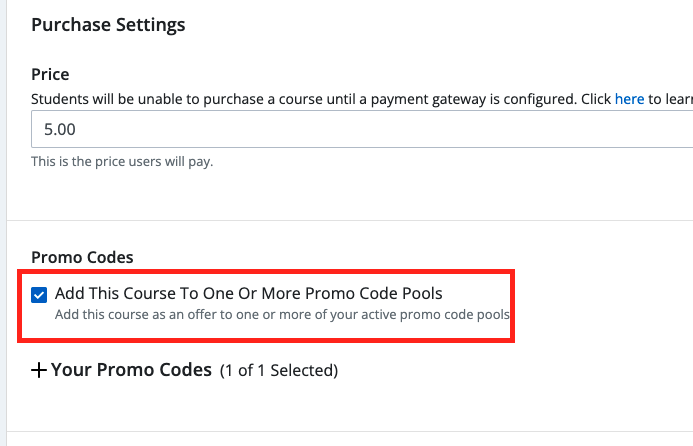 4. Select +Your Promo Codes to expand the options and see a full list of existing promo code pools available.


5. Select the promo code pool(s) you'd like to enable for your course.

6. When finished, scroll to the bottom of the page and select Save.
Using Promo Codes
Manually inputting codes
Individual Codes can be given to students to be entered directly on the Purchase page when they are purchasing your course(s). To use the code, students must enter it in the Promotion Code box and select Apply before they pay. It will then reflect in the Total.


Appending the Promo Code to a URL
The promo code can be appended to a web address (URL) linking students directly to a registration page where they only need to complete the purchase to register for the course.
The full URL can be found in your Skilljar dashboard's Promo Code and Promo Code Pool section: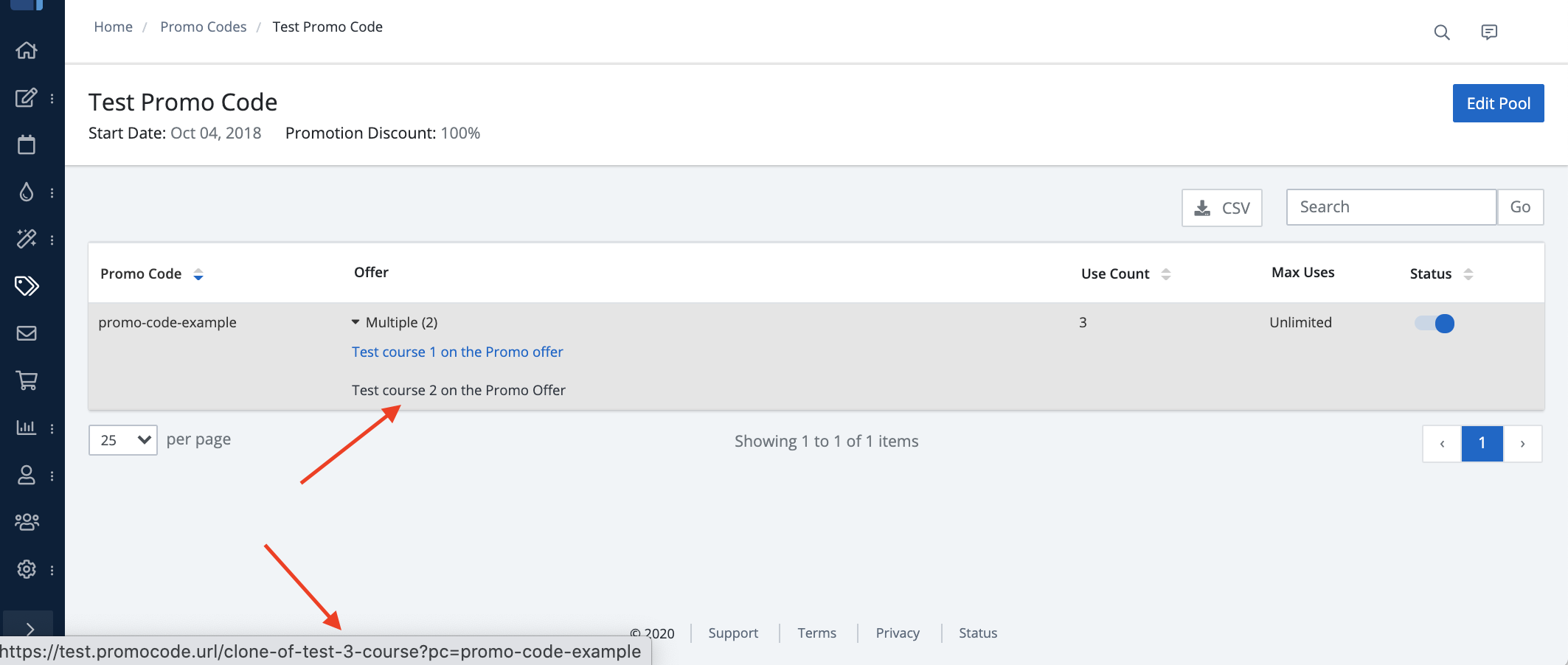 You'll see the URL linked under Offer. Copy the link address and give it to the student. This link address is all the student needs to follow to directly go to the purchasing page and register for the course at the Promo code discount without needing to add it to the Promotion Code box.
The promo code can also be manually added by appending ?pc=yourpromocodehere to the offer's URL.
Following this URL will bring you directly to the Detail Page and with the promo code automatically applied: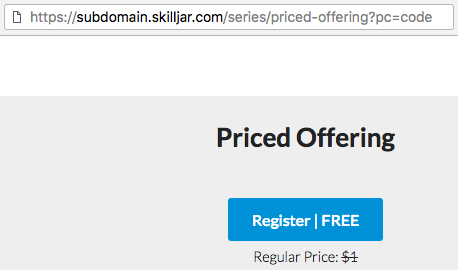 An auto-register link can also be pulled from this URL.