You can create and manage promo codes in the Promo Codes section of the dashboard. Promo codes allow you to provide students with discounts on priced courses.
Before we learn how to create a promo code, there are a few important things to know:
Bulk promo codes are now created in the same way as single promo codes.
Promo codes can apply to individual courses, course bundles or domain access.  
A promo code can be associated with a single course, or many courses.
You can choose how many times a single promo code can be used.
You can also opt to limit a promo code to one use per student.
Promo Codes can be open ended or have an expiration date.
You can create your own custom codes, or have random codes generated for you.
Creating a New Promo Code
Navigate to the Promo Codes section of the dashboard.


Select Add a new promo code on the top right of the screen. You'll be brought to a new screen to select your options for your promo code(s).


Create a Pool name for your code(s). This name will not be surfaced to your students and is solely for your reference.


Expand the menu under "+Your Offers" and select which courses, course bundles or domains you would like the promo code to apply to. You can choose one, many or all of your courses. 




If you'd like to use computer-generated promo codes, select "Generate random codes" and indicate how many codes you would like generated for you. If you prefer to create your own codes, enter your custom codes. Put one code on each line and use lowercase letters, numbers, dashes and underscores only. 




Type the price you want the promo code to activate in the Promo price box (note: this is not a discount, it is the new price of the course when the promo code is used) OR indicate the percentage off you'd like the code to provide. 




Define the number of times the code can be used. You can also opt to set no limit. If you want each code to be used one time by each student, select the "One use per student" box.




Edit the start and end dates if you have an expiration date or a start date associated with your promotion and Click Create to save your promo codes. 


You can now view your promo code on your master list available here.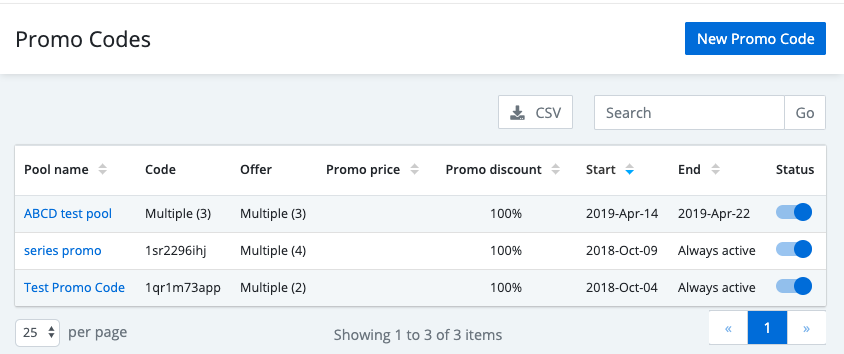 Adding a Promo Code to a Course
Admins can now add promo codes to a course directly from within the Course Publishing page.
1. After navigating to the Course Publishing page, find the Purchase Settings section
2. Under Purchase Settings>Promo Codes, select the checkbox to add the course to a promo code pool: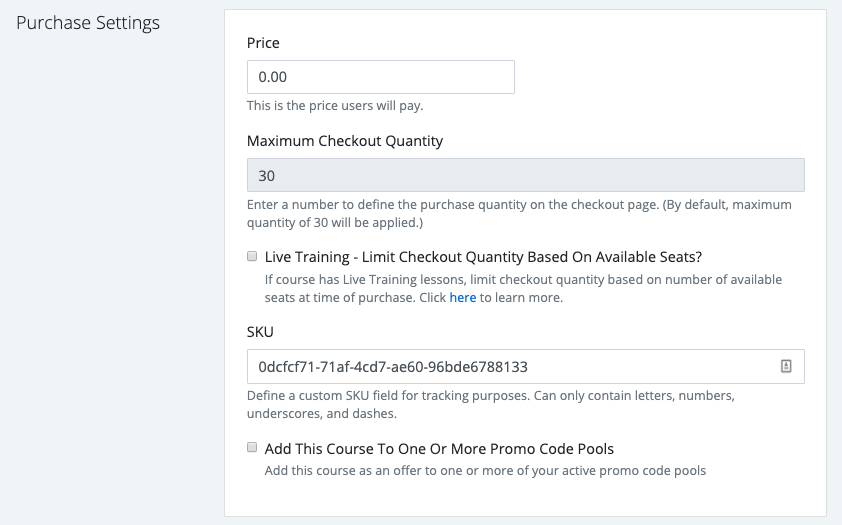 3. Once selected, expand Your Promo Codes to expose the full list of existing promo code pools available.
4. Select the promo code pool(s) you'd like to enable for the course in question, then select to Publish the course.