If you would like to set a specific period of time that a student can register for and access a course, this can be done in the publishing settings of a course.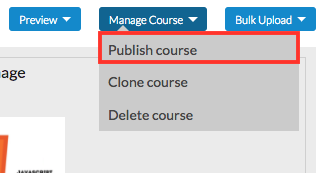 Once you have finished creating a course, select 'Publish Course' from the Manage Course dropdown on the Course Management page to go to the publishing settings page. Here you will see the Start and End Dates section:

By default, if these settings are left blank students will have unlimited time to register for and access this course. You can set this up in a couple of ways:
• Restricting Registration Period - The Start and End Dates correspond to registration periods for students. Starting on the specified Start Date and going through the End Date, students will be able to register for a course.
For example, if the dates are January 1st, 2018 through May 15th, 2018 a student will be able to register for a course on January 1st, 2018 at 12:00AM to May 15th, 2018 11:59PM. Once a student has been registered, they can access the course whenever they like, even past the registration period, unless you would like to restrict the access period.
• Restricting Access Period - If you would like to define and access period for a course, check the 'Restrict course access' box. This will set the dates as the time period in which a student can register for AND view the course. Once the End Date passes, they will no longer be able to complete their course.
If you include a Start Date and leave the End Date blank, the course will be open for registration and/or access indefinitely beginning on the Start Date.
Setting the timezone will define the exact time for Start and End dates (occurring at 12:00AM for each)

Once the course has been published, these settings will be reflected on the Course Details page.