Skilljar admins can view key metrics for their training platforms all on a single page via the Analytics section within their dashboard. In this article, we'll provide a general overview of the different analytics reports available to Skilljar admin users and group managers, how you can access them and how to filter your data. (Learn more about providing Analytics access to non-admin users: Inviting a Group Manager)
For more information about Course and Lesson completion, see Understand course and lesson completion.
Contents
What is the Analytics section?
The Analytics section of your Skilljar dashboard provides you with key metrics to use within your reports, such as data regarding paths, courses, enrollments, and more. See each individual section below for more information.
All of the reports described below are out of the box and accessible at any time from within your Skilljar dashboard. Admins will always be able to export the data in these reports to CSV, as well as filter the data by existing Groups. Please note that all dates/timestamps shown in the dashboard are in PST (Pacific Standard Time) while dates/timestamps in the CSV downloads are in UTC (Coordinated Universal Time).
Filter any of the Analytics tabs with domain and date filters, then bookmark the hyperlink to reference and share the same report.
Accessing your Analytics
You access the Analytics section from your Skilljar dashboard by either selecting Analytics from the homepage or by expanding the Analytics header on the left and selecting your chosen topic. In this example, we'll choose the Overview page.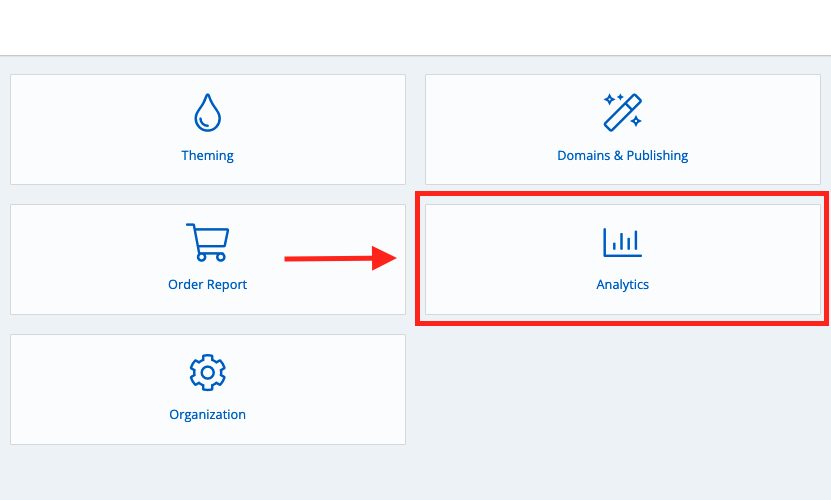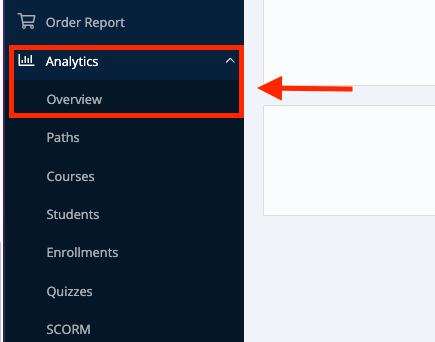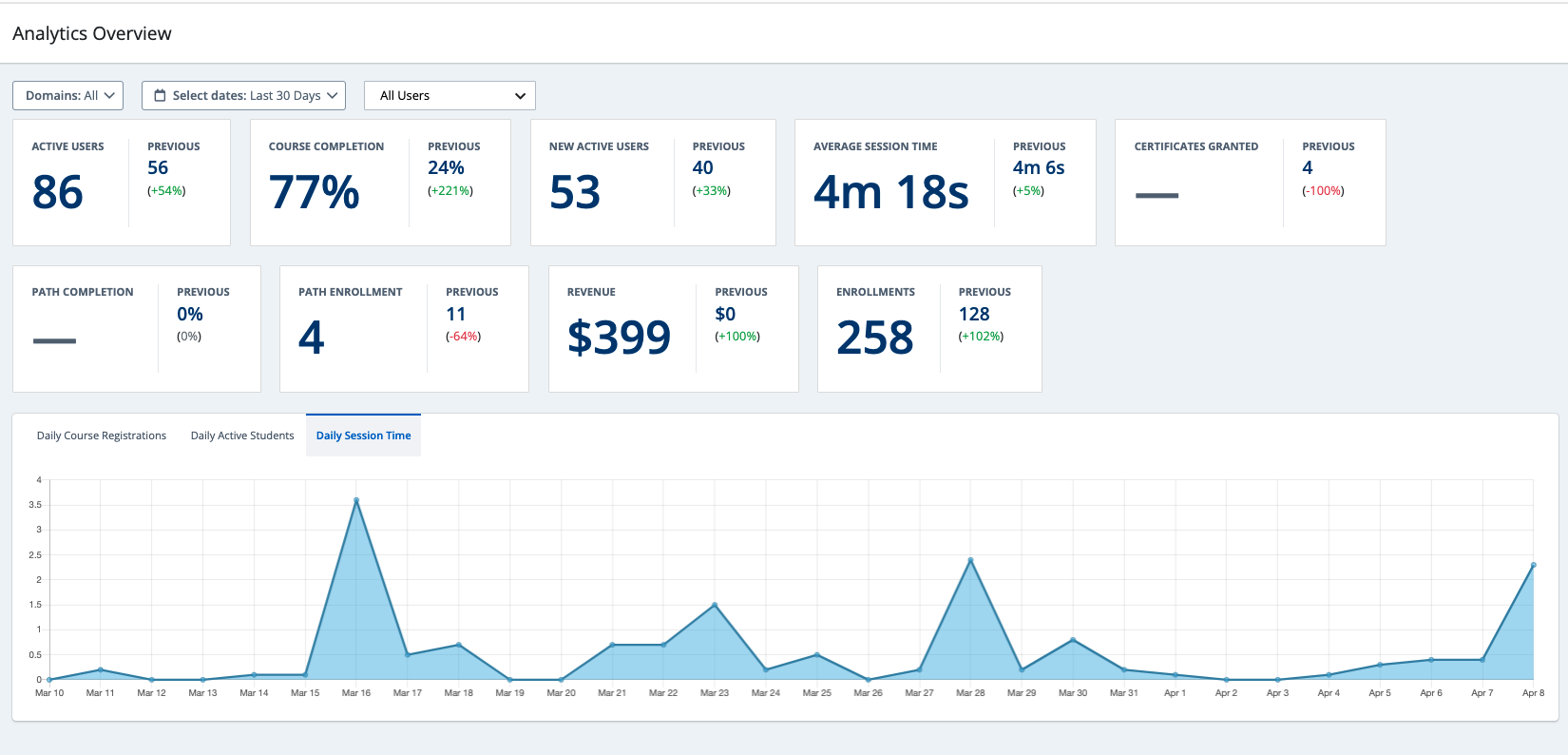 The Analytics Overview is a helpful report for Skilljar admins who are trying to get a snapshot of their training platform's high-level usage and engagement data. It presents your important data on one handy page within your Skilljar dashboard, saving you time when you need to pull key metrics for reports. It shows data such as:
Number of active users (defined as users who have accessed a lesson)
New active users
Average session time
Certificates granted
Path completions and enrollments
Course Completions and Course Completion Rate (if you hover over the Course Registrations, you can see the Completions and Completion Rate during the selected time period).
Revenue
Daily course registrations
Daily active students
Daily session time.
The report can be adjusted to display data for a specific timeframe or domain and also filtered by your existing Groups.
To learn more about the Analytics Overview page, see Analytics Overview Page.

The Path report will provide a breakdown of the student's interaction and progress with the various learning paths on your Skilljar Domains. Using this report, you will be able to view path registrations and completions, and student progress along a path.
The report can be adjusted to display data for a specific timeframe or domain and also filtered by your existing Groups.
In order for a student's progress to be tracked on the Path Analytic's page, the following must be true:
A student must be registered at the path-level

The published course must be in that path

You can also see how far along a student is within a path (such as where they may have gotten stuck) from within the student's record. The progress table will show which courses they've completed and which ones they still have to complete.

FAQs
If a published course that has already been completed by a student is added to a path, will they be marked as complete for that course in the path?
As long as the student has

registered at the path level,

assuming the student has completed the course and the course is included in the path, the completion of the published course will count towards path level progress.
How would adding a course that has already been completed to a path impact the completion % of that path?
Path-level progress will be measured by the number of published courses within that path that have been completed.

Generally, where possible, we recommend that users keep path content relatively static, to ensure the continuity of Analytics.

This behavior will be recognizable in how analytics are tracked when new Lessons are added to Courses.

Users who want to update their paths by adding newly published courses could consider starting up a new path instead.

At a high level the Courses report provides a detailed look at how your different published courses are performing, both in terms of registration numbers and course completions, as well as session time.
You can also utilize the Registrations, Completions, and Domains filters to further filter the Courses table. Once the filter is applied, the filter will be appended to the URL, which allows you to bookmark the page and access the filtered table at any time.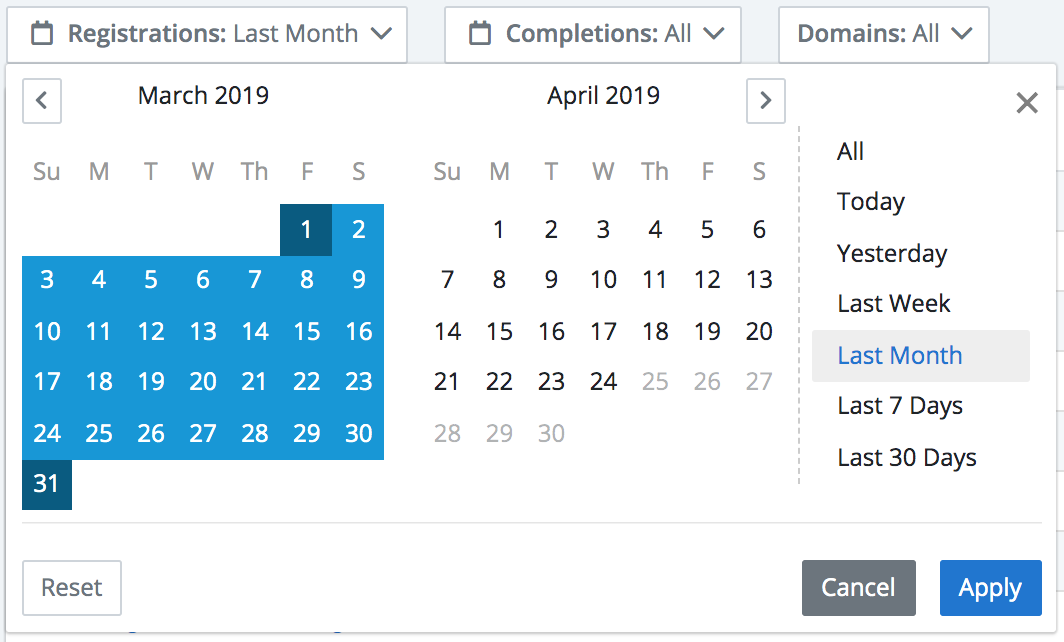 Here are some of the key questions the Courses report can answer:
Which of my courses are most/least popular?
Which courses have the highest/lowest completion rates?
Are students spending more or less time in a course than we intended when creating the content?
Which courses in a path or plan did a student take? (Note that there is not a dedicated plans analytics section, but you are able to see plan purchase information in the Order Report and course level progress in this section).
In Courses, we have additional options to dive deeper into the numbers being presented, by viewing lesson performance and individual student performance on a course by course basis.
Looking at the details of specific courses that are over or under-performing can help provide insight into what content is working, and how to update your under-performing content to achieve the desired results. Let's take a look:
Enrollments Tab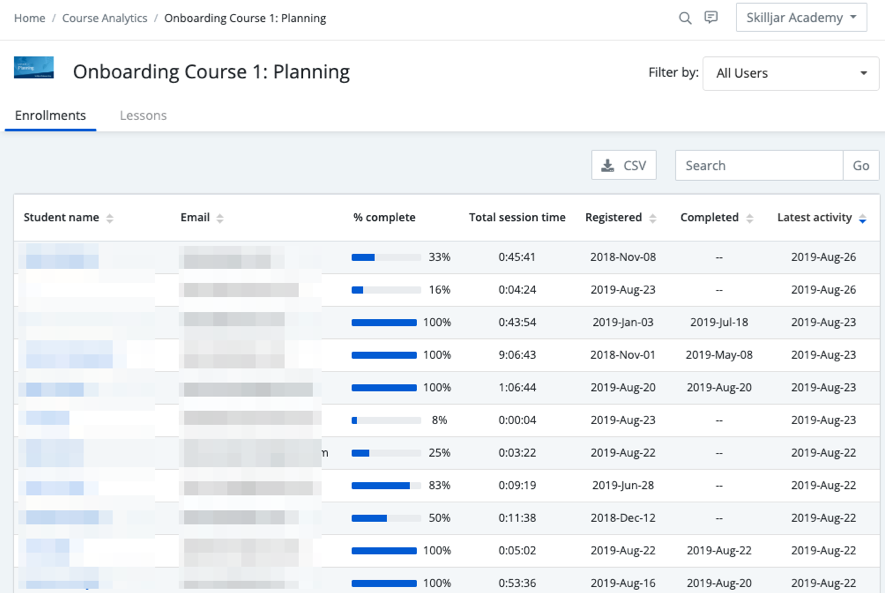 Selecting a hyperlinked course brings up the Students tab by default for the selected course. Here we can see the following information for each individual user who has enrolled in that course:
Lesson Progress (% of course completed)
Total Session Time
Registration Date
Completion Date
Date of Latest Activity
By looking at this data for a course that is underperforming in terms of completion, you can get a clear sense of how far students are progressing in the course before abandoning it. Understanding how much time users are spending on the course can also uncover potential problems with the content itself. For example, if students have a high session time but have not progressed far in the course, it may be a sign that the content is cumbersome for students and warrants an update.
Lessons Tab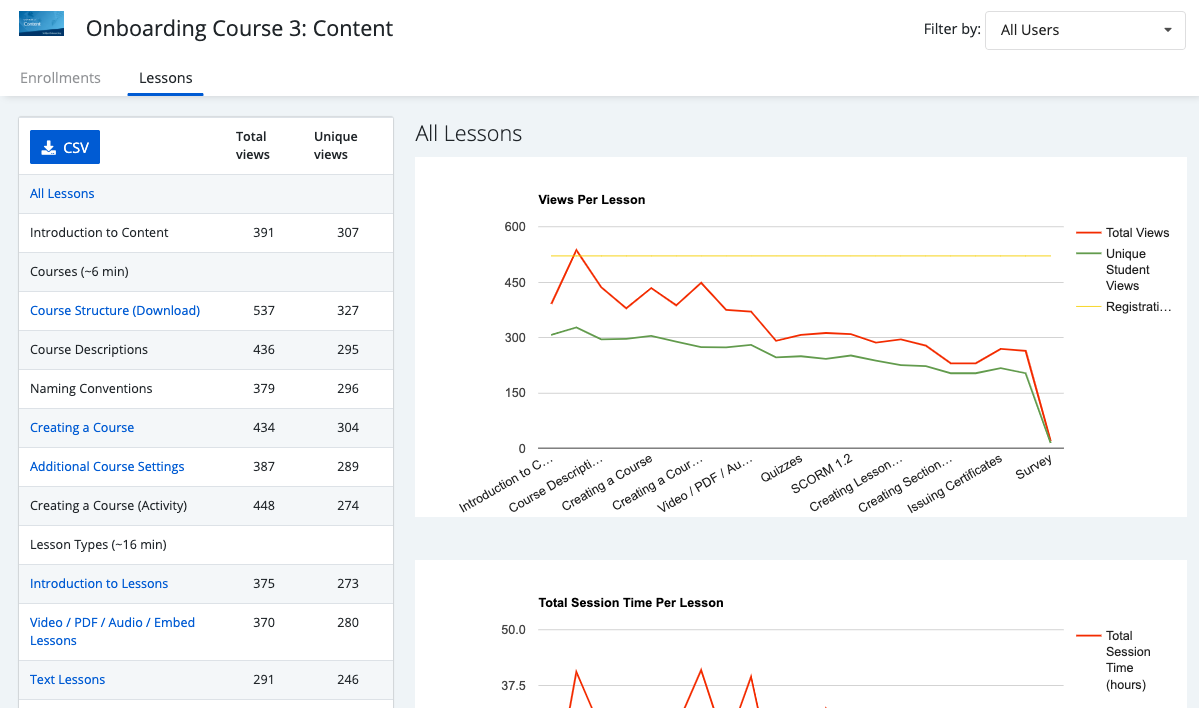 The Lessons tab helps Customers understand how students are progressing through the selected course, lesson by lesson.
You can find the following data points in this report:
Total Views
Unique Views
Chart showing Total and Unique views by lesson plotted according to their order in the course
Chart Showing Total Session Time per lesson, plotted according to their order in the course
Lesson view data can help identify specifically where within a course students are dropping off (such as which lessons are underperforming), and which lessons or content seem to resonate with students.
Is a quiz stumping your students and causing them to leave? Or, is the course so long that you're losing the attention span of students? Armed with this data, Customers can work to further optimize their content to achieve success.
Lesson views: Total Views vs Unique Views
'Total views' reports how many times a lesson page is loaded and viewed, while 'unique views' tracks the number of unique students that have viewed the page.
For example: If a student reloads the lesson five times, it will add five 'total views' to the report but only add one view to the 'unique views' data for that lesson.
Note

: The 'total view' count for lessons is not tracked via domain, so the course data analytics will show the total views from all of your domains. However, the 'unique view' data is still specific to each unique student.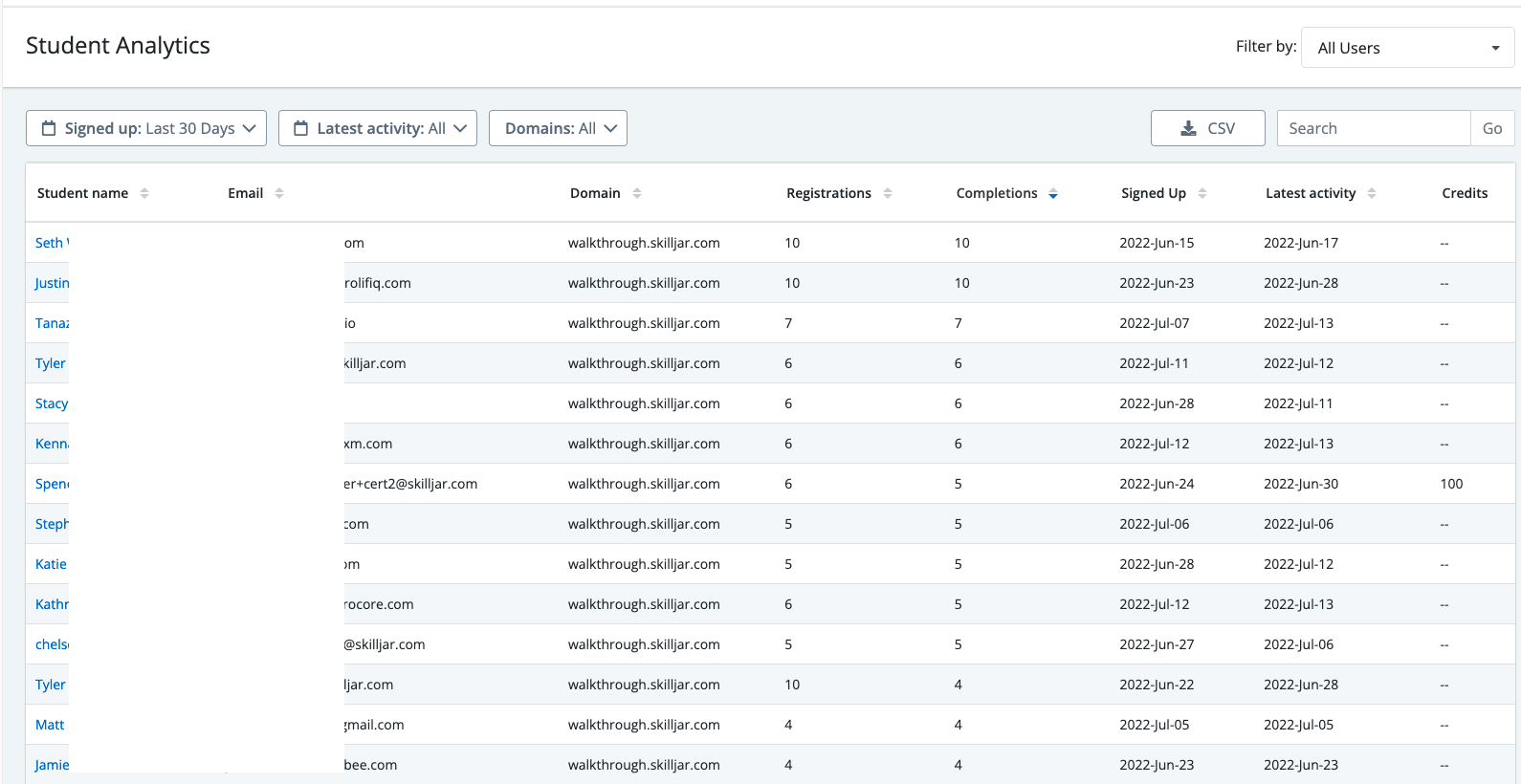 Similar to the Students tab found under Courses, the Students report allows admins and Group Managers to view the training behavior of individual students. Each row will display a student record specific to each student's Domain Membership. This report is searchable in the event that you wish to pinpoint a specific user or group of users by email domain.

Selecting a student's name opens up their training profile, providing the following information:
Signup Field Responses (if applicable)
Course Enrollments
Course Progress
Session Time per Course
Link to issued Certificate (if applicable)
Enrollment Date
Completion Date
Date of Latest Activity
By then selecting a specific course on the student profile, you can also see their behavior at the lesson level.

Note: Session times can take up to 24-48 hours to update.
The Enrollments report is a detailed look at the registration behavior of students across your course catalogs. You can find the following data points in the Enrollments report: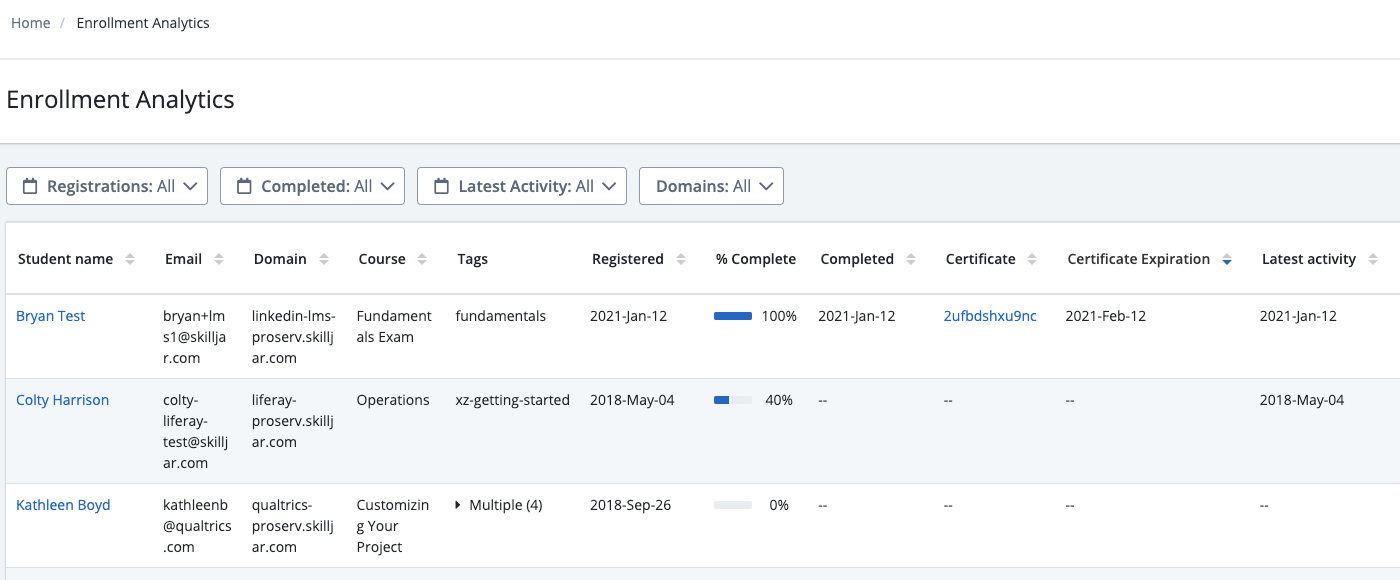 Student Name, along with their email
The Domain of the course
Course Title
Tags associated with the course
Date of Enrollment
Completion Date
Link to the Issued Certificate (if applicable)
Certificate Expiration Date
Date of Latest Activity
Custom Signup Fields (if applicable)
The above data can be used to answer valuable engagement questions, especially for Group Managers. Some examples include:
How are Partner users in North America performing compared to those in Europe?
Which of my team members is missing their certification for a particular course?
Which Customers have the most active users?
Which Customers should we re-engage with in order to drive more completions?
Finally, just like in the Students report, selecting a student's name will bring you to their training profile page for lesson-level data.

The Quizzes report provides an overview of quiz performance across your courses. The following data points are provided:
Quiz Name
Course containing the quiz
Course Registrations
Number of Quiz completions
Average Quiz Score
Passing Score (set by the admin)
Course ID (in CSV)
This quiz data can help identify whether adjustments should be made to your content based on user performance. For example, if the average score of a Quiz is 40%, but the Passing Score is 100%, this could be a sign that your course content is confusing or unclear to students. Alternatively, it could mean that your quiz questions are not well-defined and need updating.
You can use the Course ID included in the Quiz Analytics CSV download, which will allow you to identify the course that a quiz is used in, even if the course name changes over time.
In conjunction with the Courses report, you can also determine whether a course with a low completion rate is being hampered by an under-performing quiz.
Learn more about how to add a quiz to your curriculum.
Learn more about how Quiz Completion works: Understand quiz lesson completion
Questions Tab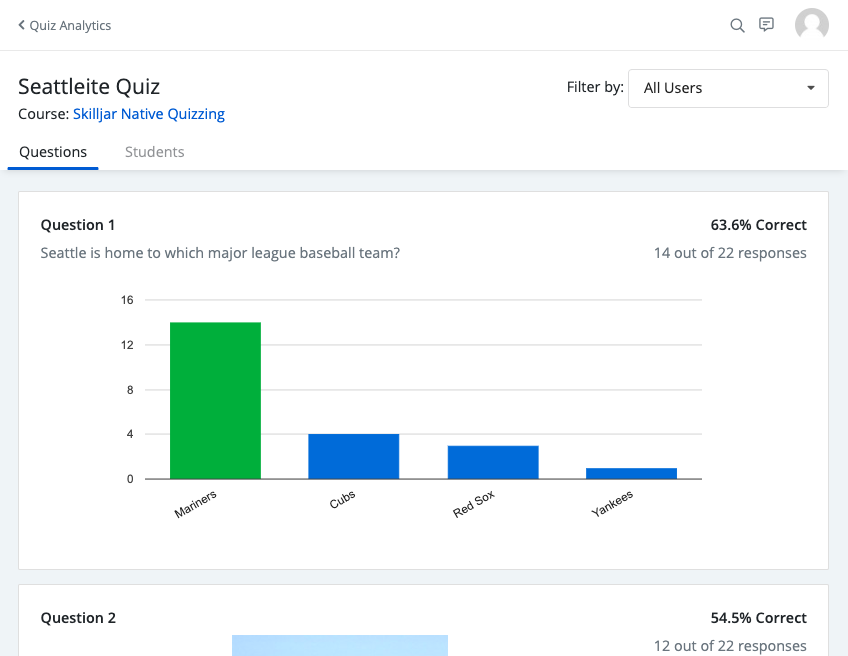 The Quizzes report provides us with the option to dive deeper into how specific questions are performing within a given quiz.
The Questions tab offers a breakdown of each question to show the success rate of the question (% Correct), the number of responses, and which answers students are selecting. Just because it's been determined that a quiz is leading to a low completion rate for a course, doesn't necessarily mean that the entire quiz itself needs updating.
In this scenario, being able to pinpoint exactly where within a quiz the problem exists is incredibly useful. Admins can then determine whether the entire quiz or only certain questions should be updated to improve performance rates.
Students Tab
After selecting one of the Students, you can see their responses to each Question in your quiz: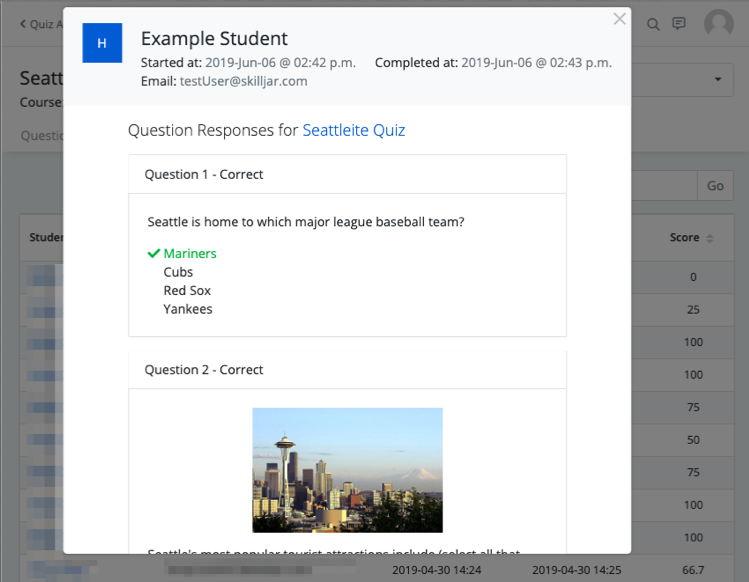 Much like the Student tab in the Courses report, Skilljar offers a more granular look at user behavior by showing exactly how a student has answered a quiz question. You'll first see an overview of all students who have taken the quiz, including the completion date and their score. By selecting a student's name you'll then be taken to their answer report.
The answer report can useful if an admin or Group Manager needs to discuss a quiz or course score with a student, especially for certification courses.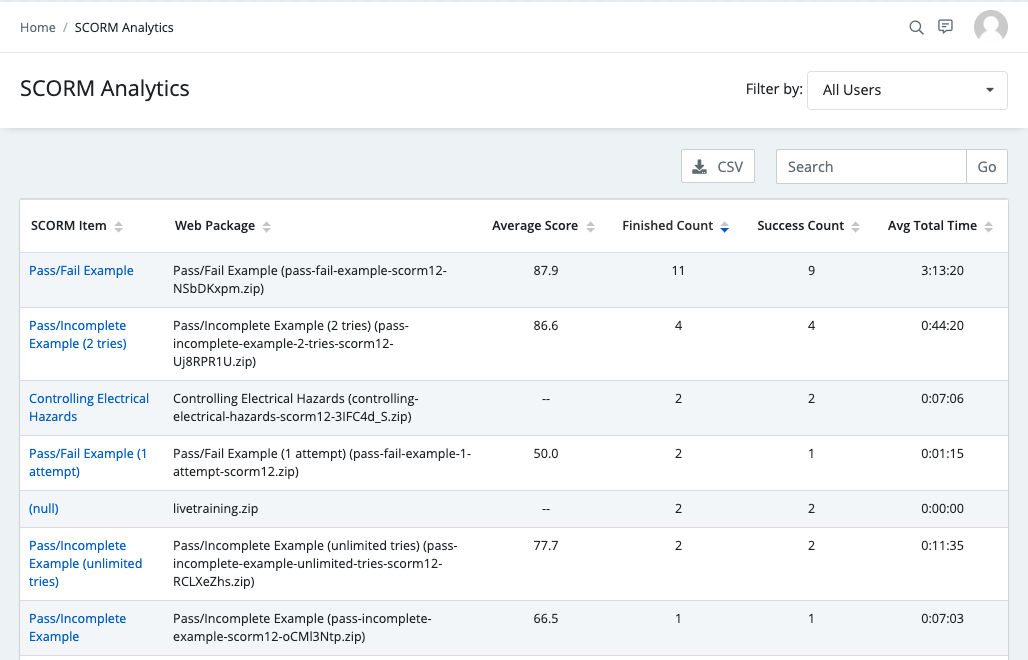 The SCORM report provides an overview of SCORM package performance across your courses. The following data points are provided:
SCORM Item
Web Package
Average Score
Finished Count
Success Count
Avg Total Time
This SCORM data can help identify whether adjustments should be made to your content based on user performance. For example, if the average score of a Package is 40%, but the Passing Score is 100%, this could be a sign that your course content is confusing or unclear to students. Alternatively, it could mean that your quiz questions are not well-defined and need updating.
Historical SCORM data for packages that are no longer active in courses can be seen by navigating to the following URL: https://dashboard.skilljar.com/analytics/scorm?scorm=all
Learn more about how to Upload SCORM Content in a Course.
Learn more about how SCORM completion works: Understand SCORM lesson completion
Web Package View
Selecting a web package allows you to dig into specific interactions and student responses on the SCORM package.
Interactions Tab
The interactions tab shows a breakdown of all Aggregate Student Interactions for all of the interactions within the SCORM module.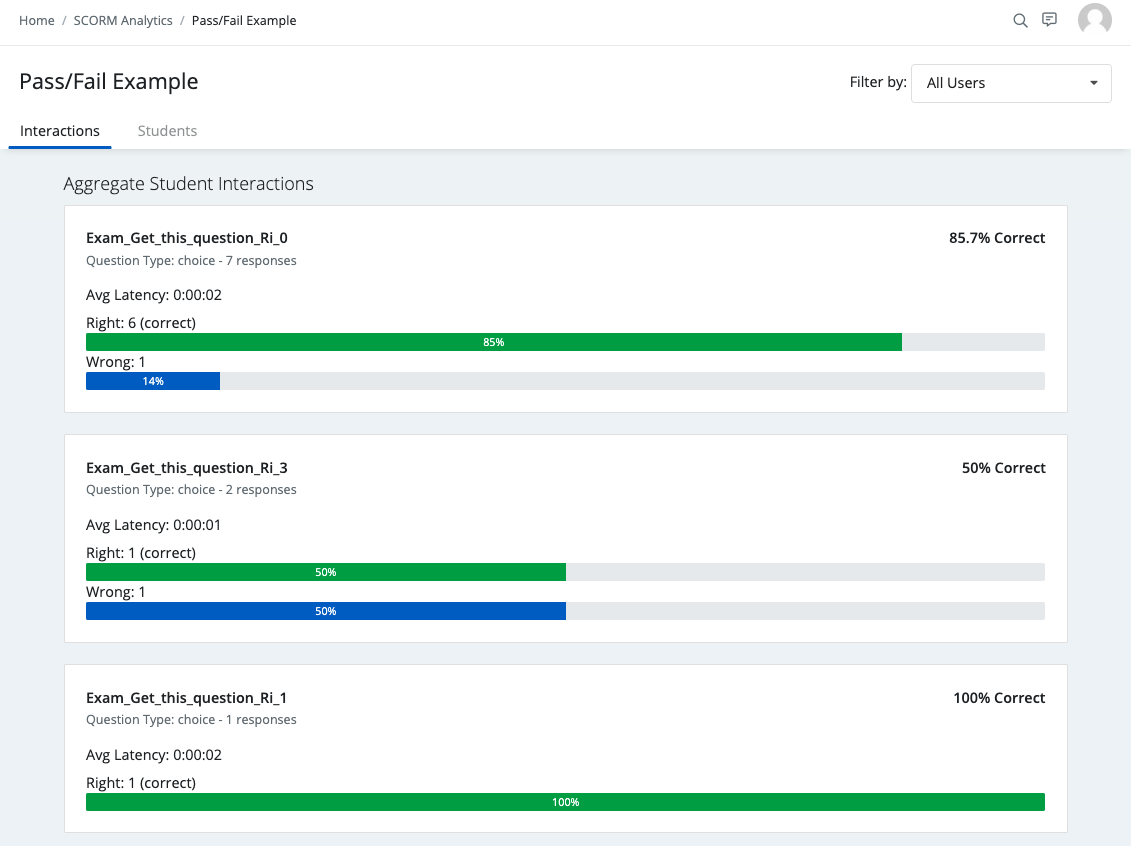 Student Tab
The Students Tab shows each student who has interacted with the SCORM module and their interaction data.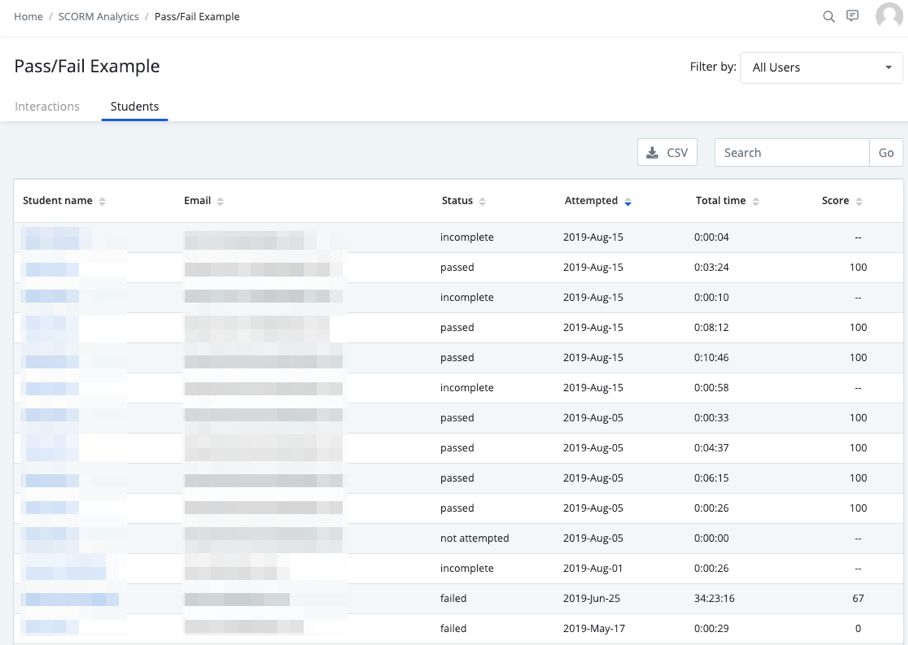 Selecting a Student from within this view allows you to see their responses and timing information for all of the SCORM interactions within this module.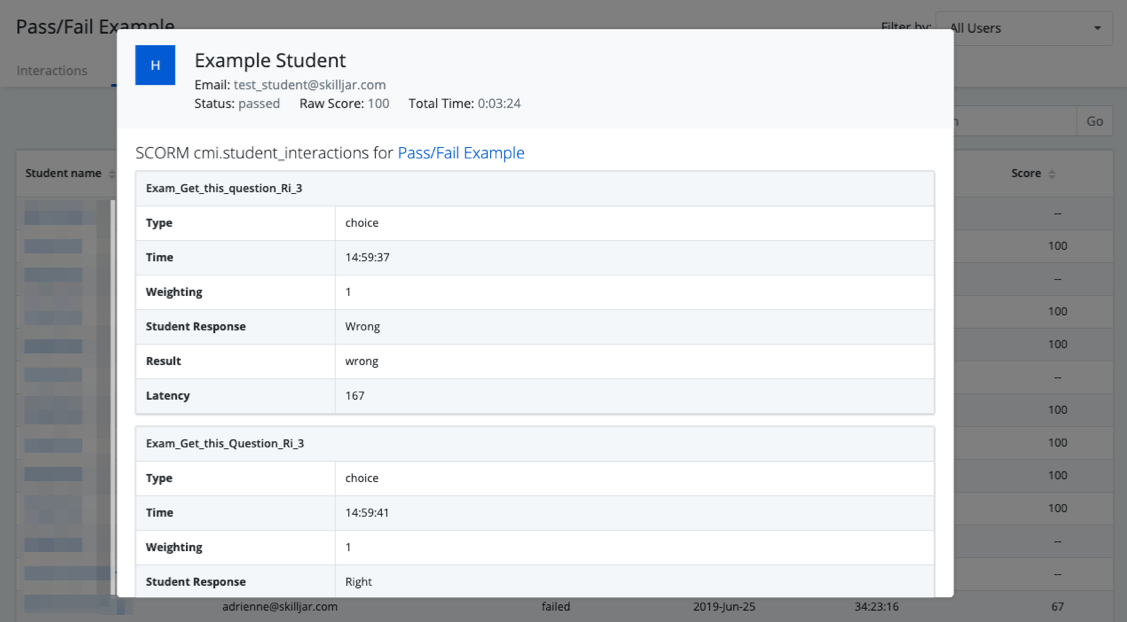 Report: Live Events
On the Live Events analytics page, you'll see a list of past live events across your courses, which includes the following data: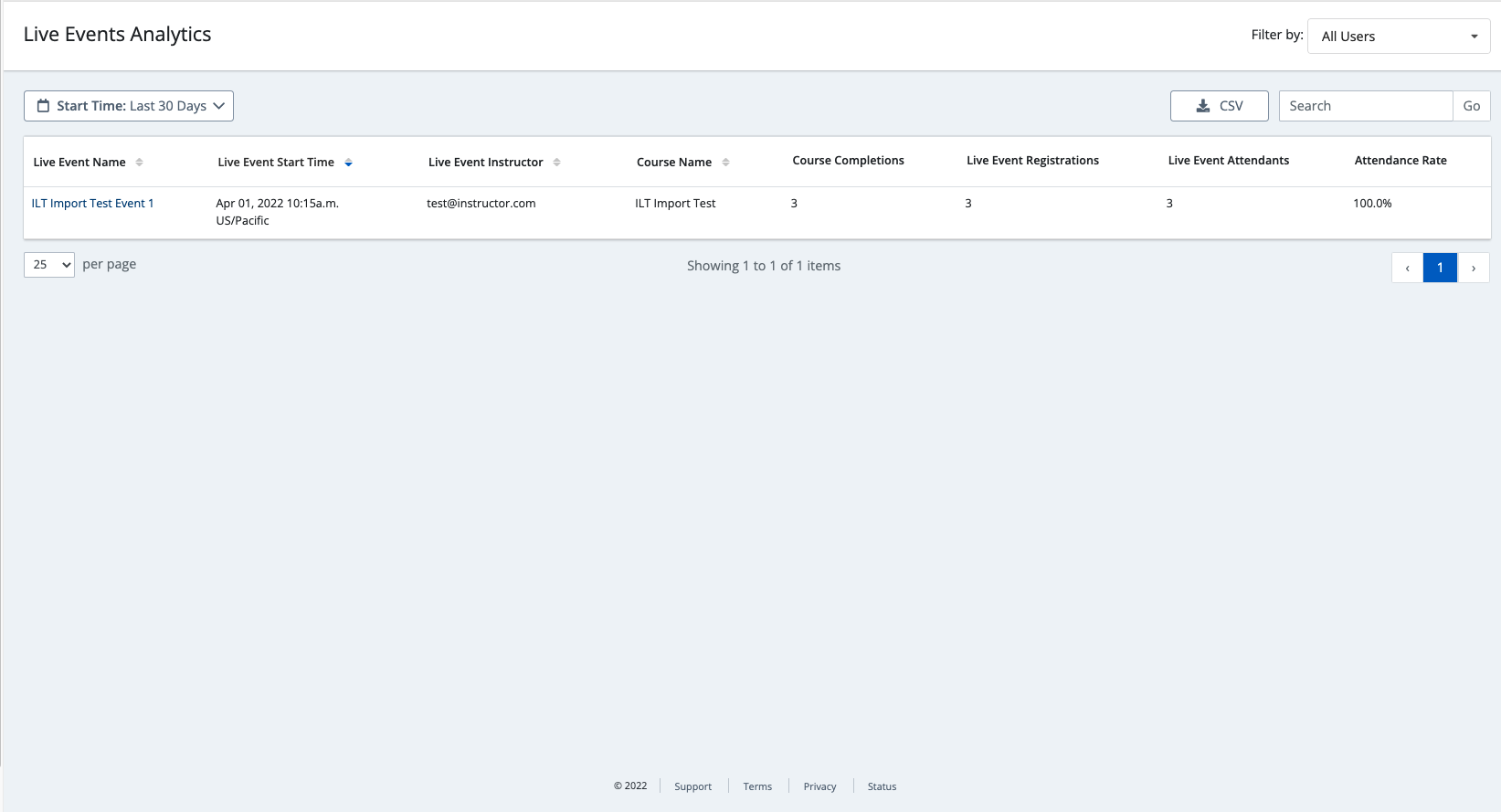 Live Event Name
Live Event Start Time
Live Event Instructor

- the email address of the instructor who leads the event.

Course Name -

The course the event was a part of.

Course Completions -

The number of times the course was completed.

Live Event Registrations -

The number of unique users who registered for the event.

Live Event Attendants -

The number of unique users who attended the event.

Attendance Rate
Selecting the event title will take you to the Live Event Table roll call page, listing the people who registered and attended, as well as their score and success status (if applicable) of the event. To learn more about the Live Event Table, see Managing Live Training Events.
By looking at this data, you can get a clearer picture of how successful your live event was. For example, seeing the attendance rate at 100% may mean it's worth adding more occurrences of the event, or low completion numbers may help you uncover any possible issues with the content.