Create and bundle multiple training sessions over a number of days and only require a single registration with the multi-session events option. This option allows you to create and duplicate entire events, such as a series of workshops across multiple days, and provide students with a quick and easy registration process. Students will receive one calendar event for each session and only need to register once to enroll in all sessions for the event.
To learn more about creating live training events, see Managing Live Training Events.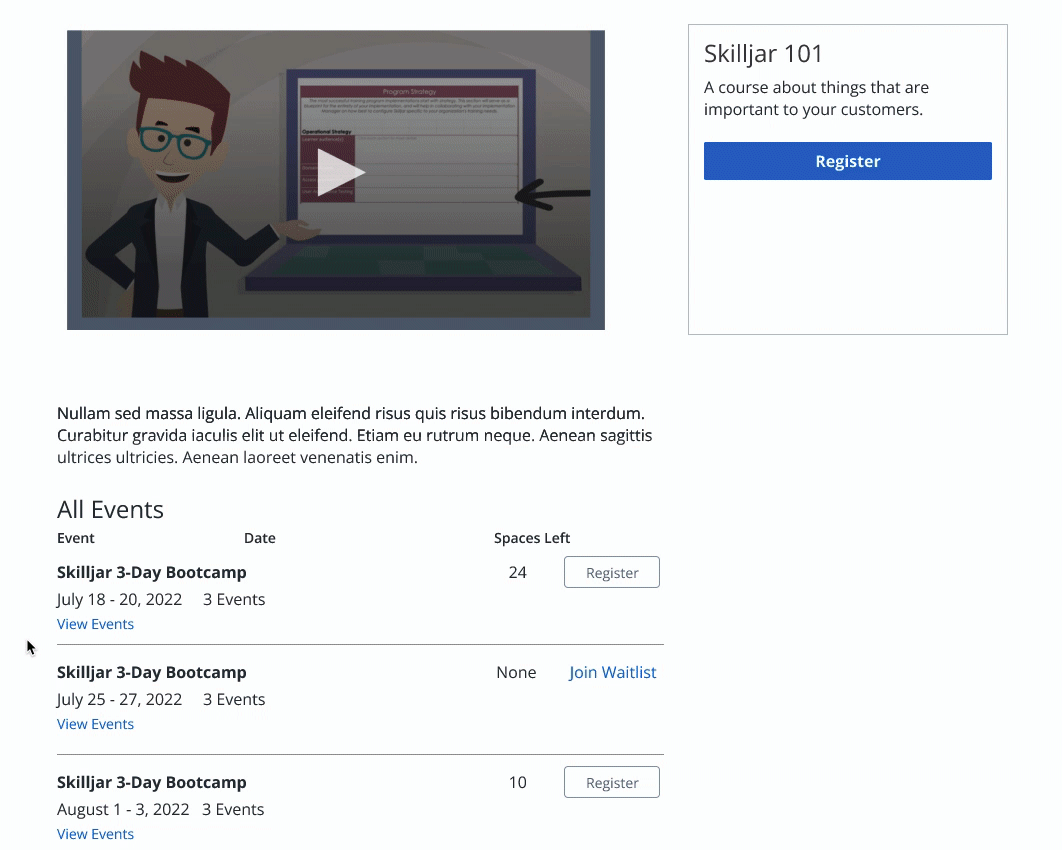 By using multi-session events, admins can now create multiple, related training sessions quickly, and students can plan better by seeing all sessions and their dates for that given event on your course page.
Student Experience
Students can register for multi-session events in the same area as they would for individual events via the lesson details, course curriculum, and checkout pages. When a student views a lesson that includes multi-session event(s), they'll see a collapsed view of the multi-session events that, upon expanding, list each session's date.
If the calendar page is enabled, students can filter events by tags. Learn more about tags at Getting Started with Live Training Event Tags.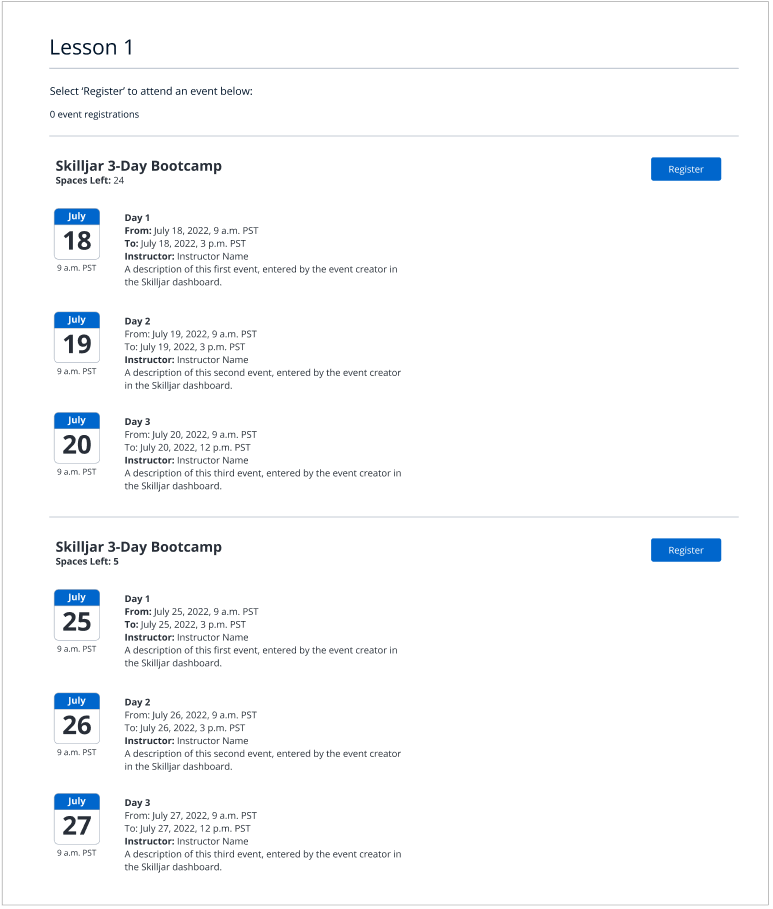 When the student expands a date, they'll see a grouped set of events for that multi-session event and will be able to register or join the waitlist for the sessions.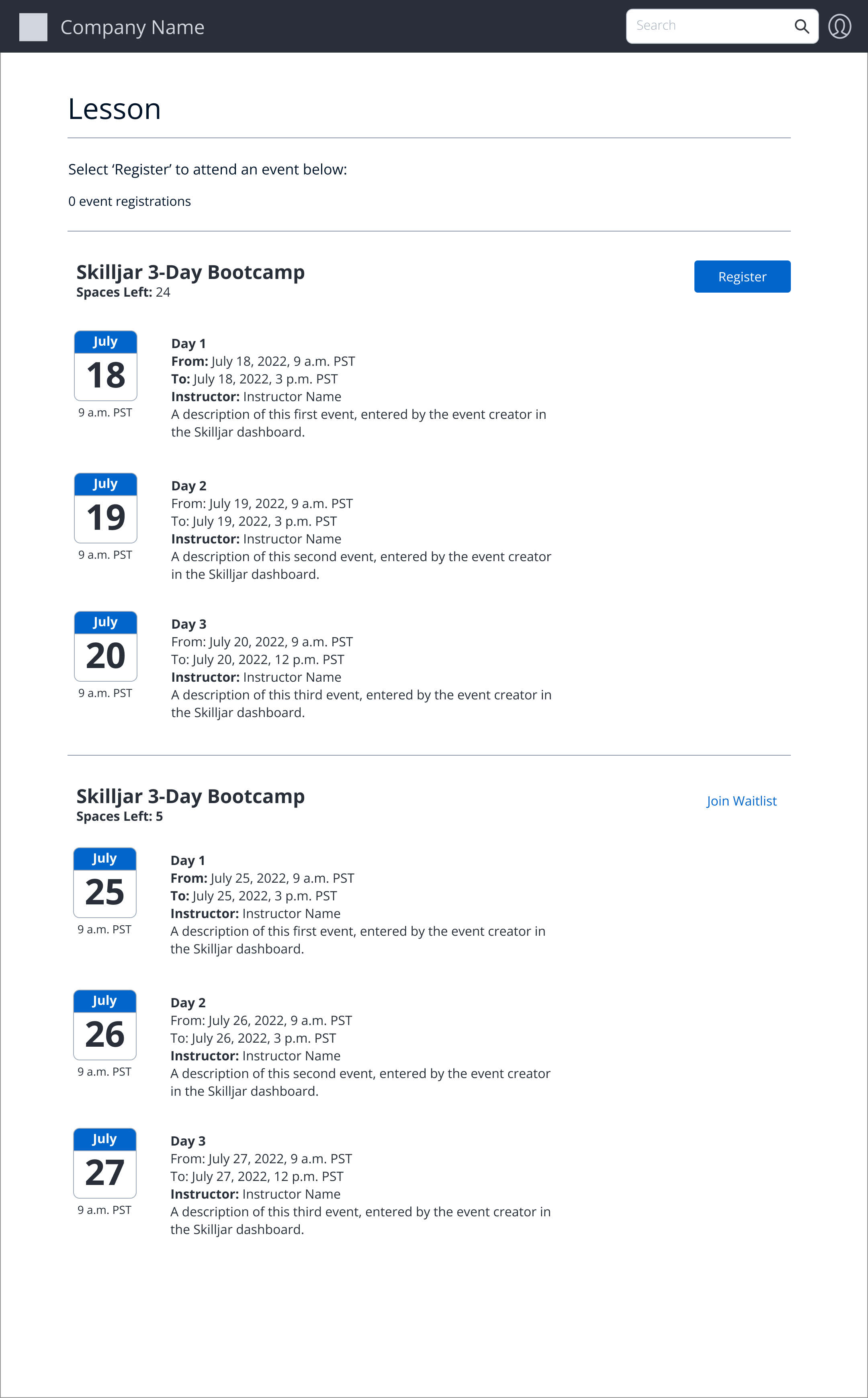 Each session with multi-session events receives its own calendar event. For example, if a multi-session event includes a session each on Monday, Tuesday, and Wednesday from 9 am to 12 pm, the student will receive three calendar events for the hours the training is to take place. This makes it easier to plan and see when individual sessions begin and end. Students will also see each session's description, details, agenda, and instructions included in their respective calendar events.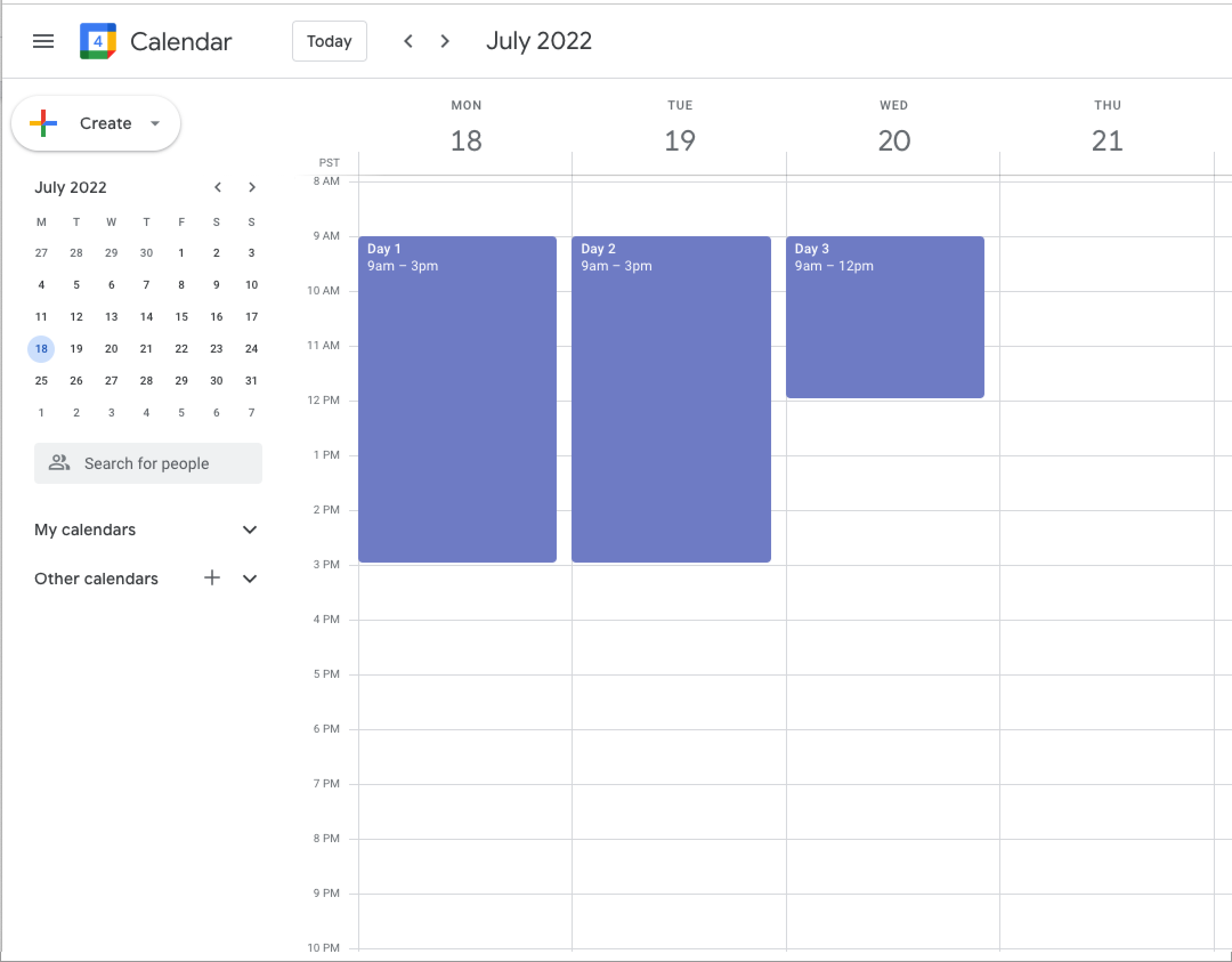 Creating multi-session events
To learn more about creating live training events, see Managing Live Training Events.
To create a multi-session event, create a new live training lesson and follow these steps:
Expand the Contents header.
Under Events, select Create New and then Multi-Session Event from the drop-down selection. The event page will open.




Name your multi-session event and choose the number of seats (if applicable).
Select Create New Event and then Calendar or Zoom, if you're using the Zoom integration.




Enter the details of your event, including the session's start and end dates/times, and timezone.





If you choose the Calendar option, enter the link of your virtual meeting in the Event Link box. Skilljar will track the attendance when the student selects the link. To check if the link is correct, select Test Link.

When you're finished, select Save. The event will appear under the Events header.




Optional: You can also add tags to multi-session events. Tags allow students to filter their calendar page by their associated tags, making content easier to discover. You can learn more about tags at Getting Started with Live Training Event Tags.




Select Save and Continue Editing or Save to complete.


Cloning, Editing, Canceling, and Deleting Multi-Session Events
You can edit, clone, cancel, and delete multi-session events from your Skilljar dashboard in two ways:
Managing the event from the lesson's settings within your course curriculum page.
Accessing the event settings on your Live Training events page.
From the Course Curriculum Page
Access your Skilljar dashboard, expand the Course Management header, and select Courses.
Select the course and then the lesson with the event.
Under the Events header, select the event you want to manage to open the settings page.
Editing:

On the next page, find the event you want to edit and select the pencil icon.
Make your desired edits and select Save to apply them.
Clone:
Find the event you want to clone and select the ellipses (...)
Select Clone Event.
Edit any necessary details and select Save to finish.
Cancel and Delete
Find the event you want to cancel or delete and select the ellipses (...)
Select Cancel Event or Delete Event.
In the pop-up window, select Cancel Event/Delete to confirm.

Note: These actions can't be undone.
From Live Training Page
Access your Skilljar dashboard and select Live Training.
Select All Events from the filter options at the top-left of the page.
Find the event you want to manage and select the ellipses (...)
Select either Edit Event, Cancel Event, or Delete Event and follow the steps above.
Students will receive an email notification if an event is edited or canceled.
FAQ
Will multi-session events still work with my integration (Zoom, Webex, GoToMeeting)?
Yes! Each session within a multi-session event will still function as they always have with regard to integrations. For instance, when creating a multi-session event, you may set up a session that will be in person and another event that will be a Zoom session – both within the same multi-session event.
As an administrator, can I register a learner for a multi-session event?
Yes! Same as enrolling a learner for an individual event, you may enroll learners from the Live Training page. Note: enrolling a learner into a session that belongs to a multi-session event will enroll them into all sessions within that event.
Will students be able to find multi-session events by using tags?
Yes! Similar to tagging "standalone" live events, you can tag multi-session events which enable filtering on the calendar page. Tags are implemented on the parent multi-session event level and will apply to all child events within that multi-session event.
Further Resources
For a more hands-on tour of everything multi-session live training events have to offer, take our interactive lesson below. To get started, select the blue flashing icon and follow the on-screen prompts.