Courses are the heart of your Skilljar training program and the content within your courses is what drives learning for your audience.
You can create courses via your Skilljar dashboard. To read more about how to create a course, see our Create a Course article. You can also take our Skilljar Academy course, Building Courses in Skilljar.
What is a course?
A course is a unit of learning that's available for learners to purchase and register for.
Home of Your Lessons
Each course is made up of a single or multiple lessons that learners will take in order to complete or pass your course and training program.
Versatile
Courses can be standalone tiles on your site, be grouped together as part of a learning path, or they can be packaged and priced as part of a plan.
Customizable
You can customize your courses, such as adding due dates and setting prerequisites. You can also hide courses and only make them available to a select audience.
Achievement
When a learner completes a course, you also have the option of awarding them with a certificate, which they use as proof of their achievement and even add to their LinkedIn profiles.
You can learn all about courses by reading our course articles within the Courses section of our help center.
A list of courses on the course management page of the Skilljar dashboard.
The course creation page in the Skilljar dashboard with the lessons listed on the left.
The Course Management Page
The Course Management page of your Skilljar dashboard is where you can create and manage your courses. Accessing the Course Management page will present you with a list of the published and unpublished courses you've created, the creation and last updated dates, and the domains that the course is included in.
Note: A course must be published for it to appear on your training site and be taken by learners).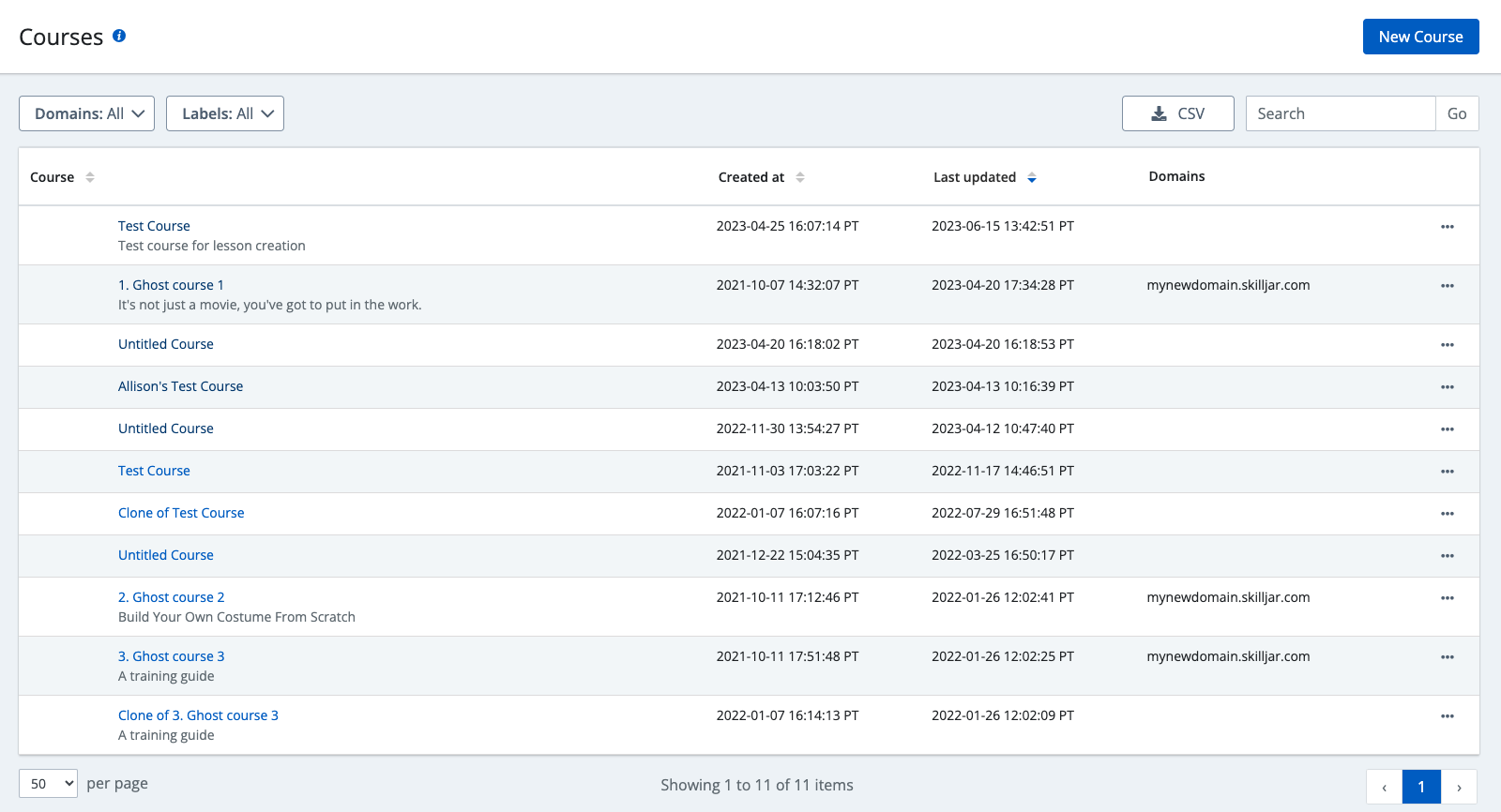 To see the settings and information for each course, select its name from the list. On each course's page, you can select the Preview, Manage Course, or Bulk Upload buttons to:
Preview the course "Detail Page" or the course "Curriculum Page."

Edit Content Managers.
Each course page also includes three settings tabs, the Details, Curriculum, and Actions tabs.
Details - Course-specific settings and information.
Curriculum - Course lessons.
Actions - Actions such as what happens after a student registers, engages, and completes the course, including the emails the student will receive and if any certificates are offered upon completion.
Details tab
On the "Details" tab, you can make general edits to your course and its settings. On this tab, you can:
Manage the course promo image.

Manage a "Promo video," add an "Embed Link," or add an existing asset from "Your Files."

Edit the course "Title."

Edit the course "Short Description."

Edit the course "Long description html."

Adjust the course settings for:

"Lesson Display."

"Lesson Navigation."

"Collapse Sections."

"Course Score."

"Course Time."
Curriculum tab
On the "Curriculum" tab, you can create and edit or delete the lessons within the course. On this tab, you can:
Reorder the existing curriculum.

Add a "New Section."

Add a "New Lesson."

Edit the lesson "Title."

Edit the lesson "Content."

Edit the lesson "Summary."

Add or change the lesson "Downloadable content."

Adjust the lesson "Settings" including:

Select or deselect "Disable Automatic Completion."

Select or deselect "Optional Lesson."

Select or deselect "Hide Disqus Pane."

Select or deselect "Display in Fullscreen./"

Enter a "Lesson Time" to display on the detail, curriculum, and lesson pages for the course.

Add a "Tooltip description" to display on the course detail page when students hover over the lesson title.
Actions tab
On the "Actions" page, you can manage the messages and certifications that are sent out within the course, including:
Registration actions, including which system messages are sent to the student or organization upon registration. You can create a custom email template from the settings.
Engagement actions, such as managing the emails that are sent

after a student registers for this course, but before they complete it.

Completion actions, including if a certificate is given on successful completion, and the emails that are sent upon successful or failed completion.

Post-completion actions, including emails that are sent to students after they have completed the course.
Learn more about the Actions tab at Using the Course Action Tab to Automate and Customize your Messaging.
Further Resources
If you have any additional questions, don't hesitate to contact your dedicated Implementation Manager, Customer Success Manager, or Skilljar Support!