You can embed many different types of content into a lesson. In this article we identify two ways to embed content.
For a full list of different content types that can be embedded, or instructions on how to embed a specific content type, see this help article. 
Option 1: Embed by link
Easily embed the following content by just pasting the link to your content into a lesson.
Videos
YouTube (or Google Hangouts on Air recording)
Kaltura
Vimeo
Ooyala
Wistia
Vidyard
Brightcove
Google content
Other content
SurveyMonkey
Qualtrics Survey
Qzzr Quiz
Haiku Deck
Nintex Form
Slideshare
Box
Any website
Steps to embedding
Copy the embeddable link to your content
Login to the Skilljar Dashboard
Navigate to the Courses section
Select the specific course to update, click on the Curriculum list and select the lesson that you would like to embed content in
Select "Embed Link" tab in Content section 




Select the type of content to be embedded from the dropdown menu
Paste the link to your content in the "Url" field and select "Save Link" (the content type may populate, if recognizable, and save automatically)




Click Save Lesson
Option 2: Embed as text lesson
Follow these instructions if your content is not included in the "Embed link" dropdown.
Copy the embed link to your content
Navigate to the course and click on the Curriculum list
Create a new "Text" lesson or select a previously created "Text" lesson
Select the Source Code button (<>)




Paste the embed link into the Source code box and click "Ok"
Click Save Lesson
Using style tags
If you'd like to include style tags, we've attached a template for you.
Below are the steps to follow when using the template. 
Download the attached file Template - Embed Content.html (located at the end of the article)
Open the document in a text editor program
Replace the link currently in the template at line 26 with the link to your content




Copy the full code
Go to your lesson in the Course Management section of your dashboard
Choose text as the content type for the lesson
Click your cursor into the text box
Choose the Source Code button in the text editor toolbar (looks like: < >)
Paste the code you copied into the Source Code section and click OK.
Save the lesson
To view the lesson page from the student view, click Preview and select "This Lesson".
Optional lesson components: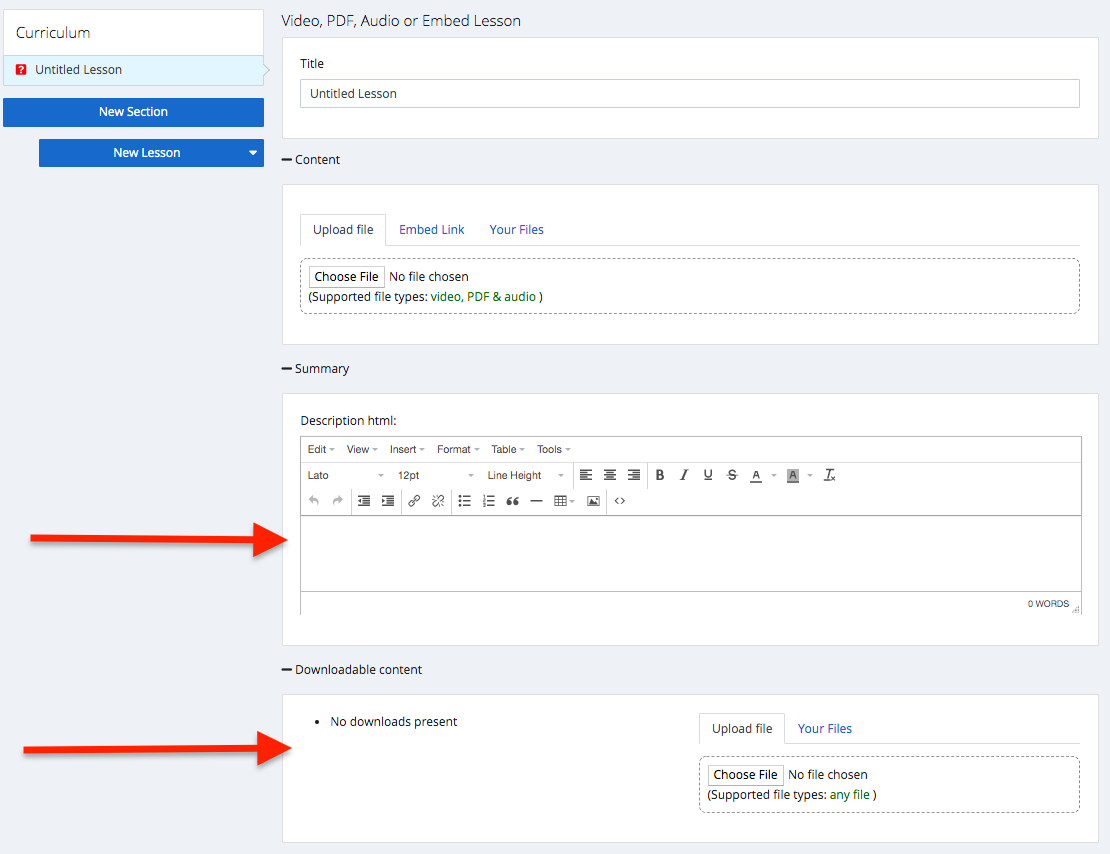 Summary

 

- a text/HTML field where you can provide a summary of the lesson for trainees, links to additional resources, upload images, etc.
Downloadable content

 

- upload any file type to the downloadable content section to make available to the trainee as a supplementary downloadable attachment
A look at a trainee lesson page: