Skilljar's built-in quizzing functionality provides instructors with an effective tool for assessment. We'll cover:
How to create a quiz
How to edit a quiz
How to create a quiz
From Course Management, choose or create a course
Click New Lesson and choose Quiz

Add a title for the quiz
You can either "Create New Quiz" or use an existing quiz you've created by select the quiz from the drop down

If you create a new quiz, or edit an existing one, you will be placed on the quiz creator page. Here, you'll see the optional fields:
Description: Enter a description, this appears before a user starts the quiz.
*Passing Score: Set the percentage required to pass.
*Max quiz attempts: Set the maximum attempts a user can take to complete the quiz.
Require correct response to proceed: User must get a question correct before going on to the next.

Next, you can add questions. Select "Add Question" and choose either Multiple Choice or Fill in the blank.
If choosing Multiple Choice: 
Input your question
Input answer choices, selecting which is correct
Click Add Answer to add more answer choices for a question
If you choose Fill in the blank:
Input your question
Input your acceptable answers
Click Add Answer to add more answer choices for a question
Choose whether the answers must be case sensitive

Continue selecting Add question until your quiz contains all of your questions.
Click the X to remove an answer, or to remove the entire question.
Scroll to the top to select "Change Order" to drag and drop the questions into your preferred order.
When you have added all of your questions and answers, click Save. While you're working, you can also click Save and continue editing to remain on the quiz page.
After saving, you'll return to the lesson page. Here, you can add a summary and attach downloadable content (optional).
You can also see a preview of your quiz on the lesson page.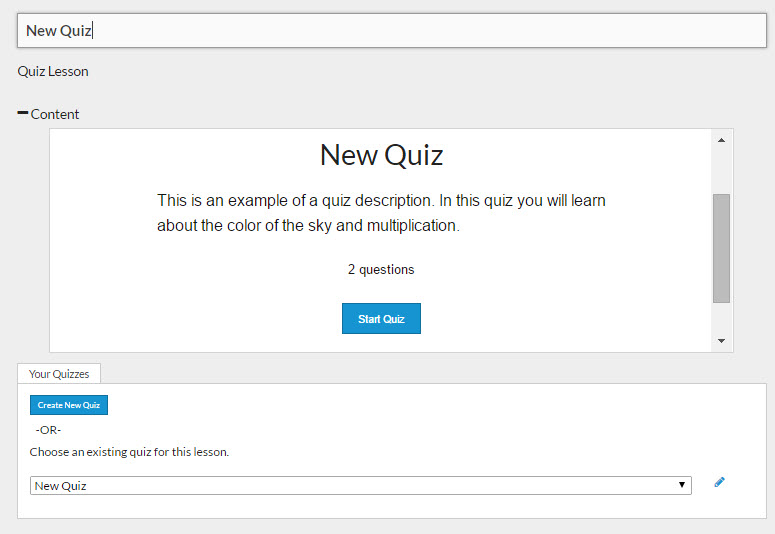 When done, click Save Lesson.
*Notes:
If you choose Require correct response to proceed, the following is the student experience when an incorrect response is submitted: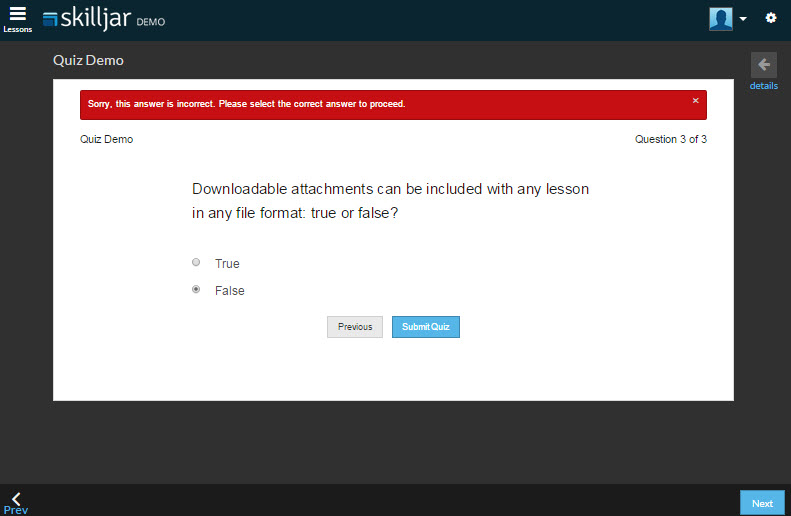 If you use this feature along with Max quiz attempts, this will result in the "Take this quiz again" option no longer being available after the max attempts have been utilized: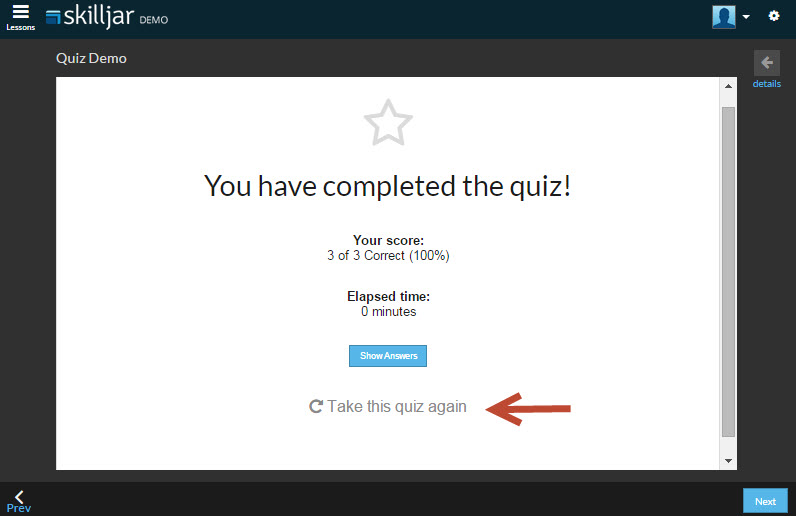 And, if you grant a certificate upon course completion, the student must pass the quiz (including score, and within amount of attempts) to receive a certificate.
How to edit a quiz
If you've already created a quiz, but need to edit it:
Navigate to the course details
Click on the quiz lesson
Click on the edit button next to the quiz name

Make your necessary changes, and click Save
If you would like to utilize different functionality like open-ended questions, you can embed the following quiz forms:
SCORM 1.2
Quiz Maker
Google Forms