Visit the Theming section of the dashboard to update the look and feel of your training site to match your brand. Found here: dashboard.skilljar.com/themes/
Theming is made of the following sections:
Header
Look & Feel
Optional Settings (none of the fields in the below sections are required)

Lesson Settings
Email Settings
Code Snippets
Checkout Settings
Header and Look & Feel Details
Once you update any fields, scroll down and click Save details
To preview updates, navigate to Course Management, select any course, and click Preview and choose Detail Page.

Note: the following fields may not be found on the Detail page preview. Preview a lesson page to view these:
Header: text color
Page Details: link color

Optional
Take advantage of these additional settings to further customize your course.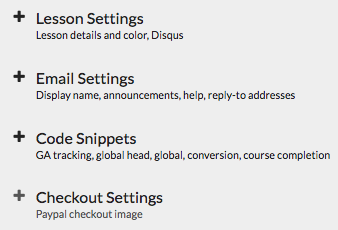 Lesson Settings - details and screen shots on lesson details can be found in this article
Lesson details auto-open - set the lesson details (summary and downloadable attachments) to default to auto-open vs. collapsed
Lesson details position - choose where the lesson details display
Lesson color scheme - choose a light or dark background
Checkout image - if you upload an image, it will display on the checkout page once a customer has checked out IF they opted to check out with PayPal. If no image is uploaded, the Company Name will display instead
Disqus shortname - Set up yourself as the comments moderator by adding your Disqus shortname in the here. Details on how to setup Disqus here
Email Settings- display name, announcements email, help contact, and reply-to addresses
Display name - this name is down on transactional emails to students. If this is blank, the organization's name will appear
Announcement email - emails sent on behalf of the Skilljar platform (i.e. student announcements, purchase confirmations, and dashboard user invitations)
Help email - the contact address used when a learner needs help with a course
Reply-to email - a separate email from Announcements to help alleviate DMARC security issues that can sometimes occur
Code Snippets - more details on custom web tracking here
Global head snippet - add custom CSS to further customize the appearance of your training site beyond the style options provided. More info in the related articles:
Global code snippet - add custom web tracking code to all course pages
Conversion code snippet - add custom web tracking code to successful course registrations
Course completion code snippet - add custom javascript to track course completion
Checkout Settings - customize the PayPal checkout image