Skilljar enables you to use your own payment gateway to process e-commerce transactions for any courses or learning path you sell. You can also check out how Bulk Purchasing Courses in Skilljar works from an Admin and a Student perspective.
By setting up your own payment gateway, you will receive payment directly to your own account, according to your payment processors' terms and policies. You will also be able to manage any refunds for customers directly. In this article we'll cover:
What payment gateways are supported?
From the Skilljar Dashboard, easily connect to the following payment gateways:
We recommend enabling both payment gateways, as this will allow the customer to select which one they would rather use during checkout. Historically, approximately 70% of course purchases have been via credit card, and 30% processed via PayPal. However, you only need to connect one gateway in order to begin receiving transactions.
Additionally, we support the following custom payment gateways:
You can also configure your organization to process payments outside of Skilljar through an external payment gateway:
To configure a custom payment gateway using one of the services listed above, please contact your Implementation Manager, Customer Success Manager, or Skilljar Support.
Connecting PayPal to my Skilljar account
Step 1: Get API credentials from your PayPal account
Log in to your PayPal account (or create an account) at

www.paypal.com

: you must have a PayPal Business account

Navigate to the API Access page by

heading to your

Account Settings.

In the "API access" section, click Update.

Under "NVP/SOAP API integration (Classic)," click

Manage API credentials

.






Select

Request API signature and click Agree and Submit to generate a set of Signature credentials. Click 'Show' to view your credentials.

Here's an example showing a set of Signature credentials:



Step 2: Add PayPal API credentials to Skilljar account
Navigate back to the

Skilljar Dashboard

and select the Organization > Settings menu item.




From the Settings page, look for the Paypal button under the Payment Gateways section.

Click the PayPal button:


Input your PayPal API Username, API Password, and Signature and click

Add Payment Gateway.




Once completed the form, your unique account code will display under "PayPal" in the Payment Gateway section:


Connecting Stripe to my Skilljar account
Stripe Setup Steps are covered in a the Following Help Article: Integrate with Stripe
Once the integration is complete, the Payment gateway information will show up on the Organization Settings Page: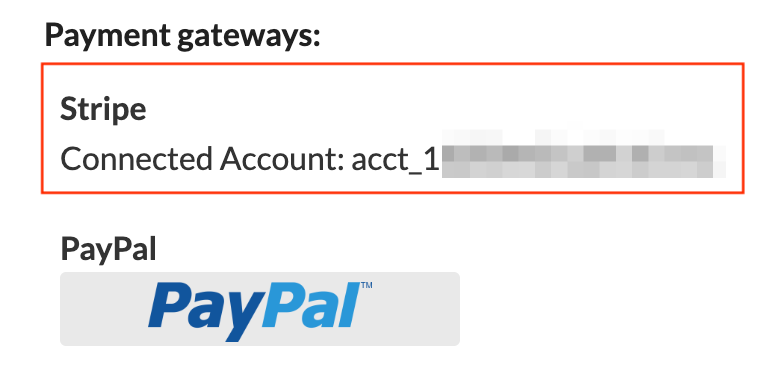 What does it look like for the student to have both Stripe and PayPal enabled?
When the student clicks "Purchase" they will be brought to the checkout page where they will see two options. One option is to pay by Stripe and the other option is to pay by Papal.
To pay using Stripe:

To pay using PayPal: