In this article, we look at:
How to set up a certificate
How to require a passing quiz score
Trainee experience
Set up a Certificate
Instructors can issue certificates to trainees based on 1 of 2 possible requirements:
Course completion - trainees must complete a course by navigating through every lesson
Passing a quiz - you can require that trainees pass a quiz in addition to completing a course to receive a certificate.
To issue a certificate upon completion of a course:
Go to your Skilljar dashboard, expand the

Course Management

header on the left, and select

Courses

. Alternatively, select

Course Management

from your dashboard homepage

.
Select the course with certification or create a new course by selecting New Course.
Select the Actions tab and scroll down to the Completion section




Select Add Completion Action to open the options bar


Select Issue certificate upon completion to open more options


Select the template you want to use

You can select the Skilljar default template, from a list of custom templates, or create a new template by selecting Create New Template.

To learn more about creating a certificate template, see

Customizing Certificates

.



Edit the relevant certificate information for your course and organization within the template.

If your certificate expires after a certain date, enter the date in the Expires box. If there's no expiry date, leave the box blank
To enable your certification to be added to a learner's LinkedIn profile, select Add Certification To LinkedIn and complete the relevant information. For more information, see Adding Certificates to LinkedIn Profiles





Review your setting and when you're finished, select Save.
You should see that 'Issue Certificate on Successful Completion' has been added to the Completion actions section of the Actions tab and is enabled. This can be disabled at any time by toggling the slider button to the off position.

Select the 'Eye' icon to preview the certificate, the 'Pencil' icon to edit the settings, or the 'X' icon to delete the action.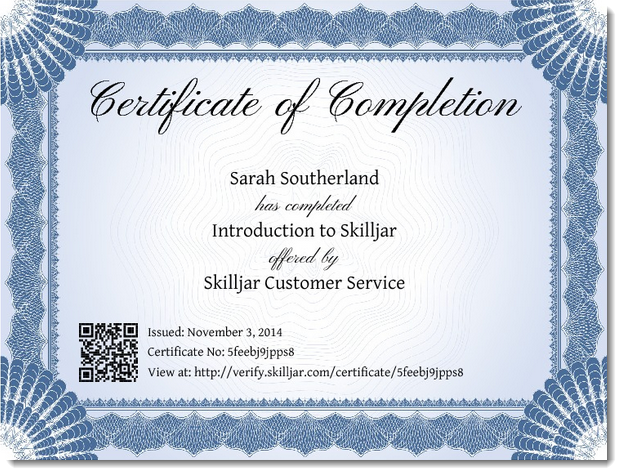 To customize the certificate, see the instructions in Customizing Certificates.
If you're building a recurring certificate program, give our best practices article a read at Create a recurring Certification program
Require a passing quiz score
Navigate to the desired course through Course Management
If you are adding a new quiz, click the curriculum tab to add a new lesson.
Click "New Lesson" at the bottom of the page, and select quiz from the dropdown.
If you are editing an existing quiz, click quizzes under Course Management and select the quiz you'd like to edit.
Scroll to the settings section, and update the passing score.


If you want to issue a certificate when the quiz is passed, you will need to check the "Issue certificate upon completion" field in the Advanced Course Settings as well (as outlined above).
Trainee experience
Trainees can view certificates issued for their completed Skilljar courses in the profile section of their account.
A unique URL is generated that can be shared for verifying a trainee's completion. Verify my completion of Skilljar's Success Metrics for Online Training course by visiting this verification link: http://verify.skilljar.com/certificate/ahr43wvmbnzd
Want to send students an email with a link to their certificate? Follow the steps in this article to activate that email: Managing Student and Instructor Email Notifications
Is your course measured as a certain amount of credits/points/hours? This can display on the certificate too. Details on how to configure this here.
What to do if you need to update an issued certificate?
In some cases you may need to make changes to an already issued certificate. To make changes to a certificate that has already been issued, you will want to reissue the certificate by manually updating the existing information in the Student record.
Once this is complete, the certificate ID and verification URL will remain the same but the new information will populate on the certificate.