You can make it easy for trainees to showcase the certificate they earned from completing your course on their LinkedIn profile. In this article we will look at:
How the certificate displays on LinkedIn
Step-by-step process for enabling your certificates to be added to trainees' LinkedIn profiles.
Student experience
LinkedIn certificate display
If a trainee adds their certificate to their LinkedIn Profile, the following certificate components will display:
Name (either the course title, or as defined by you)
Unique certificate Credential ID
The dates the certificate is valid through
Your LinkedIn company name
Your LinkedIn company logo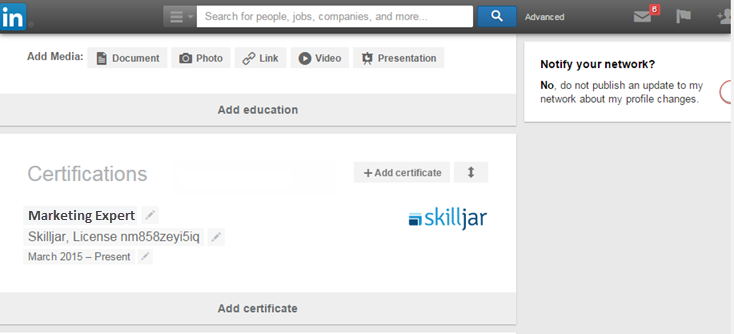 Enabling certificates to be added to LinkedIn Profiles
In this step, you will configure your certificate settings in Skilljar to surface the correct certificate attributes and enable them to be added to LinkedIn. This will provide trainees an "Add to Profile" button to easily display their certificate to their LinkedIn profile.
Navigate to Course Management.
Select the course.
Open the Settings.
Scroll down to the Certificate Settings and select "Issue certificate upon completion" and "Add certificate to LinkedIn." 
If the Certificate Settings field displays "-------" this means you have not yet selected a custom template. 




You must use a custom template in order to enable the LinkedIn Add to Profile feature. If you have created one already, you can select it from the Certificate Settings picklist. If you do not have a template available, or want to create a new one, click "New" next to the Certificate Settings field.
Name: We default to displaying the course title as the certification name. If you'd like to customize the certificate name that displays on a trainee's LinkedIn Profile, add your custom name here and click Save Details. For example: Your course title may be "Advanced Marketing Tips", but you'd like the certificate name to display as "Marketing Expert."
Issuing Organization: Include the name of the company as it appears on LinkedIn. 
Save your settings. 
Once you have configured the certificate LinkedIn settings, the LinkedIn Add to Profile button will display on the trainee's Skilljar profile page next to their certificate.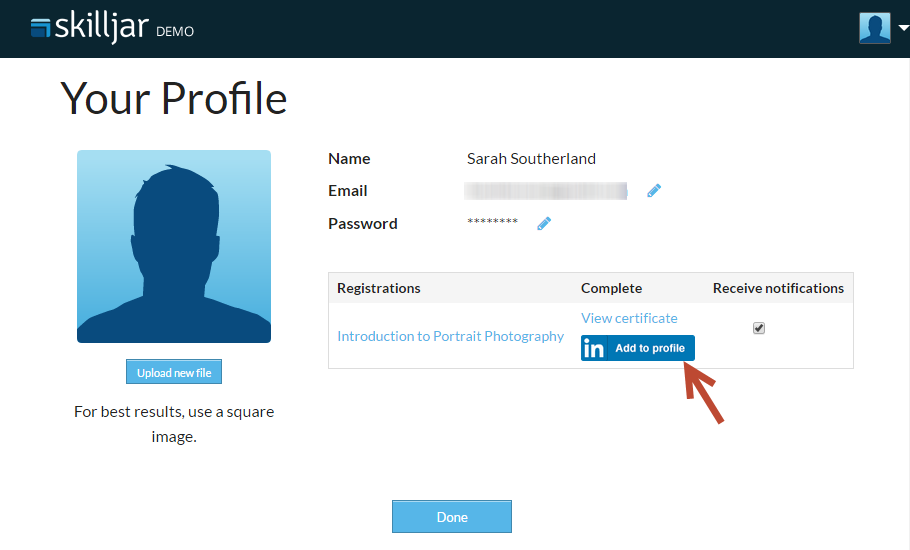 If you select to send course completion emails for this course, the user will also receive an email including a link to download their certificate and the LinkedIn Add to Profile option.
Student Experience
When a student receives a certificate and opts to add it to their LinkedIn profile, they'll see the following information that can easily be copied and pasted into the fields on the LinkedIn form. Issuing Organisation will only be filled in if you have identified it in Course Management.