Learners can showcase the certificates they've earned from completing courses on your training site and post them to LinkedIn. In this article, we'll explain how you can enable your certificates to be added to a learner's LinkedIn profile, how they'll be displayed, and how to add your LinkedIn organization ID to the certificate.
Learn more about issuing certificates.
What is LinkedIn?
LinkedIn is a business and employment website, which provides services such as professional networking, career development, and job searching. Students can add certificates they have earned on personal LinkedIn profiles to showcase their achievements.
For more LinkedIn information, please visit their website. For specific LinkedIn support, visit their help center.
What is Shown on the Certificate in LinkedIn
When a learner adds their certificate to their LinkedIn Profile, it'll appear under the Certification section and will include this information:
Certification Name (defined by you, or the course title)
Unique certificate Credential ID
The dates the certificate is valid through
Your LinkedIn company name
Your LinkedIn company logo (taken from your catalog page tile image).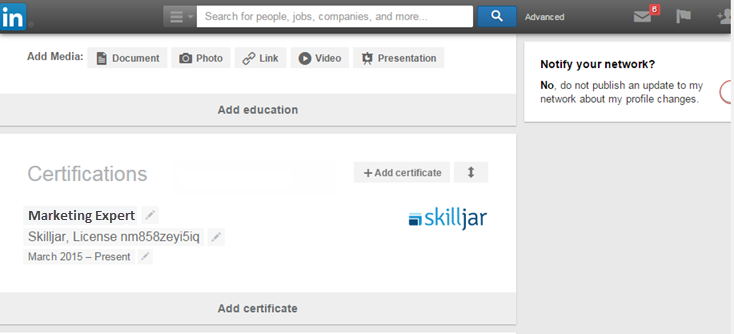 Note regarding company logos: To make sure your company logo matches the correct 1280x720 pixel size on the LinkedIn page, it's essential to upload a tile image to your catalog home page. If your catalog home page doesn't have a tile image, LinkedIn will use the image from your theme header which may cause it to appear cropped. Learn more about catalog page tile images at Create and Edit Catalog Pages.


Enabling Certificates to be Added to LinkedIn Profiles
To allow learners to add their certificate to their LinkedIn profile and show the correct information, you'll first need to edit your certificate settings within your Skilljar dashboard. To this, follow these steps.
First, either create a certificate for your course. To learn how to create a certificate, see Issuing Certificates.
On your Skilljar dashboard, expand the Course Management tab on the left and then select Courses to open the course management page.
Select the course with certification or create a new course by selecting New Course.
Select the Actions tab and scroll down to the Completion section




Select Add Completion Action to open the options bar

To edit an existing certificate, select the

pencil icon on the course with the certificate to open the edit options.






Select Issue certificate upon completion to open more options


Select the template you want to use to open the edit options

You can select the Skilljar default template, from a list of custom templates, or create a new template by selecting Create New Template.
To learn more about creating a certificate template, be sure to check out this article.



Select the Add Certificate to LinkedIn box




Enter the following information into the form:

Name: This is the name of the certification that appears on your learner's LinkedIn profile. For example, your course title may be "Advanced Marketing Tips", but you'd like the certificate name to display as "Marketing Expert." If left blank, we'll add your course title
Issuing Organization: The name of the company as it appears on LinkedIn.
LinkedIn Organization ID: This is a six to nine-digit number that links to a company that has been verified as a LinkedIn business page. This isn't seen by end-users but relates your Certificate back to a specific company on LinkedIn. See Adding a LinkedIn Org ID for more information.

Save your settings.
Once you have configured the certificate LinkedIn settings, the LinkedIn Add to Profile button will display on the learner's Skilljar profile page next to their certificate.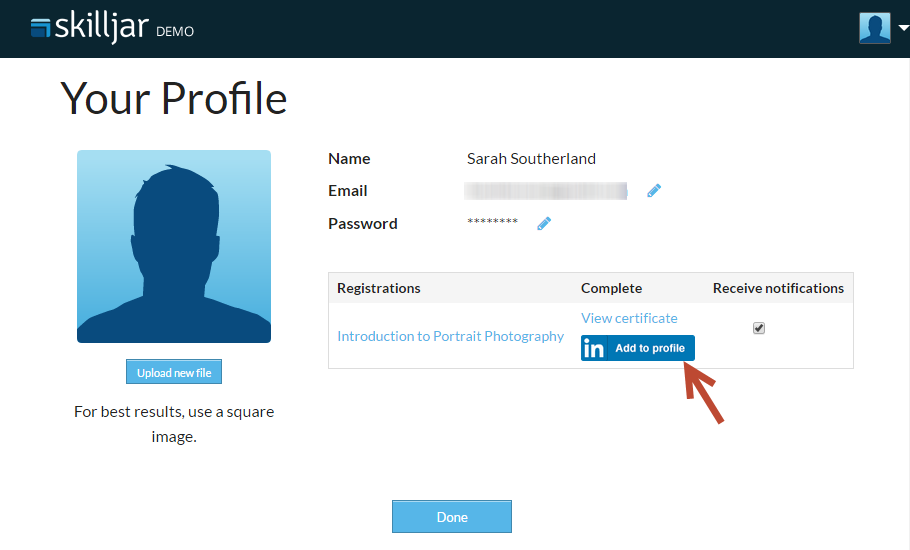 If you select to send course completion emails for this course, the learner will also receive an email including a link to download their certificate and the LinkedIn Add to Profile option.
Learner Experience
When a learner receives a certificate and opts to add it to their LinkedIn profile, they'll be able to set this up by going to their Issue certificate upon completion email and selecting the Add to Profile button that redirects them to LinkedIn.
Note: Only the student who has earned the certificate and is logged in to the course platform will be directed to LinkedIn after selecting the Add to Profile button. If an instructor or student who isn't logged in selects the button they'll be directed to the certificate page instead.
All of these fields that have been identified in the Certificate settings section within the Actions Tab will be auto-filled on the LinkedIn form.
Note: The Expiration Date won't appear in this field if it's not specified in the certificate. If the certification doesn't have an expiration date, the learner will have to manually press the "This credential does not expire" button. The LinkedIn Organization ID doesn't appear on the learner's profile.

Learner view with Issuing Org ID and no expiration date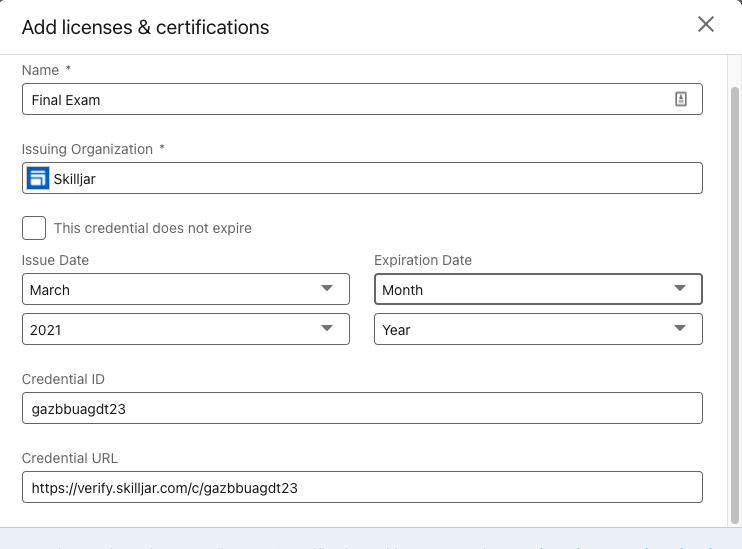 Adding a LinkedIn Org ID
You can also add your LinkedIn Business as the issuer of your LinkedIn Certificate by using your LinkedIn Org ID. This LinkedIn Org ID is also only needed to set up the autofill from the Dashboard User admin view and isn't something your learners will see or interact with.
Here's how to find your Org ID:
Log into LinkedIn as the admin for your business' Organization Page.
Check the web address used when you're logged in as the admin.
Your LinkedIn Org ID will be the six to nine-digit number included in the address (see image below).


Frequently Asked Questions
Why is my company logo cropped on the LinkedIn profile page?
To make sure your company logo fits the correct 1280x720 pixel dimensions on the LinkedIn profile page, you must add a tile image to your catalog home page. If you don't have a catalog home page tile image, LinkedIn will use your theme header logo, which will cause it to be cropped due to the incorrect dimensions. To learn more about catalog pages and tile images, see Catalog Pages 101 and Create and Edit Catalog Pages.