You can select to have students and/or Dashboard admins receive an automatic email when the student registers for and/or completes a course or course series.
To customize Live Training or Course Completion emails, view our help article about Customizing Notification Emails.
To do so for courses:
Go to Course Management and select a course.
Scroll down and expand Settings section
Scroll to the Registration Actions and Completion Actions


Choose who you want to receive emails:
Email Student on Registration: This sends the student a confirmation email when they register to this course.
Email Instructor on Registration: This will send an email to the organization's notification email (set in Organization Settings) when a student registers to the course.
Email Student on Completion: This sends the student an email when they complete the course. Information about certificate generation will be included if applicable.
Email Instructor on Completion: This will send an email to the organization's notification email when a student completes the course.
To do so for a course series:
*Please note this will not apply for legacy course series - this will only apply to existing course bundles or any course series created after 6/9/2020
Go to Catalog Settings for your domain, then select the Course Series tab and click the name of your series
Scroll to Enrollment Settings and indicate if you would like students, the organization, or both to receive an email notification upon the student registration: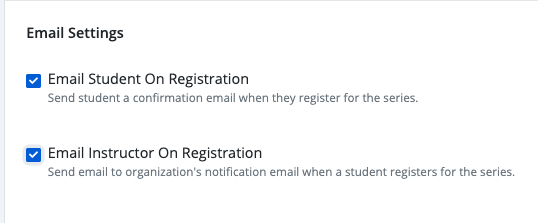 To change your organization's notification preferences (email notifications Skilljar sends to you when specific actions happen), follow the instructions outlined in Configuring Organization Settings.
Example Emails:
Student registration email for a course:



Student registration email for a course series: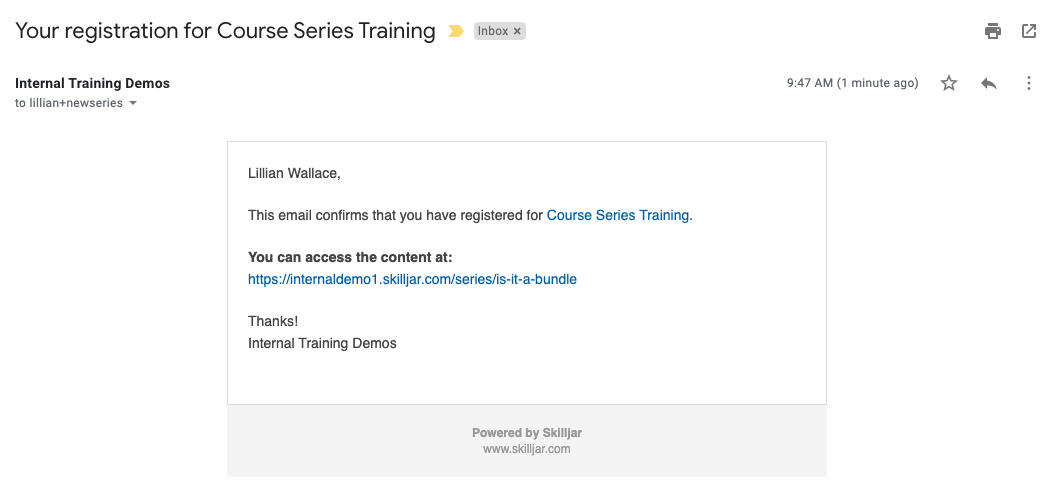 Student completion email (no certificate issued)



Student completion email (certificate issued)



Student completion email (certificate issued, and LinkedIn Add to Profile is enabled)