Welcome! This article provides a brief introduction to navigating your Skilljar account. (Note: For a more in-depth guide to getting started, we highly recommend checking out the Skilljar Academy!)
We will look at:
A tour of the Skilljar admin dashboard
Your training portal
What is a course
Skilljar admin dashboard
Our admin dashboard gives you access to course creation and management, reporting, and much more. This is the site where you will manage your learning system.
Here is a Quicktip on the Dashboard v. Domain
Your Skilljar dashboard is located here: dashboard.skilljar.com. This is a different URL from your training portal. Input your admin email and password to login - This is a different login than any of your student accounts on your training domain.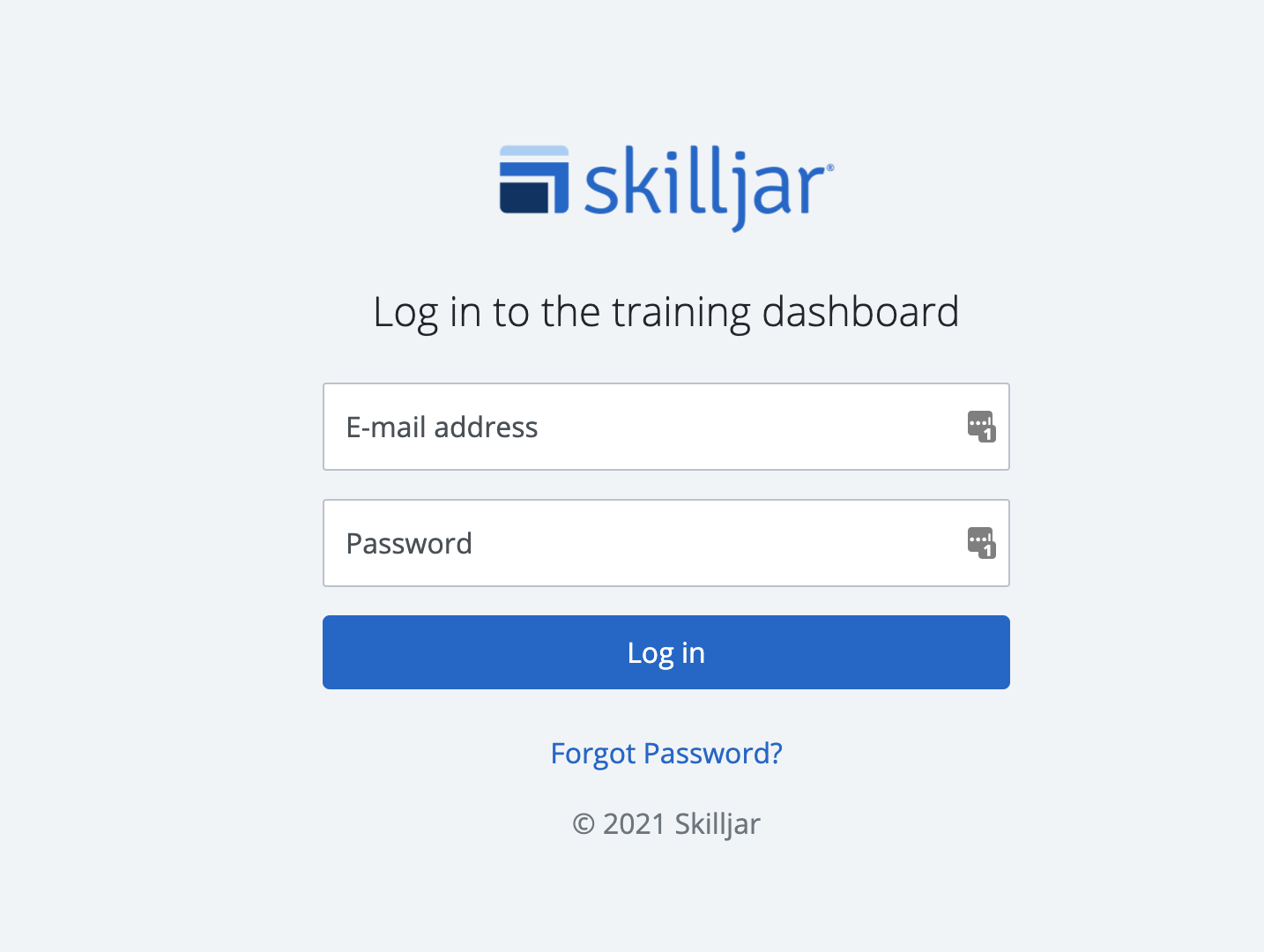 Once you have logged in, you will be taken to the dashboard homepage, where you'll notice several tools available.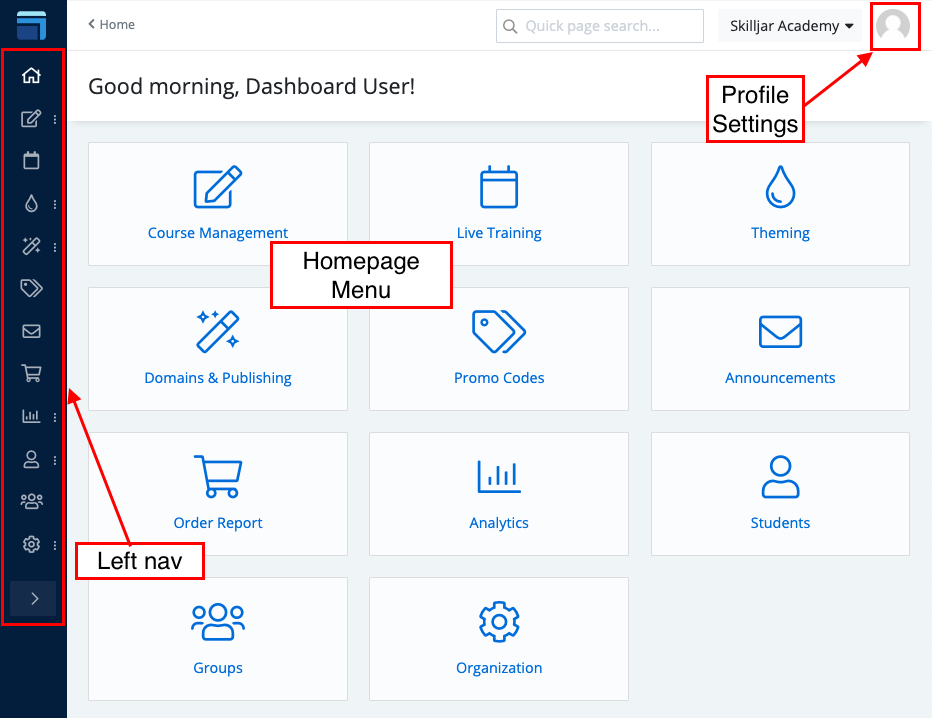 Let's take a look at the menus. The left nav menu serves as your primary navigation throughout the dashboard. These menus provide access to several different tools and can be expanded or collapsed for extra dashboard screen space.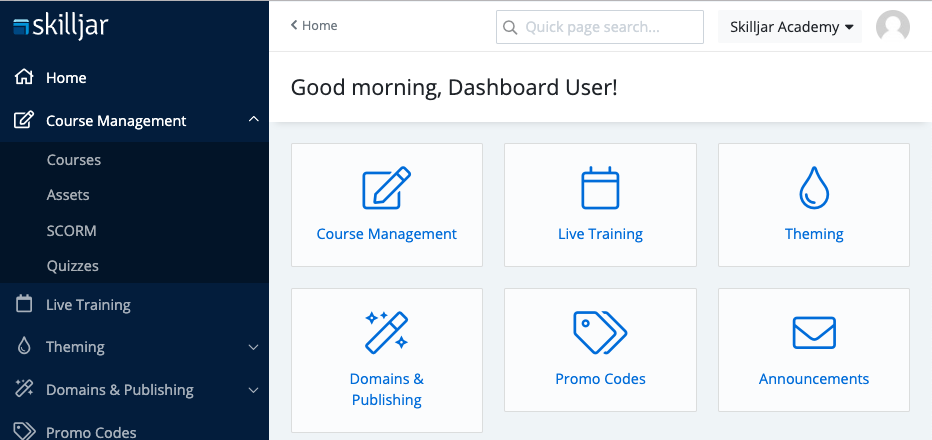 When Collapsed, you can access the subpages on each section by expanding the "..."

Below is a description of each Dashboard Area:
Left Nav Menu Tools
Course Management - create and manage your courses, including building your curriculum, uploading content, setting up certificates, and many other course settings
Live Training - Manage existing Live Training events
Theming - customize the look of your training site and add your custom code for web analytics and conversion tracking
Domains & Publishing - manage published courses, including your training site domain, course price, and availability, custom registration fields, and more
Promo Codes - create coupons to provide to trainees for discounted or free access
Announcements - send emails to your trainees
Order Report - view order data and manage registrations
Analytics - presents user activity reports in a variety of views
Groups - organize trainees into groups and assign admins as group managers for viewing analytics by trainee group
Organization - manage organization details, Admin user roles, API Credentials and more
Profile Settings
Profile - update your user settings, access the help site
If you ever have a question, you can visit this Help Center by clicking on the Support link located in the footer of each dashboard page, or you can reach out to Skilljar Support!
If there are any delays on the dashboard, you can see the latest server and site updates by clicking the Status link in the footer on the dashboard.
Your training portal
Your training portal is the URL where your published courses will be located, and where trainees can register for, access and complete training.
This URL can be set up as a custom domain using your own website, like training.yoursite.com. Or you can use a Skilljar domain, like yoursite.skilljar.com. You can also customize the look of your training portal to match your company's brand and colors.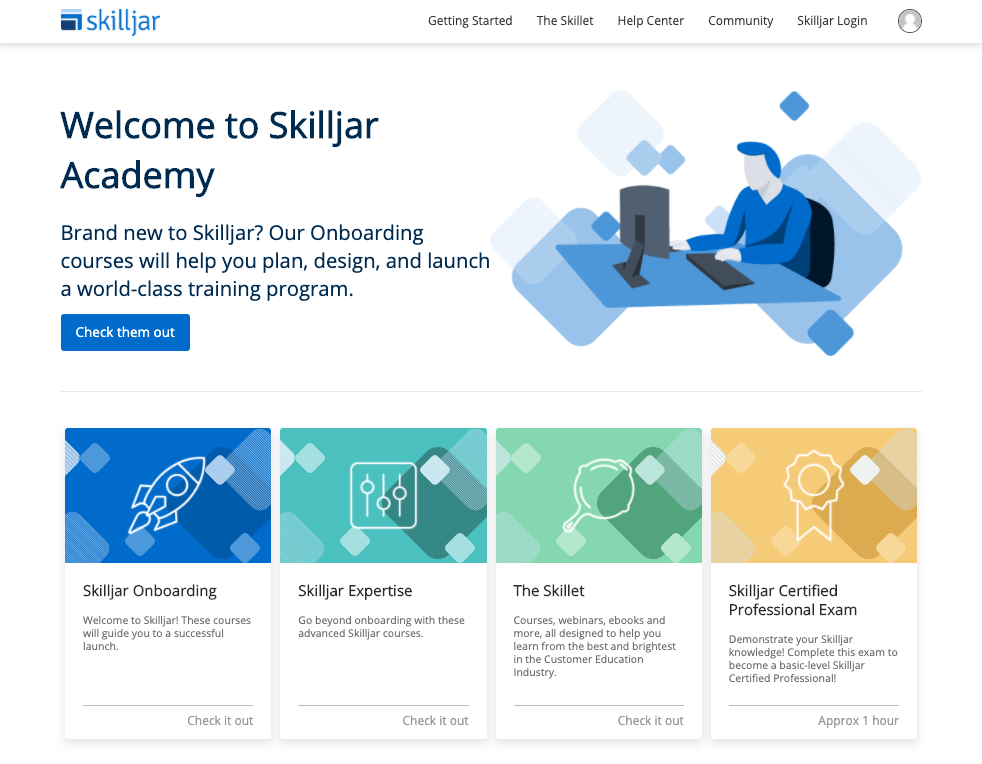 What is a Catalog Page?
A catalog page is a landing page or subpage of your training site
Includes your catalog main page, indicated by the home icon in your list of catalog pages
Pages can be created and configured in the catalog settings of any domain
A page can contact both courses and other pages, allowing for extensive customization of your training site's course structure

Above: A list of catalog pages in catalog settings, with the Skilljar Academy homepage highlighted
What is a Plan?
A plan makes it easier to package and sell your training. It is a new object that provides access to other objects (e.g. courses, paths).
Plans can be created and configured in the catalog settings of any domain
Package your training content in a myriad of ways
Design a tiered subscription model to drive training revenue
Surface upgrade promotions to specific segments with group automation
What is a Published Path?
A learning path, or path, is a collection of related courses on your training catalog.
Can be created and configured in the catalog settings of any domain

Require a single register button for a Learning Path, which registers a student for all courses in the Learning Path at once

Do not allow prerequisites at this time
What is a Published Course?
A course is a unit of training that is available for a trainee to purchase, register for, and complete.
A course is made of one or more lessons
A lesson contains one main content element
A content element can be any of the following:

Video
SCORM package
Web package
Quiz
Text
PDF
Audio
Embed link
Next steps
When you're ready to start creating a course, you can visit this article on How do I set up a course.
If you'd like to learn more about setting up your training portal, visit this help article: Introduction to your training portal.