Once the content has been created, you can upload a video, PDF or audio file. In this article, we'll cover how to upload one file at a time. If you have several files that you'd like to upload, visit our help article on how to upload files in bulk.
Navigate to Course Management and select your course (or create a new one).
Click Curriculum
Click New Lesson




Select Video, PDF, Audio or Embed
Click "Choose File"
Browse for your file then select it and click "Open"
Click Save Lesson 
The saving of student video progress is supported for all Wistia and JW Player uploaded videos.
To view the lesson page from the student view, click Preview and select "This Lesson".
Optional lesson components: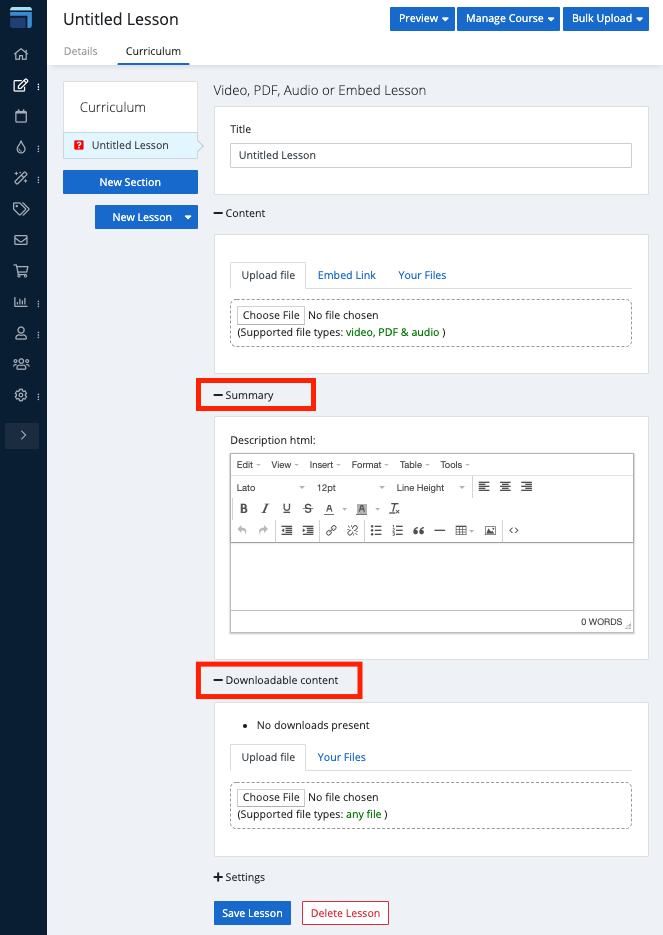 Summary - a text/HTML field where you can provide a summary of the lesson for trainees, links to additional resources, upload images, etc.
Downloadable Content - upload any file type to the downloadable content section to make available to the trainee as a supplementary downloadable attachment
*Edit thumbnail (*for video only) - click "Edit Cover Image" to change the video's thumbnail. You can use the course promo image, or select any frame within the video. More details can be found here.




*Set lesson as free preview on your course detail page (*for video only) - in the content section, select this check box to make the video viewable to customers as a preview before they register for the course


A look at a trainee lesson page:



How do I disable autoplay?
Videos embedded into Skilljar will auto-play by default. If you want to turn autoplay off for all videos in your organization, reach out to support@skilljar.com. 
Beginning in version 66 of Chrome, audio is automatically disabled on videos configured with auto-play. This feature is specific to Chrome and behavior may vary between different web browsers.