The Live Training feature allows instructors to create an event for students to join a training on a scheduled day and time. In this article we'll review:
To learn more about creating a Live Event with a Universal Join Link, check out this article: Universal Join Link for Live Event Lessons (VILT)
How it works for instructors:
Jump to a specific section:
Instructors can create a live training event as a lesson in their course.
Creating a Live Training lesson:
Navigate to Course Management
Select the course in which you want to provide a live training
Select "New lesson" and "Live Training"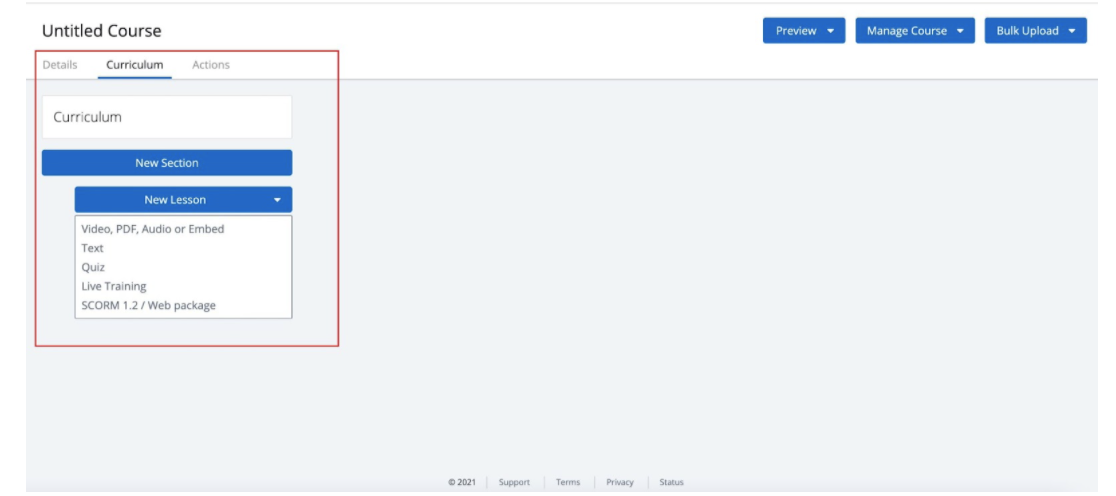 4. Click "New Event"
5. Input Event details:
Event name
Location
Start and End times
Available seats
Instructor name
Description
Tags

In the Tags section of the "Schedule Event" page: Type the tag(s) you want to add and associate with the event. Enter one tag per line; and/or
Click the plus sign (+) in the Existing Tags section and select the existing tag(s) you want to associate with the event. Click here to learn more about Live Training Event Tags: Getting Started with Live Training Event Tags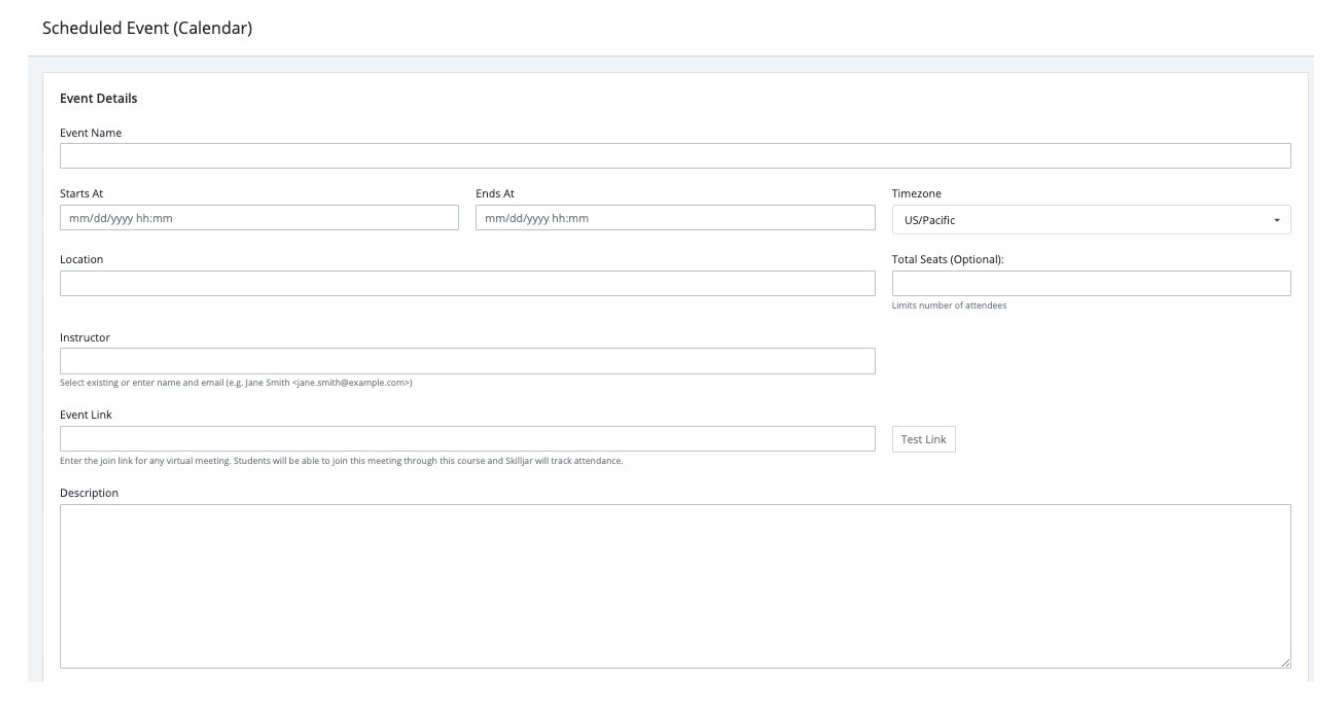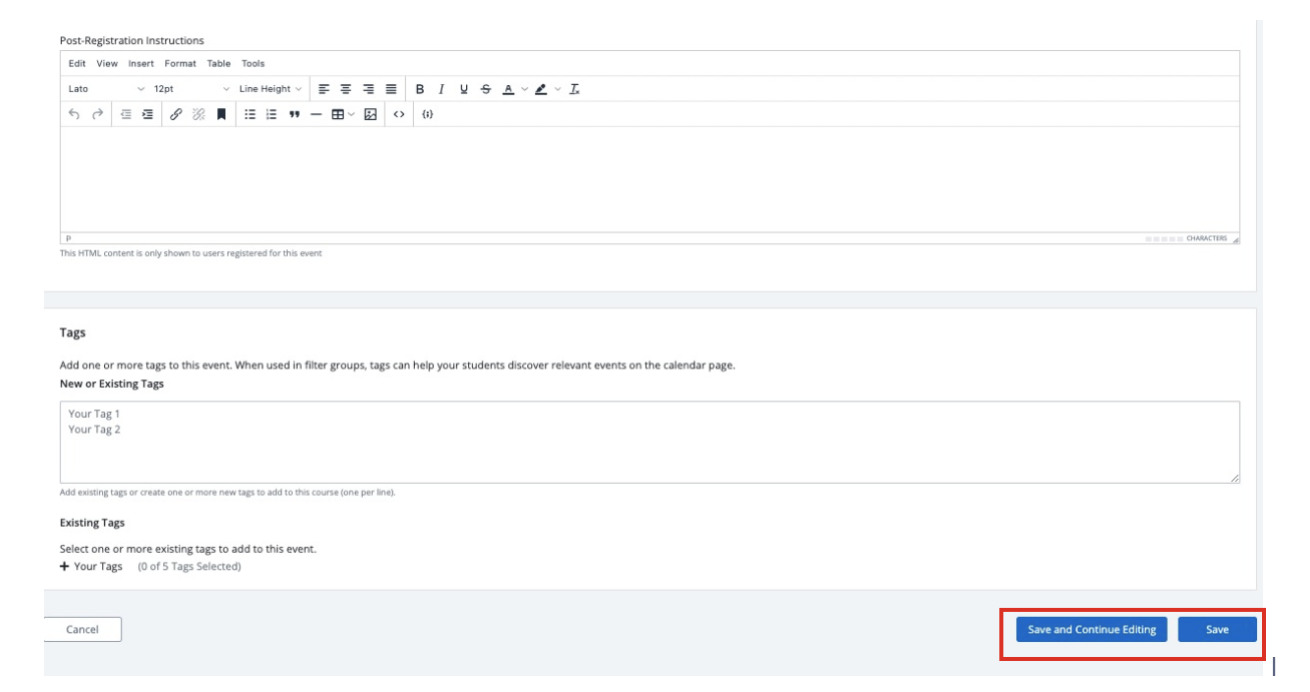 6. Select Save.
Your new event will now show under the curriculum tab within your lesson.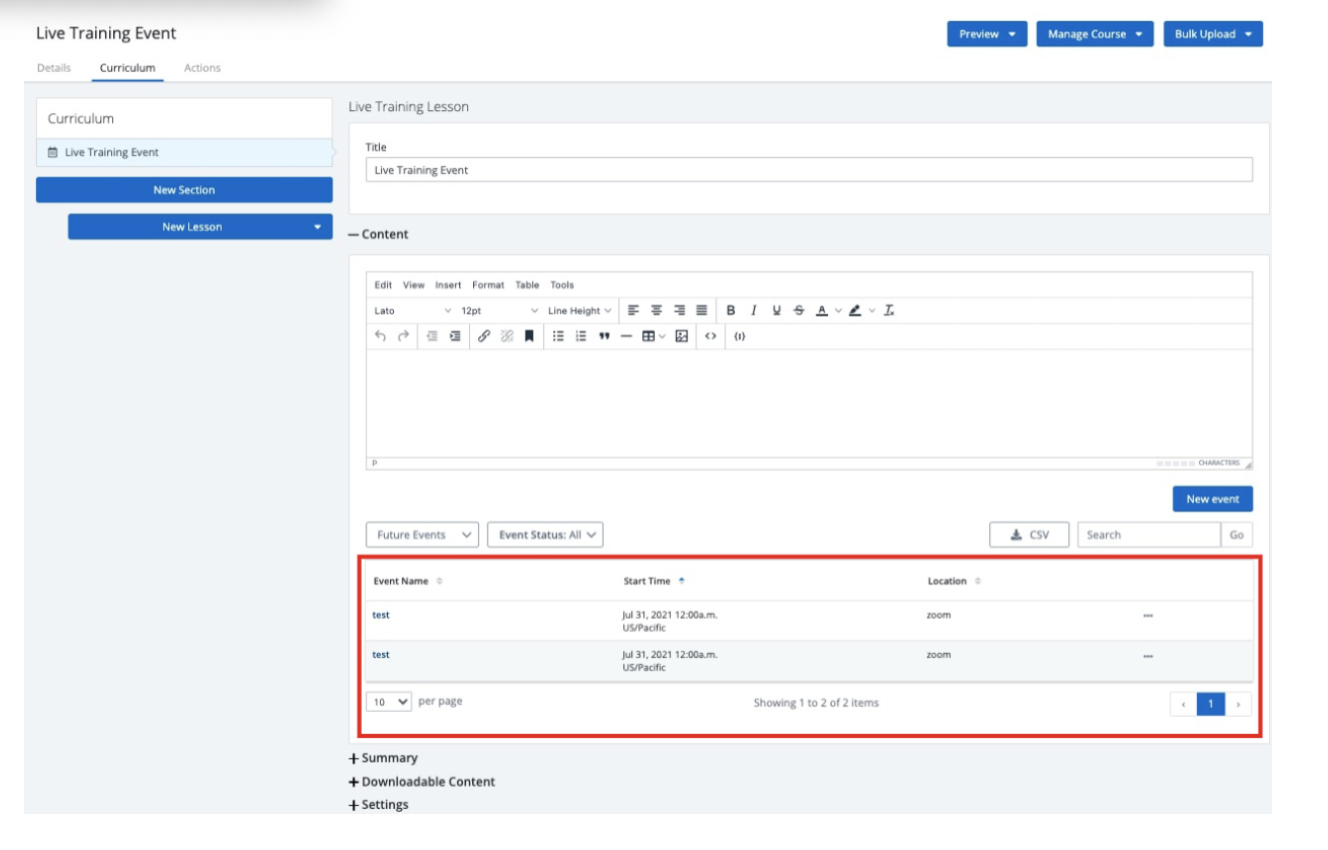 Creating Multiple Events:
You can now add multiple occurrences of your event, which upon save, will all be unique training events on the same lesson.
Note - these events are NOT related after they are created. At this time, each event created this way is independent and the lesson will complete when the student attends any of the events on this lesson.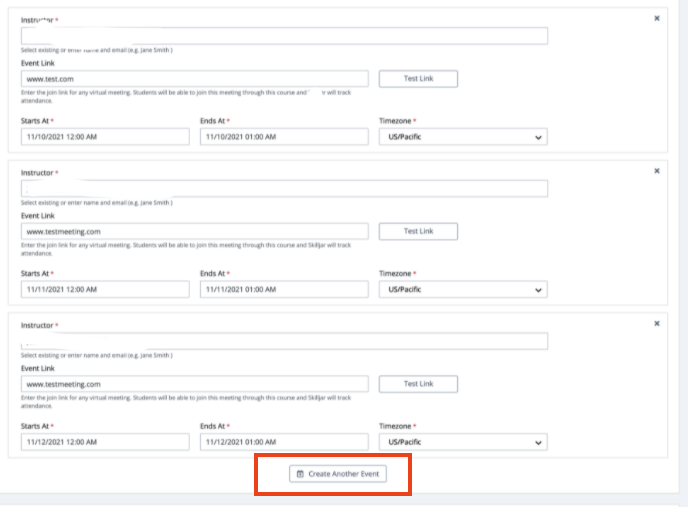 ---
Once the event has been created you can clone, cancel or delete the event by clicking the three dots to the right.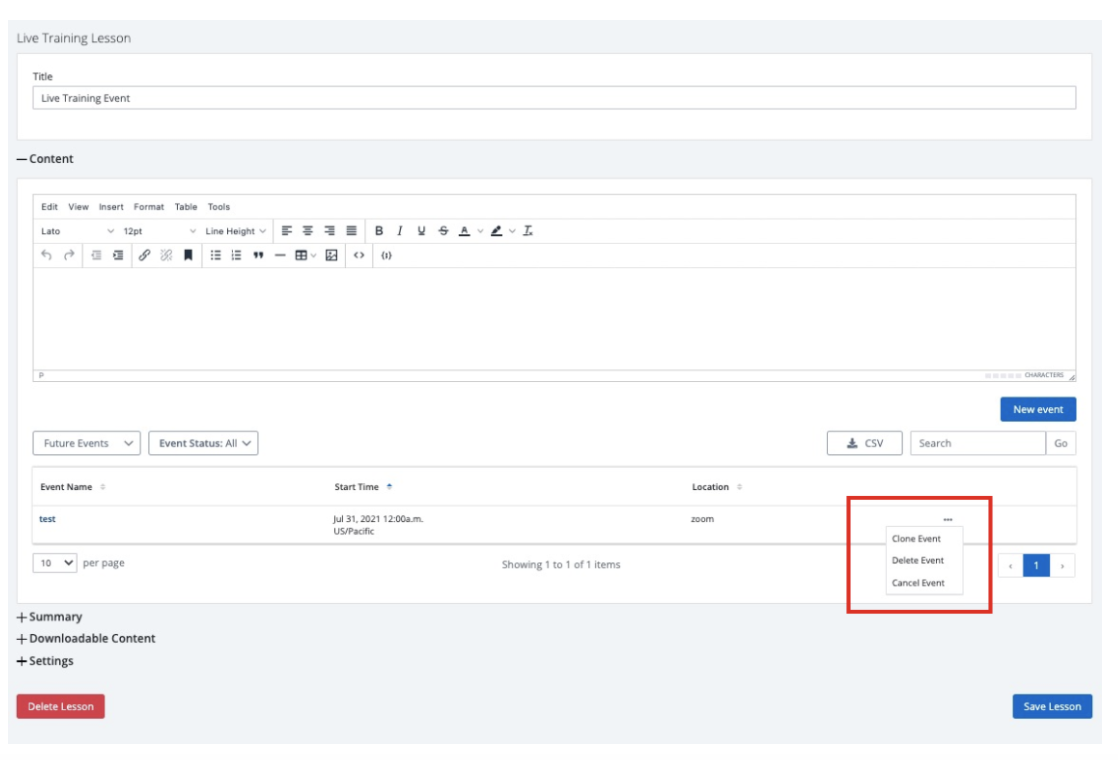 Note: Upon successful deletion or cancellation of an event, the instructor and any students that have already registered will receive email notification of the cancellation.
---
Additional settings for Live Training Events: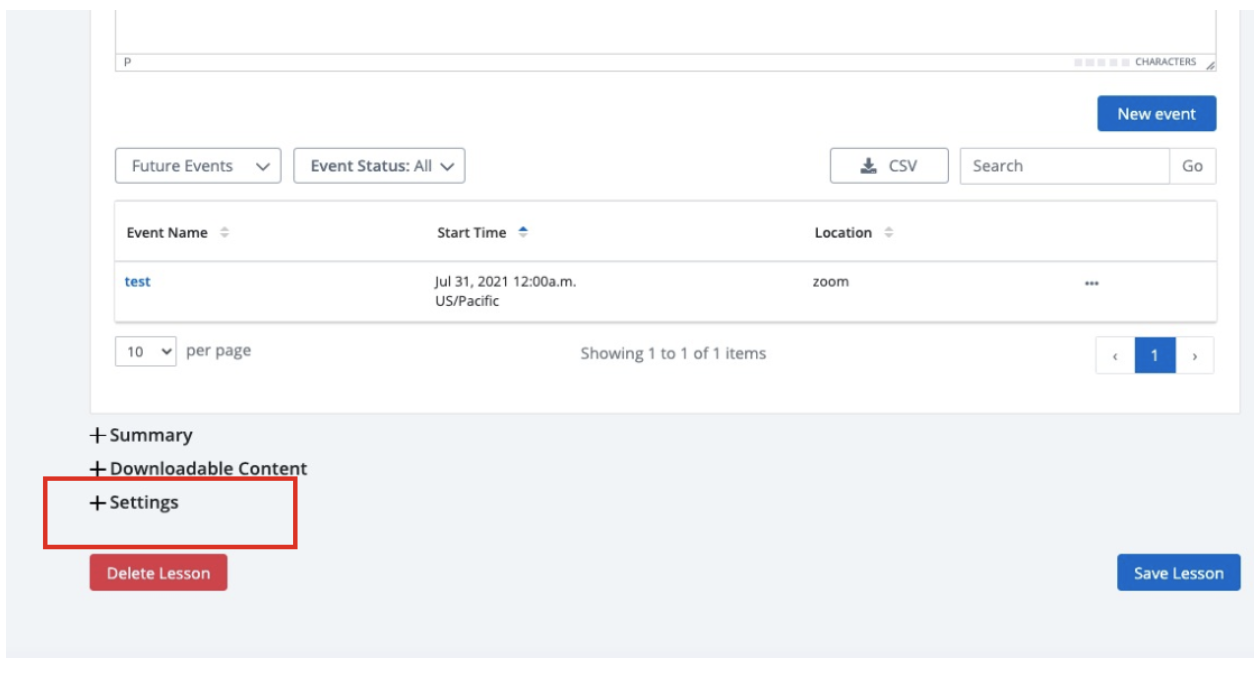 These settings will allow you to set up Customized Email Notifications for students and instructors informing individuals of any registrations and updates as well as additional course settings: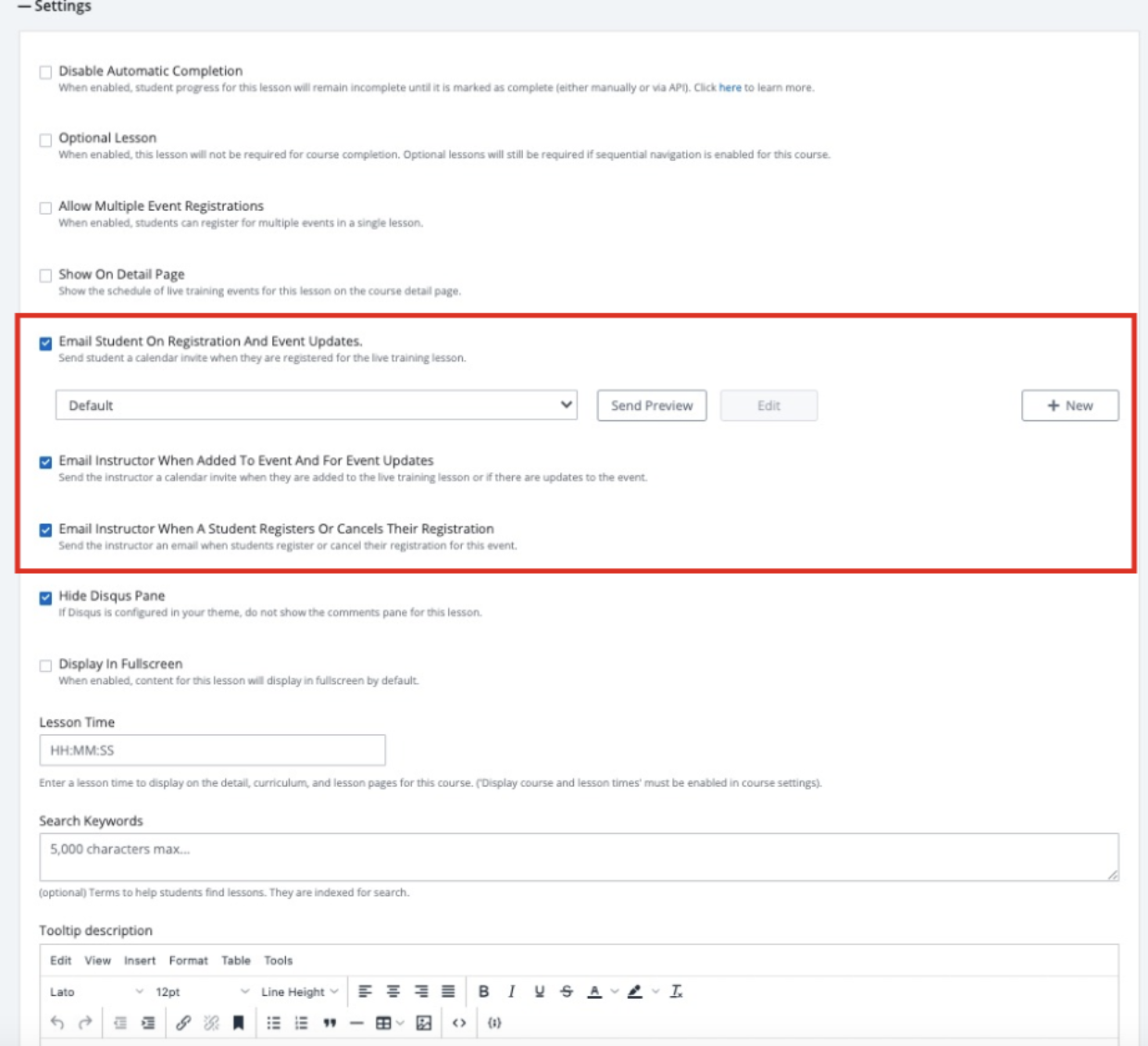 If you want to show a specific Live Training lesson's event date/times on your Course Detail page (seen to user pre-registration), scroll down to expand settings, check "Show on Detail Page" and "Save Lesson." See below for how this appears to users.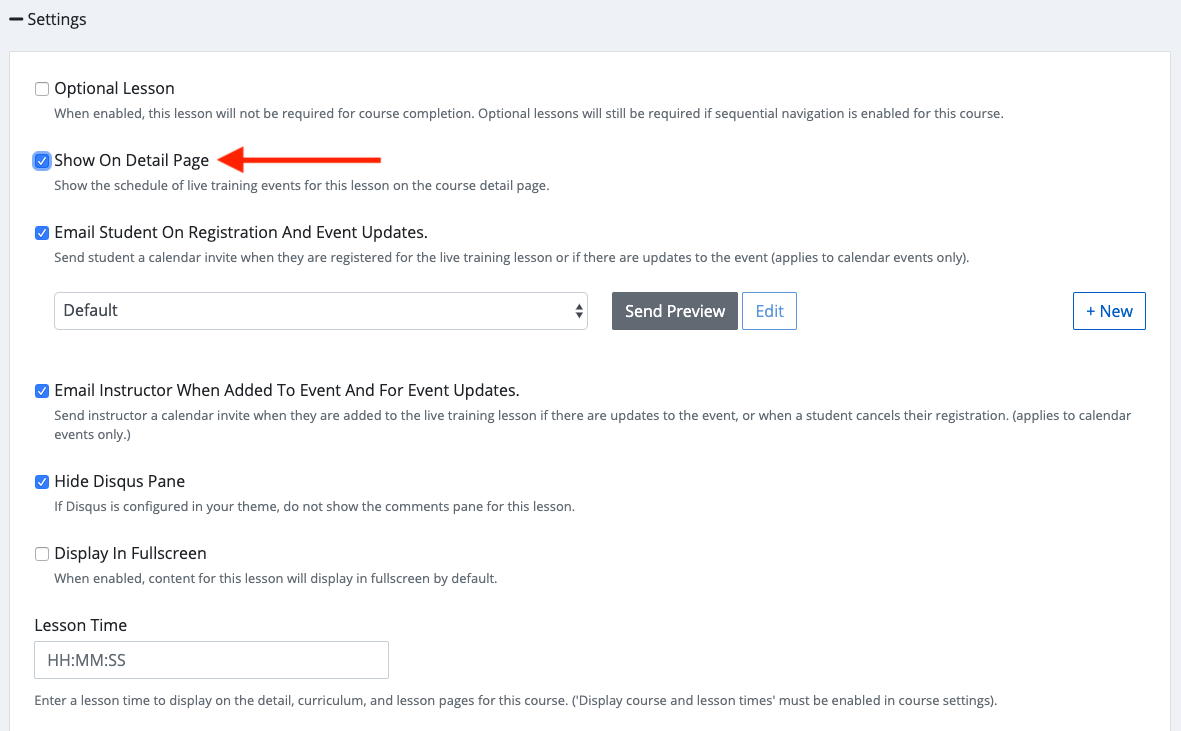 The steps above create one Live Training lesson event on your specified date and time.
Students can register for more than one live training event in a single lesson. Learn more here.
If you create a Live Training lesson with a single Live Training event, you can use the course-level "Register In Single Event Live Training Lessons" setting to automatically register students for the single Live Training lesson event.
Learn more: Register students in Live Training events automatically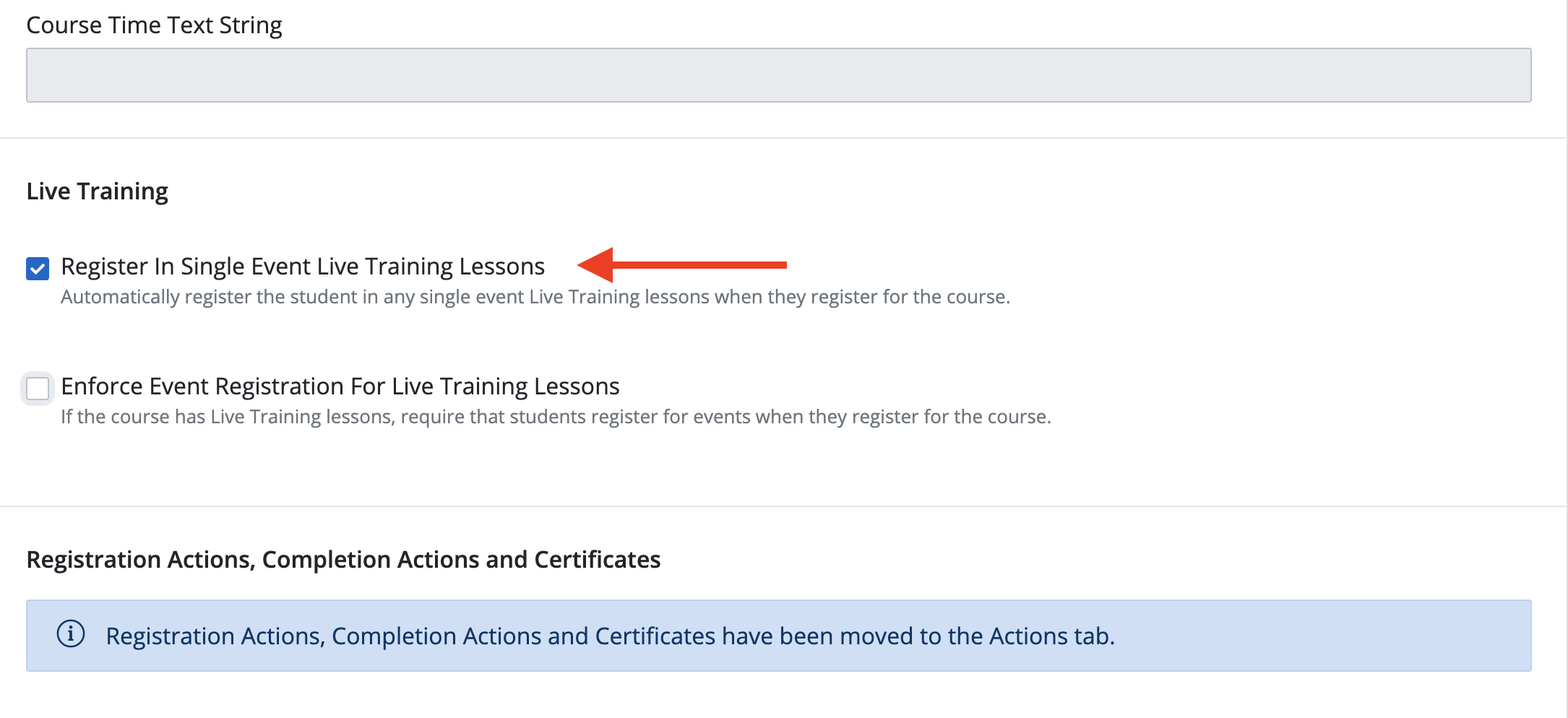 Closing Registration for a Live Training Event:
If you are looking to close registration for an event before it starts so that new students cannot register, you can update the event's Available Seats to Zero - This will not allow any new students to register but will still allow previously registered students to join the event when it starts.

Live Training Event Table
The Live Event Table will show you any Live Event that has been created for a lesson in a table format, allowing you to filter, sort, and search for a specific event. The default filter is set to show you all Future or upcoming events.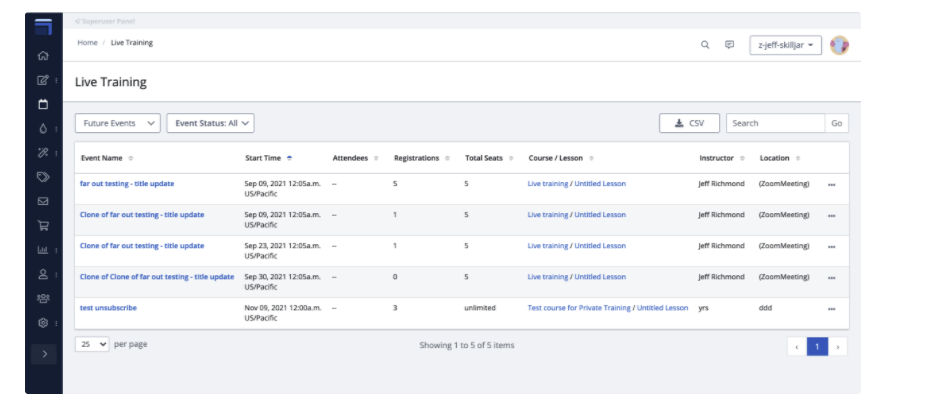 The Events table can be filtered by event type (Past Events, Future Events, or All), and/or event status (Active, Cancelled, or All).

Each column is sortable. By clicking on the column label, you can rearrange events within the table to sort them by ascending or descending order. The sorting default is by "Start Time" ascending. You can clone, cancel or delete the event by clicking the three dots to the right.
Cloning/Editing Events will bring you BACK to the ILT table after you Save your event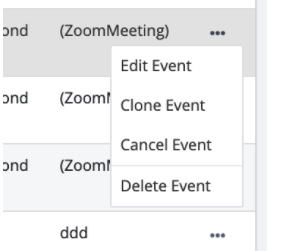 Editing a Future Live Training Event:
Clicking the Event Name in the first column of a Future Event takes you to the Event Details page and allows you to edit:
Start Date/Time
End Date/Time
Timezone
Total Seats (Optional)
Instructor
Description
Post-Registration Instructions
Tags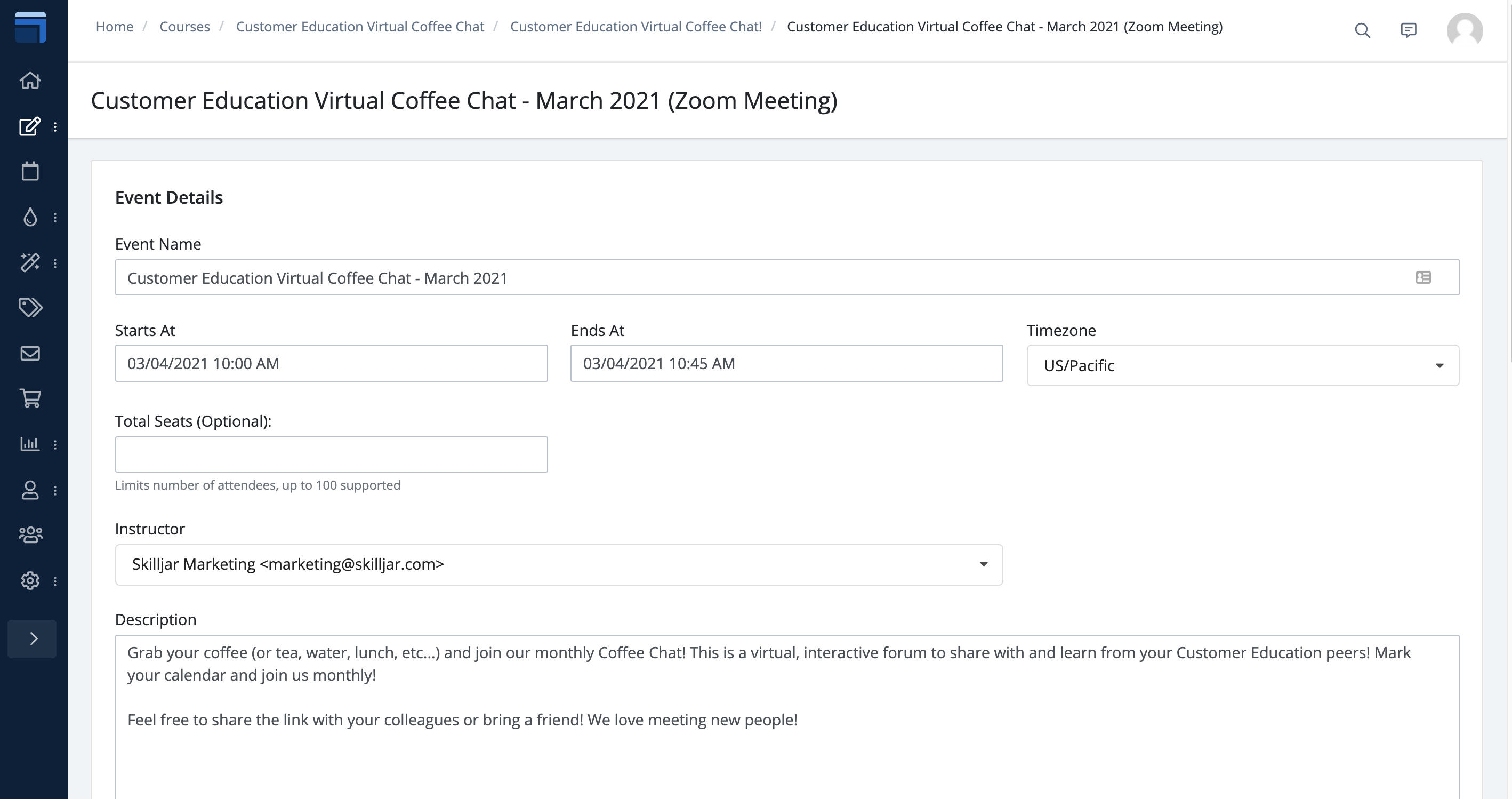 Any changes made will need to be saved to take effect.
Who can Use this Feature?
Anyone who can edit courses can create more than one ILT event when adding events to an ILT lesson.
Why Cant I save and Continue?
If you have added multiple events to the ILT lesson during the creation process, once these are saved, they are all distinct, unrelated events in Skilljar. Since we don't know which event you want to continue editing after the initial creation process, we do not allow a user to use the "Save and Continue" feature once they are creating more than one event.
When Cloning an event, Which course will it be a part of?
Cloning an event will create a new event on the same lesson/course that the cloned event came from. This cloned event will also be the same integration type as the original event (Cloning a Zoom Event creates a new Zoom Event).
---
How it works for Students:
Before registering for your course, a student can see the live events on your course details page (step 7 above). They can then self-register and self-cancel for the live training that works best for them. Users can download these events to their calendar and will receive email confirmations for any registrations and cancellations.
Please note, students are not able to register for WebEx events after they have started, if a student attempts to do this, they will be met with an error message. Click here to learn about tracking attendance and adding scores for Students.
From Course Details, users can see the available date/times for the lesson(s) (if completing step 7 above) under the About this Course heading, after your course's long description.




Once they register for the course, in the live training lesson they will be able to select the time/date that works for them.




When a user registers, they can download the calendar item for that event and will receive an email confirmation with event details.



Email confirmation:




Users can cancel their registration, which allows them to choose a new event as needed and sends a cancellation email confirmation.



Email cancellation confirmation:


For Cancelled Events
All students registered for an event that is canceled by a Skilljar Admin will receive an event cancellation email (This is similar to the email Skilljar sends students for deleted events). Please note, this email notification is not customizable.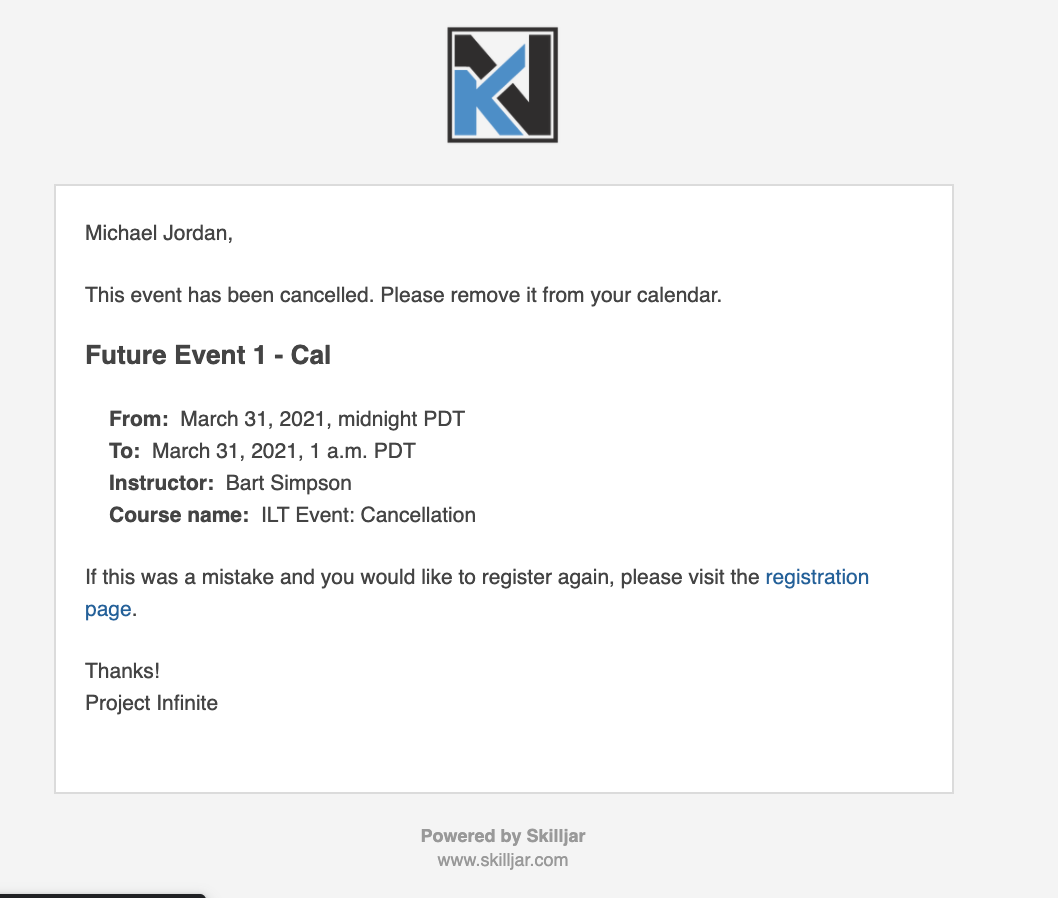 The event will be removed from the Live Training lesson (no longer listed as an option for registration).

The event will be removed from the Training Domain's Calendar ([academy]. [yourcompany].com/calendar).
Things to consider:
If a student launches the event from the training domain, the Live Event lesson will automatically be marked as 'attended'.
After an event, to manually update attendance, as well as set scores, or success statuses, check out this article: Update Scores, Success Status, and Attendance for a Past Live Training Event
If you have sequential navigation turned on for this course (where lessons must be taken in order), a user cannot proceed to the next lesson until they're marked attended.
If the event date/time has passed, the event will no longer be listed for students to select.
If you've reached the designated maximum seat total per event, the event will no longer be listed for students to select.
Students will not be able to register for a course if there are no seats left in any live training lesson, and publishing settings have enforced a limited checkout quantity based on available live training lesson seats.
While students typically self-register for live events, you can use our Add/Remove buttons from the dashboard to enlist or remove them on their behalf. Learn more.
The 'Launch Zoom Event' button becomes available for students to click 3 minutes before the meeting is set to start.