Manage live training event features and settings to customize and have even more control over your events and event communications. In this article, we'll review the live training event options available to you, such as how to allow instructors to create an event for students to join a training on a scheduled day and time, how to clone, cancel, and delete an event, and how to create reminder and update emails.
To learn more about creating a live event with a Universal Join Link, check out this article: Universal Join Link for Live Event Lessons (VILT). Learn more about Live Training Events at Live Event Training 101.
Create a Live Training lesson
Instructors can create a live training event as a lesson in their course.
On your Skilljar dashboard, select Course Management to open a list of your courses.
Select the course in which you want to provide a live training.
Select New lesson. On the flyout screen, select Live Training.





Under Events, select

Create Event

.



On the next page, input your event details:

Event name
Location
Start and End times
Available seats
Instructor name
Description





Optional

- Select

Create another event

to create more occurrences of your event, which

will all be unique training events on the same lesson, and fill in the details.





Note - these events are NOT related after they are created. At this time, each event created this way is independent and the lesson will be complete when the student attends any of the events in this lesson.

Tags

In the Tags section of the "Schedule Event" page: Type the tag(s) you want to add and associate with the event. Enter one tag per line; and/or:
Select the plus sign (+) in the Existing Tags section and select the existing tag(s) you want to associate with the event. Click here to learn more about Live Training Event Tags: Getting Started with Live Training Event Tags.



When you're finished, select Save and Continue Editing or Save to complete.
Your new event will now show under the curriculum tab within your lesson.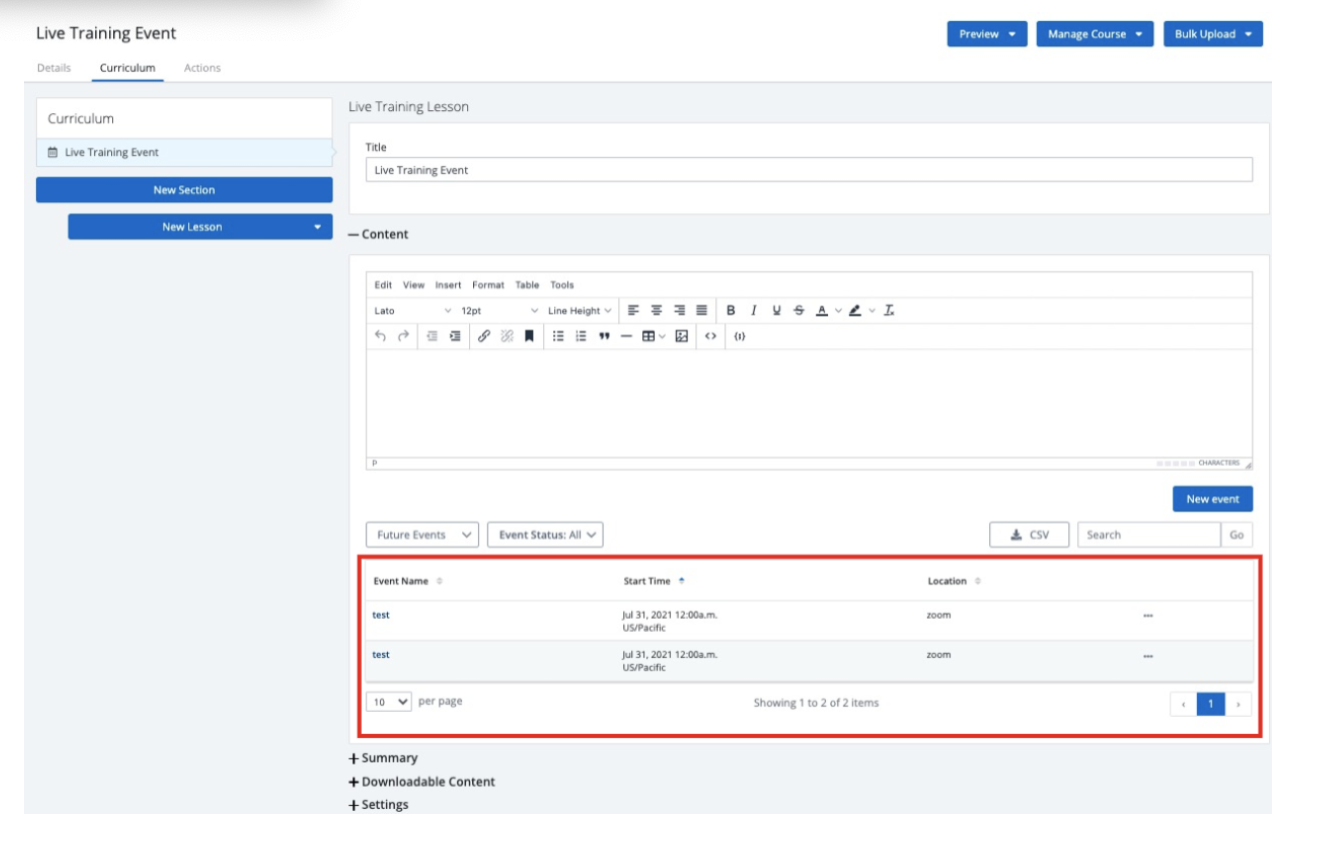 Clone, Cancel, or Delete Event
Once the event has been created you can clone, cancel or delete the event by selecting the three dots (...) to the right.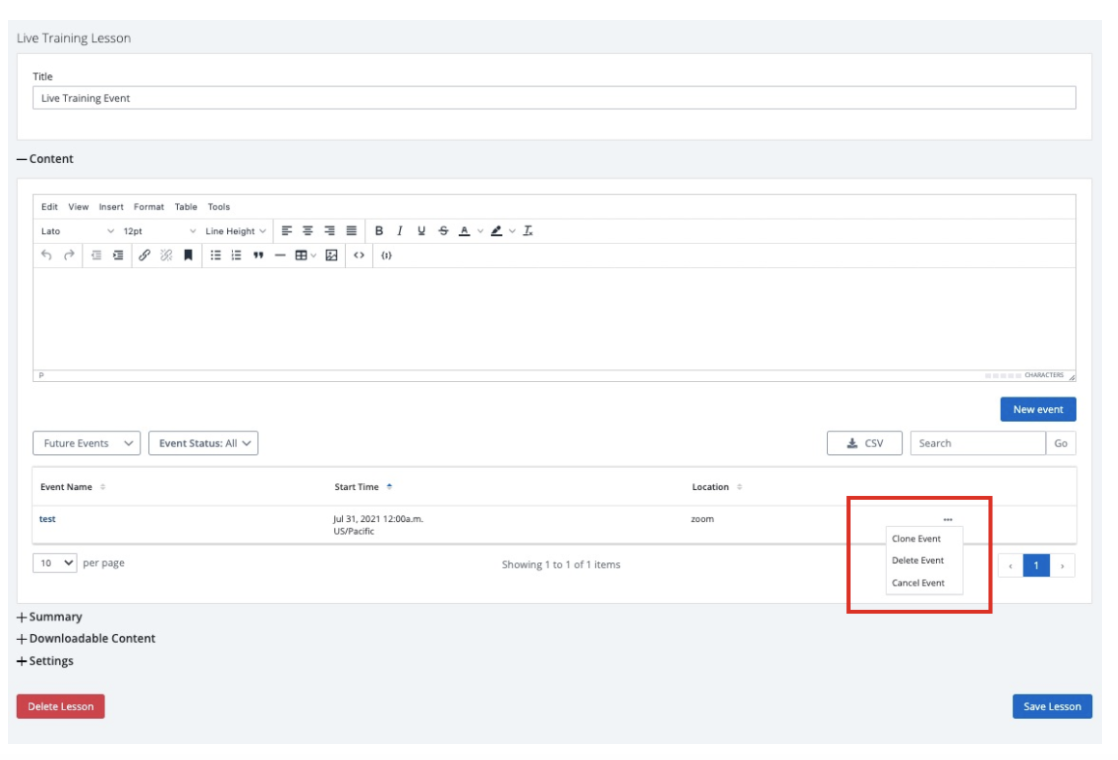 Note: Upon successful deletion or cancellation of an event, the instructor and any students that have already registered will receive an email notification of the cancellation.
Additional settings for Live Training Events
You can manage additional settings for your event by expanding the Settings header on the event's lesson creation page in your dashboard.
These options let you modify settings such as disabling automatic completion, making the lesson optional, sending an event reminder email to students, and automatically emailing instructors whenever a student registers or cancels their registration.
There are also further settings that can be added to your Skilljar dashboard, which provide you with the ability to add resources and prevent double booking. These include:
Enabling free-form VILT instructor creation.

Enabling location double booking for live training events.

Enabling free-form location creation for live training events.

Providing a list of instructors and locations.
If you're interested in adding the above settings to your organization, please reach out to your customer success manager (CSM).
Edit a Future Live Training Event
Clicking the Event Name in the first column of a Future Event takes you to the Event Details page and allows you to edit:
Start Date/Time
End Date/Time
Timezone
Total Seats (Optional)
Instructor
Description
Post-Registration Instructions
Tags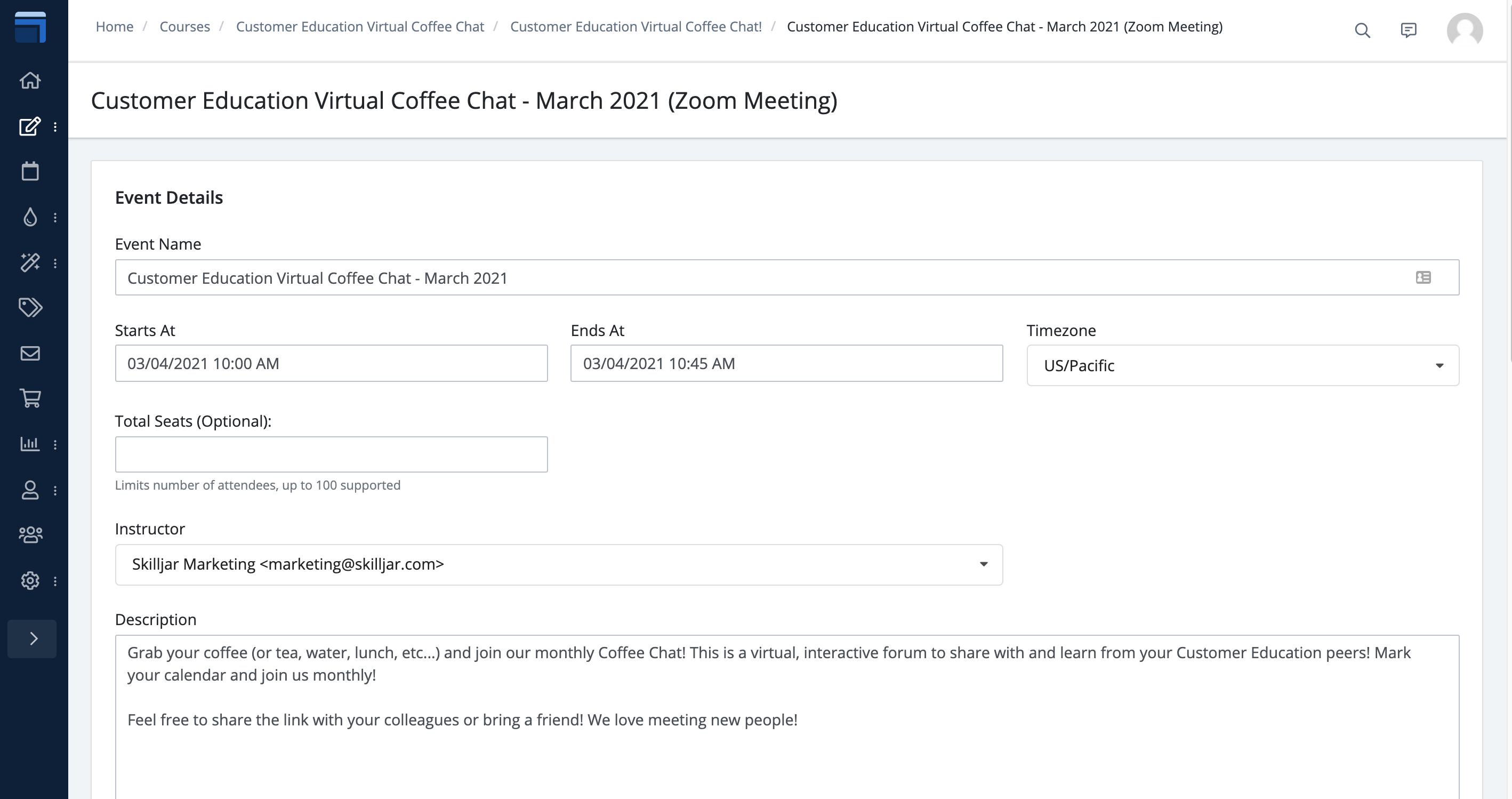 Any changes made will need to be saved to take effect.
FAQ
Who can Use this Feature?
Anyone who can edit courses can create more than one ILT event when adding events to an ILT lesson.
Why can I not save and Continue?
If you have added multiple events to the ILT lesson during the creation process, once these are saved, they are all distinct, unrelated events in Skilljar. Since we don't know which event you want to continue editing after the initial creation process, we do not allow a user to use the "Save and Continue" feature once they are creating more than one event.
When Cloning an event, Which course will it be a part of?
Cloning an event will create a new event on the same lesson/course that the cloned event came from. This cloned event will also be the same integration type as the original event (Cloning a Zoom Event creates a new Zoom Event).