When scheduling a Webex event within Skilljar, you'll be presented with a drop-down menu of all instructors/hosts that have granted scheduling permissions to the Administrator who has linked his/her account. If you don't see an instructor on your Skilljar account, there are two settings within your WebEx Control Hub account that may need to be changed.
Note: Instructors must have Webex permissions in order to schedule training for that instructor within Skilljar.
Schedule Meeting Options
To enable scheduling for different hosts, a Webex Control Hub site administrator must follow the below steps:
Enter the "Site Administration" section.
Select Common Site Settings and then Options.
Under "Schedule Meeting Options" make sure the "Users can let other users schedule meetings on their behalf" checkbox is checked.
Save the changes (select the Update button).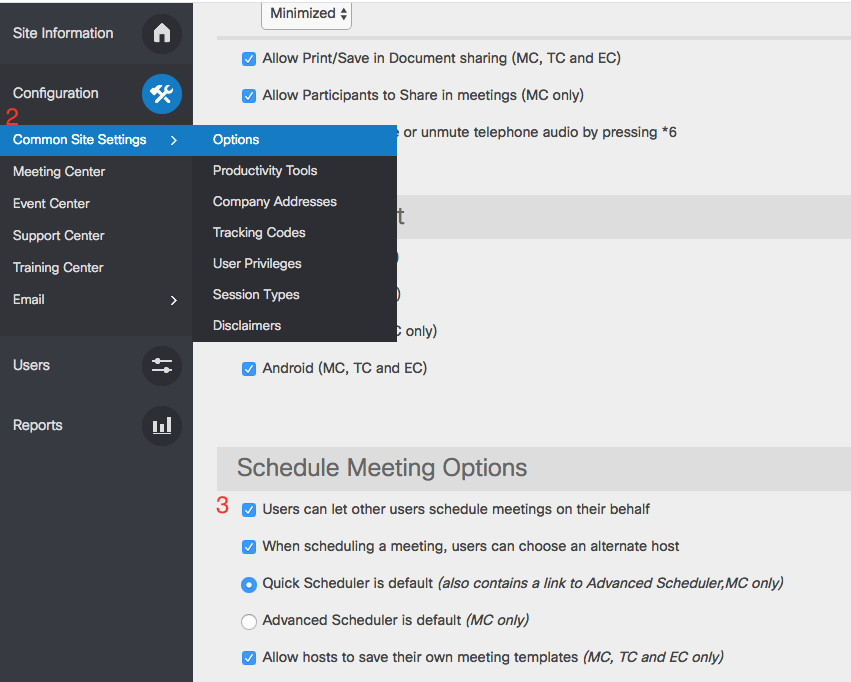 Adding Additional Hosts
If after changing the above options, you still do not see the host in your Skilljar dropdown menu, you can ask him/her to follow these steps in his/her WebEx Control Hub account to resolve the issue.
In your Webex Control Hub account, select My Webex at the top of the page.
Select Preferences on the left side.

Add the email address of the Administrator who has linked their Webex account to Skilljar.

Save the new settings.