After a live training, you can add attendance scores for each of your attendees one by one or in bulk.
To do so, start by navigating to the

Live Training area

of your dashboard. 

Toggle the date dropdown menu to find the specific webinar you're looking for.


Click on the name of the event you'd like to add scores for. 
To add attendance status and score one by one:
Select a Success status of Passed or Failed
Add a Score and a Maximum Score for the lesson
Click "Mark attended."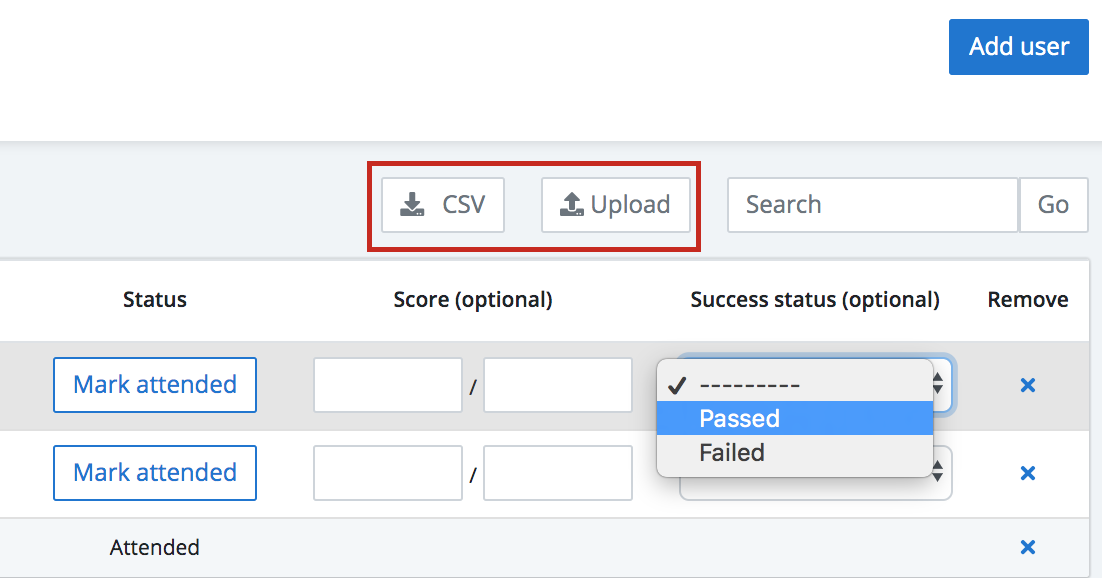 To add attendance status and score in bulk:
Download the CSV associated with the event by clicking on the CSV button on the top right.
You'll see that the names, email addresses and associated domain will already be populated in the CSV. Enter Attendance status by adding a "Y" for Attended and a "N" for Not Attended for each.
Optional: If there were scores associated with the training session, add the score for each attendee in the Score column and the maximum score for the session in Max_score. 
Optional: Enter PASSED or FAILED for the session for each student.

Once you've edited your Excel spreadsheet, save it and click Upload CSV on the top right of your Dashboard.
Click "Choose File" to add the CSV you've just edited and Click Save.