You can sell access to an entire training portal/domain through Skilljar using eCommerce payment tools like Stripe and Paypal. As an admin, you can designate the length of time that the purchased access is valid for.
This is helpful for subscription models, where you want to sell access to your entire course catalogue, and allow students to complete access for a designated amount of time.
Access to your training portal is managed in the Domains and Publishing section of your dashboard.
To sell access to your domain,
Go to Domains and Publishing
Click on the edit icon of the domain you'd like to begin restricting as shown in the picture below




Adjust the settings under the Access heading.
Select "Access code required: catalog is visible once the user signs up with an access code."
Select "Sell subscription to this domain?"
Enter a price for access.
Enter the maximum quantity you would like a user to purchase per transaction.
Assign an expiration for the access to the domain, following the purchase of the access codes.
Use the default Description for the domain as shown, or choose to override it by adding a description of your own. The Description and the SKU surface in the Order Report.
Select if you would like your Organization email to receive notification upon a learner's purchase of the domain.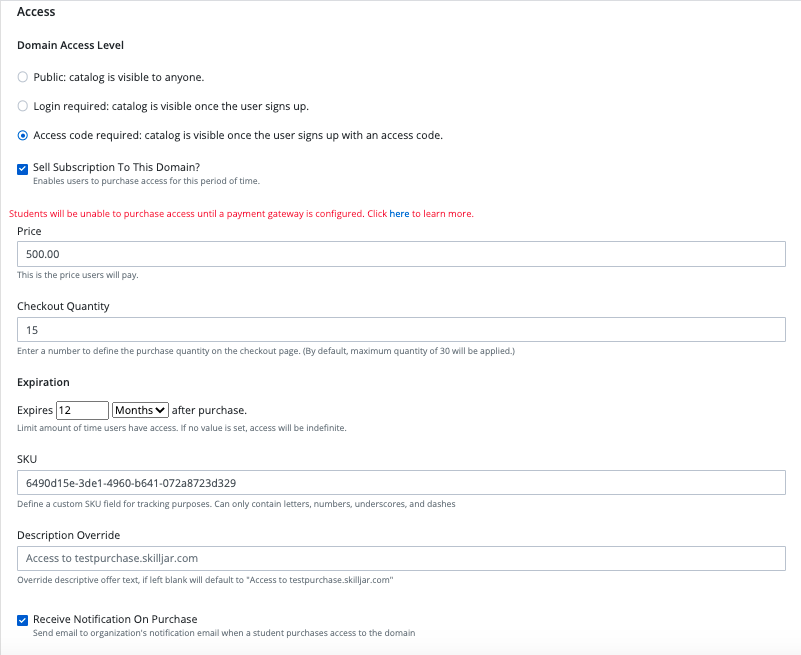 When students navigate to your training portal, they will be asked to sign in (or sign in via SSO) and purchase an access code. They can choose to purchase access for a group of students as well. The student experience can be seen below.
Click here to view more information on setting up payments in Skilljar.
Click here to learn more about creating promo codes for domain access.