Send custom receipts to your customers upon purchase of a course. Skilljar can generate a custom receipt template that can be applied to a Skilljar purchase. You can then download the receipt from the order reports detail page and send the PDF to your customer if requested.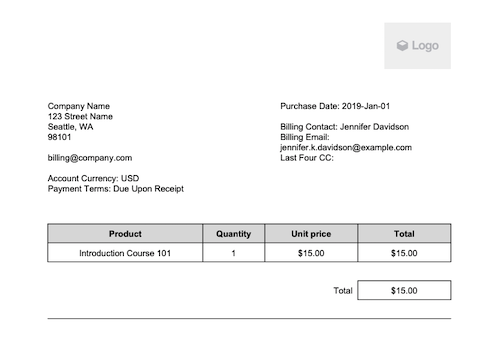 Crafting your custom receipt template
Reach out to Skilljar Support with the following information to get the process started.
Logo image that will appear on the receipt
Left and right header contents (2,000 character limit each)
Footer content (appears directly below separator line, 2,000 character limit)
This sample template illustrates the required structure and supported variables that can be placed in the text fields:

Downloading the custom receipt in the Skilljar Dashboard
Navigate to Order Report within the Skilljar Dashboard.
Select the Order ID that you would like to generate a custom receipt
Scroll to the bottom of the section to Receipt, and click Download PDF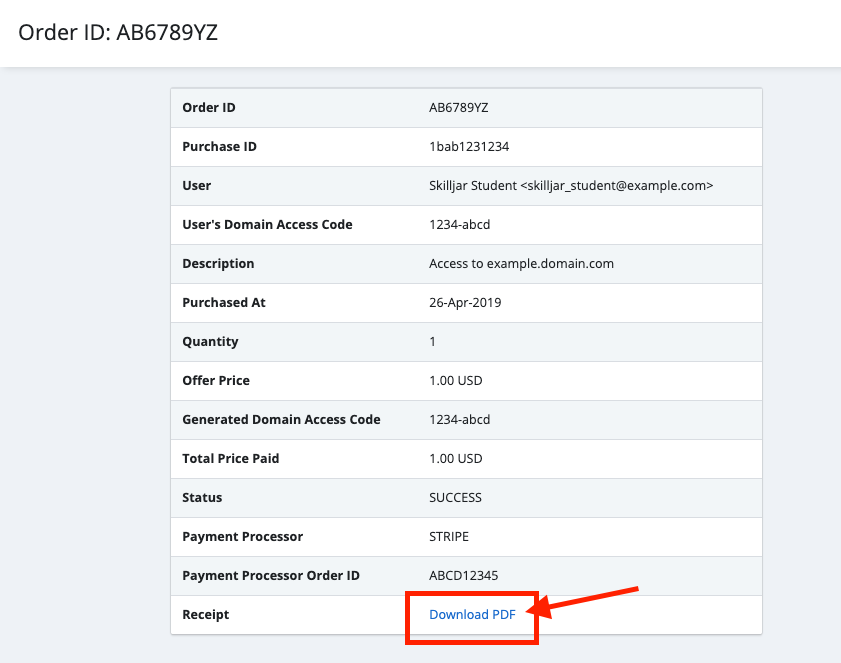 Frequently Asked Questions
How many receipt templates can be set up for an organization?
Only one receipt template can be set up for an organization.
What happens if the receipt template is changed?
If a receipt template is updated, then all newly downloaded receipts will use the new template. If a receipt has already been downloaded, downloading the same receipt from the order report detail will use the latest receipt template.
How else can I customize the receipt template?
The only customizable options are the logo, left column text, right column text and footer. No other elements are customizable.
How many characters can I put in the text boxes?
Currently, the text boxes support up to 2000 characters.