Internal Course Labels provide Dashboard users the ability to organize content in a global, flexible, and scalable way. You can easily create and assign labels to courses on the Skilljar Dashboard and use these labels to surface and find relevant information about the course. These labels are internal only and not visible to students.
Creating Course Labels
1. Navigate to Course Management and select an existing course or create a new course
2. Click on the Course Details section & navigate to the bottom of the page to "Labels"
3. Click Manage Labels

4. The Labels flyout opens on the right side of the screen. This is where you can enter in your new course labels or add existing labels.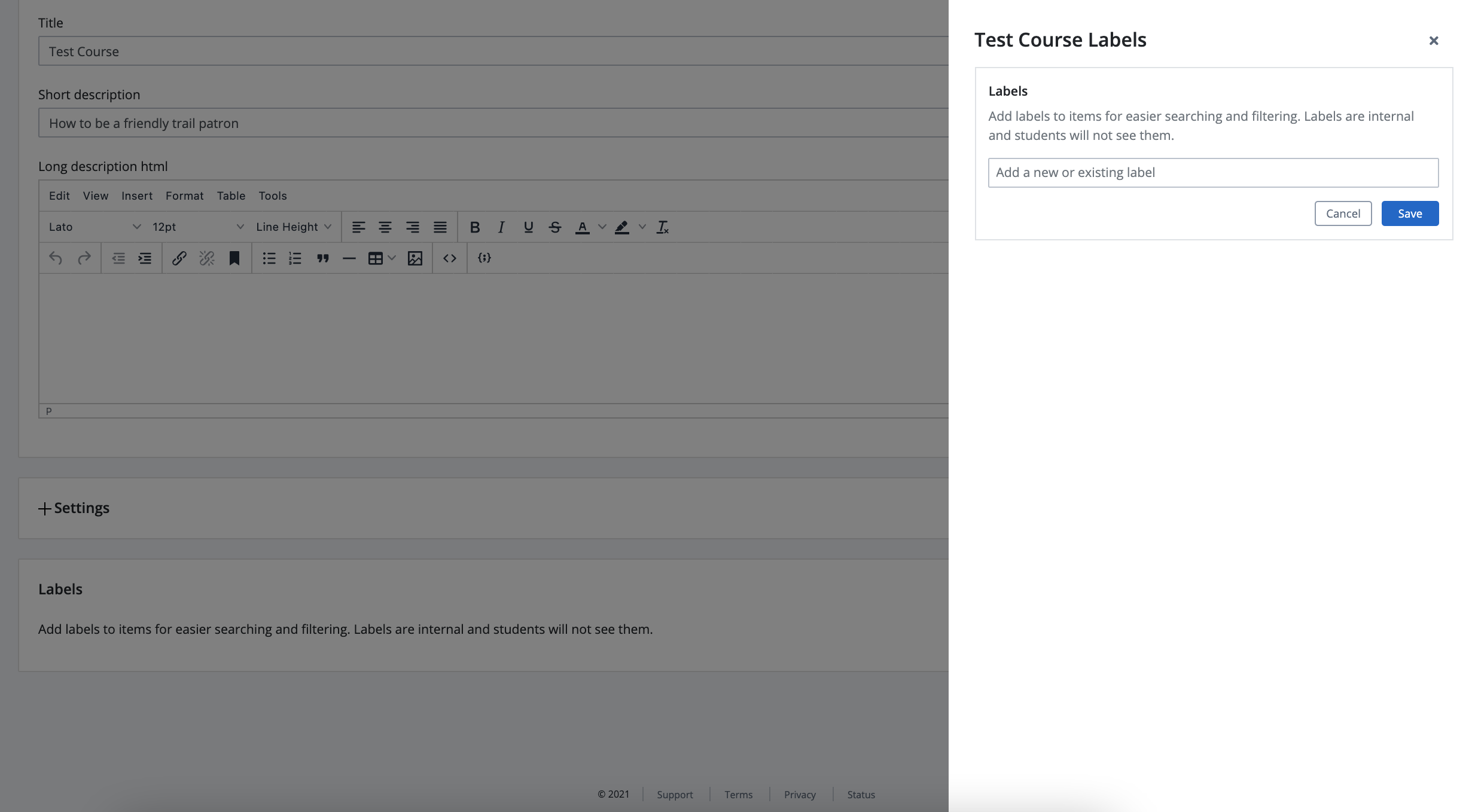 5. Type in the labels you would like to apply and press enter, tab, or a comma after each term to create the new label.
If you are using an existing label, a dropdown will appear so you can select the label instead of re-typing it.
If you no longer wish to use a label, just click the "x" and it will be removed from this course.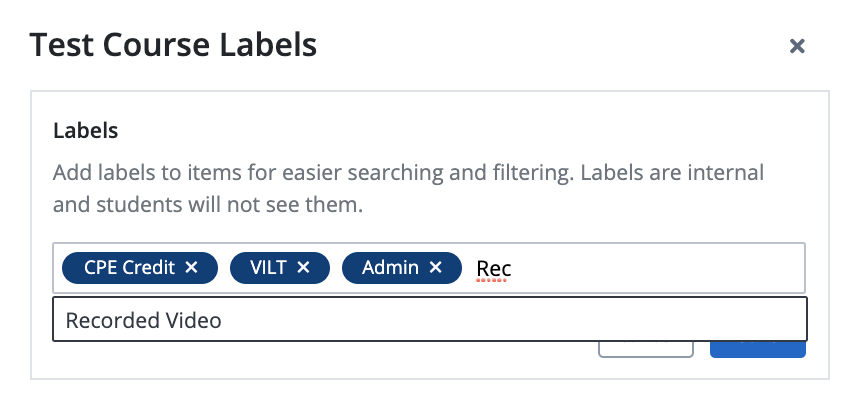 6. Click Save
Viewing & Editing Course Labels
Individual Courses
You can view which labels have been applied to your individual courses by going to Course Management > Course Details > Labels.

OR
Click on the ellipses next to your course name on the right of your screen and click Manage Labels.

From there, the Labels flyout will be visible and you can add/remove labels as needed.

Searching for Courses with Specific Labels
You can easily find courses with specific labels under Course Management using the new Labels dropdown selector:

Note: The Course Label filtering logic uses AND logic when multiple labels are selected. The search will only display courses that have the exact labels assigned.
Example -
Course 1 has A, B, C labels

Course 2 has A, B, C labels

Course 3 has A, B labels
- You select A and B labels to filter on. All three courses will appear in the result. However, if you select A, B, and C, labels only Course 1 and Course 2 will display in the results.

The labels in the Label Filter are presented in alphabetical order.
FAQ
Are labels case sensitive?
Yes, they are. For example, using "VILT" vs "vilt" will result in two distinct labels being created.
How many labels can be applied to a course?
You can apply up to 64 labels per individual course. There is also a limit of 5000 labels per organization.
Who can manage and edit labels?
Currently, Dashboard Admins and Content Managers can add, edit, and remove labels.
Can I copy and paste a list of labels in?
Yes! We support copy & paste, typeahead auto-complete/auto-suggest functionality.