When a student reaches their maximum number of attempts on a quiz, Skilljar Dashboard Admins with access to the Students tab can grant them an unlimited number of extra attempts.
For this article, we'll walk you through how you can enable additional quiz attempts by editing the student's profile in the Skilljar Dashboard.
You can learn more about quizzes at Understanding Quizzes and Find, Edit, or Delete an Existing Quiz.
Contents
When would I need to add additional quiz attempts?
When creating a quiz, you can set the maximum number of times a student can attempt to take it. For example, you set the max number of attempts to 10, and once the student has taken and failed the quiz 10 times, they're no longer given the option to take it again.

The "Take this quiz again" link is no longer visible.
There may be times where you want your student to take a quiz again after they've reached their maximum number of attempts. You can do this by adjusting the settings and adding an unlimited number of extra attempts via the Students section within your Skilljar Dashboard.
Note: This option will only add extra attempts to the specific quiz and course enrollment. If you're using the quiz in other courses, the student won't have extra attempts while taking those courses unless you also edit the quiz for that enrollment.
How do I add additional quiz attempts?
To add more quiz attempts, follow these steps:
1. Go to your Skilljar Dashboard and select the Students tab on the left, and then the Students option.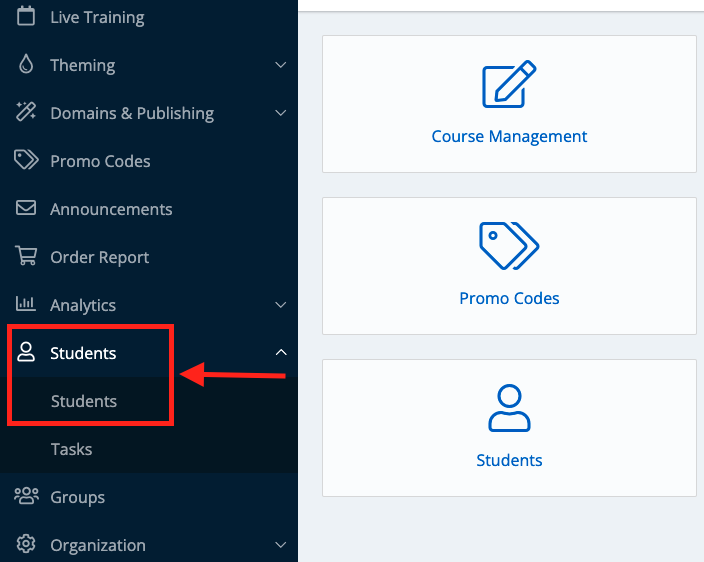 2. Select the student from the list under Student Name to access their profile.

3. Select the course enrollment containing the quiz. You should see the Failed Quiz screen and the student's quiz results in the Lesson Progress table.
4. Select Edit on the right to access the options.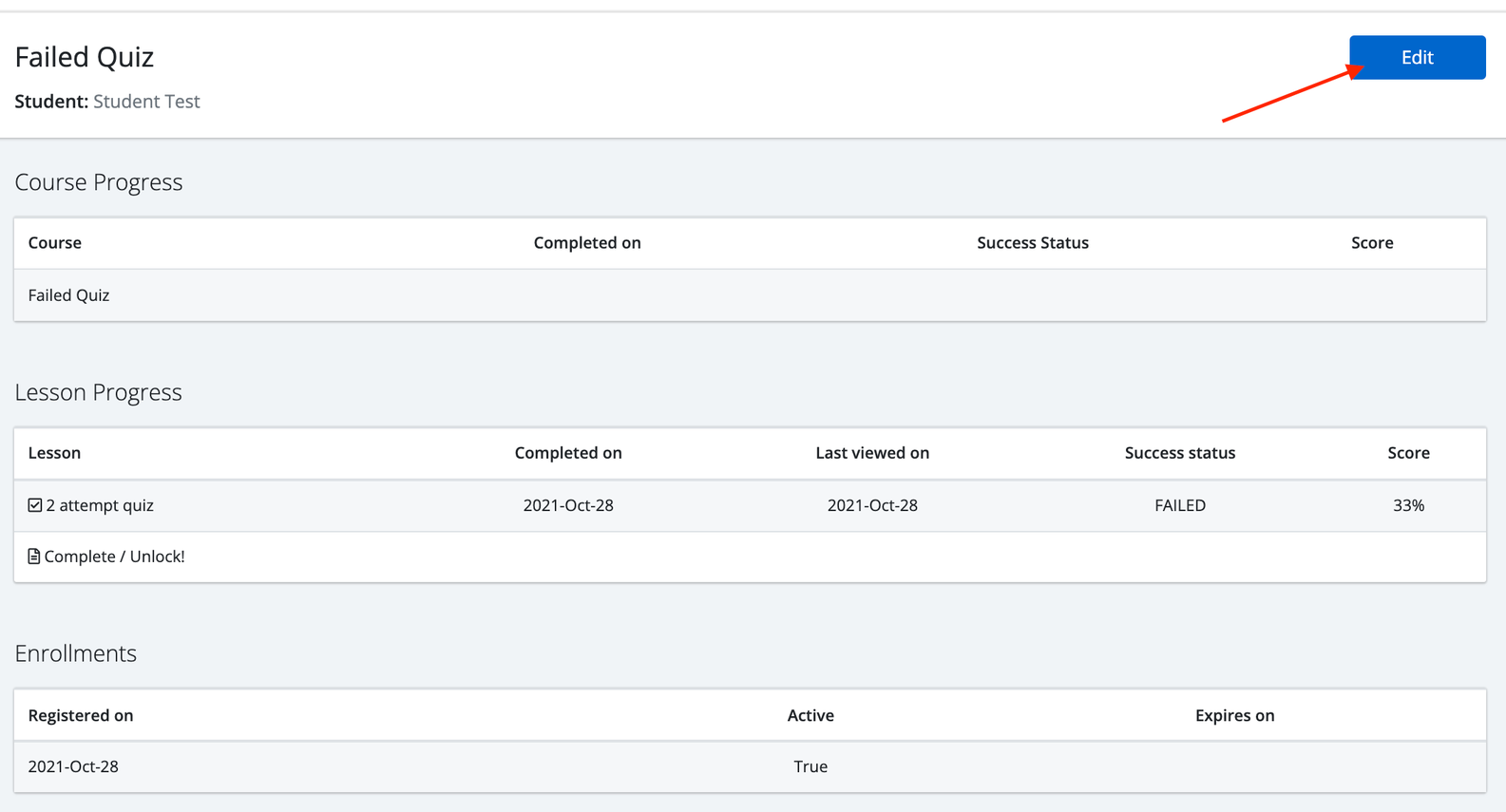 5. Select the ellipsis (...) on the right of the quiz and then Add Quiz Attempt from the drop-down selection. This will add one (1) extra quiz attempt to your student's course progress in this enrollment.
6. A green text box will appear to confirm the additional quiz attempt has been added.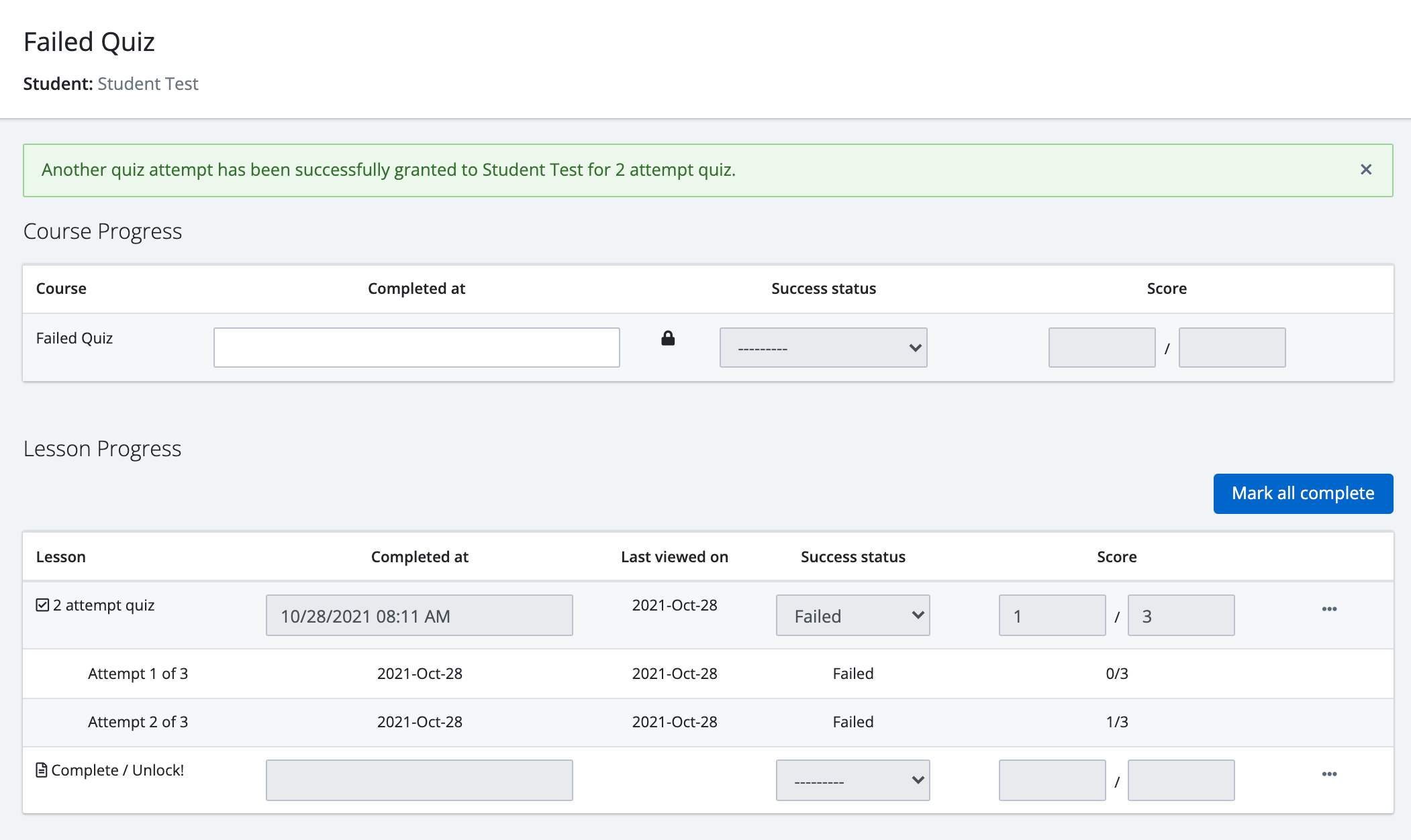 7. To add additional quiz attempts, repeat the previous step (6).
8. Select Save to complete.
The change will take immediate effect and students will see the option to re-take the quiz the next time they reload the lesson.
Note: When a student passes their additional quiz attempt and also passes the course, you must manually update the success status box to "Passed" within the Course Progress section.