Please note:
Training credits need to be enabled by your customer success manager (CSM). Please reach out to your implementation manager or CSM if you are interested in learning more or turning this feature on for your organization.
Training Credits can be created by Skilljar dashboard admins and be redeemed by learners to use as currency to gain access to paid training courses, plans, and paths. In this article, we'll describe what training credits are, how to create and manage them, and how to report on their usage.
To learn how students can use training credits to purchase content within your training platform, see Training Credits - For Learners.
You can also learn more about training credits via our Skilljar Academy course.
What are training credits?
Training credits are codes, used as a monetization method that can be sold (outside of Skilljar) and be redeemed by learners to gain access to paid training within your Skilljar learning platform. Each code has a credit balance, and each time a learner purchases content with a credit code to access training, the credit value of the content will be deducted from the code's credit balance.
Training credits are ideal if you want to allow your customers to bulk purchase training content value, and allow individual students to take training without having to input their credit card details.
Note: For information regarding payment processing and how learners pay for content with monetary means, see one of these Help Center articles:
A few more benefits of training credits include:
Expiry dates: You can add an expiry date to credit codes so they're

no longer usable after the date has passed.

Access Expiration: You can also use the code expiry date to apply to any enrollments generated using the credit code. This optional setting means that learners will lose access to the content they have purchased with the credit codes after the date has passed.
Tracking ID: Visible to admins only, tracking IDs can be used to track the purchase order (PO) or other external financial information.
Credit value: You can set the value of your published training content by assigning how many credits each is 'worth.' This value will be deducted from the learner's credit code when they use it to make the purchase.
Permissions: You can specify if training credits can be used only by specific

groups and

p

ublished content offers,

or

make them usable by everyone for everything.
How do training credits work?
To use training credits, learners simply apply their training credit code during checkout on the training site and purchase training content as they normally would. Each time a learner uses a credit code for your training content, the value of the content is deducted from their code's balance.
To learn how students can use training credits to purchase content within your training platform, see How to Use Training Credits - For Learners.
Invalid codes
The credit code must be valid and meet the value of the content in order to be redeemed. If it's not valid or doesn't have enough value to complete the transaction, the learner will receive a message telling them and will need to get a new code from the learning administrator.
Additionally, if a student tries to use a credit code that they do not have permission to use, they will receive an invalid code message.
Access expiration
If the Credit code has been set to Remove Access to offers when the code expires, the Learner will lose access to the training content they have purchased after this code expiration date has passed. This will override the default enrollment expiration settings that are set in the Publishing settings.
The Learner will be able to purchase access to the content again after their access has expired if the published content allows another enrollment to be purchased.
How to create and manage training credits
Admins (and anyone with access to the codes section) can create and edit codes within their Skilljar dashboard.
How to create a new training credit code
Go to your Skilljar dashboard.
Select the Codes header to expand it and then select Training Credits to open the Training Credits page, including a table listing any current credit codes.




On the Training Credits page, select Create New Credit Code to reveal the Credit Code screen.



Complete the below fields to create your code. A tick will appear to confirm that your selection is valid.

Training Credit Code: Enter your own code or select Generate Random Code. This is the code the learner will enter when they redeem the code.

Note: this string must be unique across your credit and promo codes, and cannot be changed once this code has been saved.

Total Credits: This is how many credits will be in the initial code balance, prior to any student redeeming this code.
Expiration Date: If you want the code to expire on a certain date, enter the date here. You can also select whether to remove access to content the code was redeemed on after the code expires.
Groups: Use the drop-down selection to choose whether the code is available to all of your groups or only certain groups. To choose a specific group, select Specific Groups, expand the Your Groups option and then choose the group(s) you want to include.
Offers: Use the drop-down selection to choose whether the code can be redeemed on all of your current and future offers, or just specific offers. To choose a specific offer, select. Specific Offers, expand the Your Offers option and then choose the offer(s) you want to include.
Tracking Identifier: (Optional) Enter a tracking code of your choice into this box to track the credit code's purchase order or other sales-related items.





Once you're finished, select Save Credit Code to generate the code. It will then appear in the table on the Training Credits page.


How to manage training credits
Follow the above steps to access the Training Credits page. From this page, you'll see a table listing all of your credit codes, their balance, expiration dates, and any groups they're associated with.
To access more info and options for each code, select the ellipsis icon (...) to the right within the table.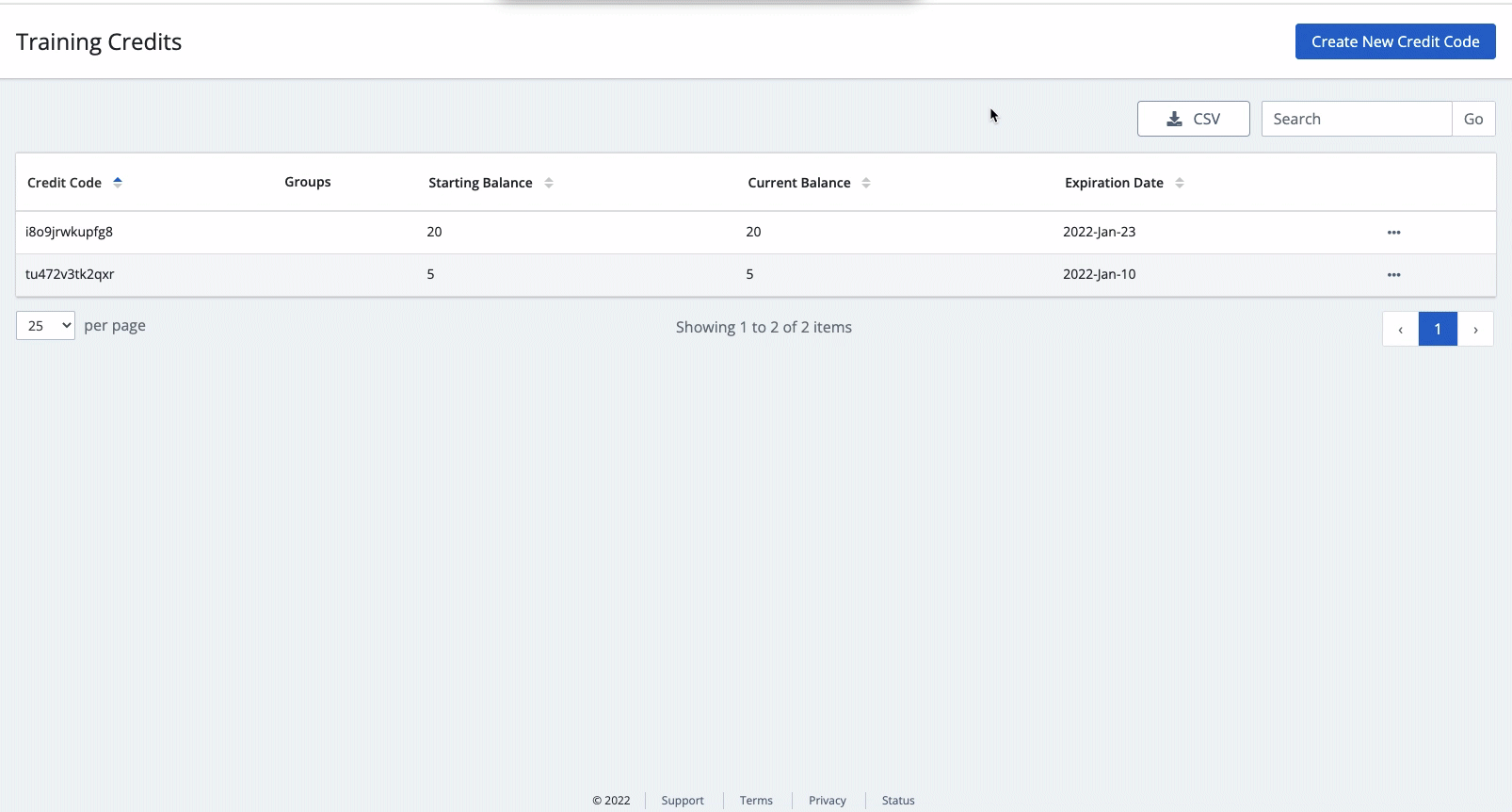 Admins can edit existing credit codes, and can update any of the fields on this code with the following Exceptions:
Credit code string - This is not editable as this is what learners use to redeem credit codes.

Total Credit Balance cannot be set to a lower value than the number of already redeemed credits on this code. You'll see a message noting how many credits have been redeemed next to the Total Credits box.


Note: Credit codes can't be deleted as this can potentially impact credit usage reporting. See Reporting on credit usage below.


Publishing Settings for Offers with Credits
While publishing content offerings, Skilljar dashboard admins (and users with access to 'Domains and Publishing') can select the various purchase settings on an offer depending on if they want to have a monetary price, credit price, or promo codes associated with the published offer. To do this:
Go to your Skilljar dashboard.
Select Domains & Publishing.
Find the domain you want to manage and select Published Courses.

Select the course from the list.

Scroll down to Purchase Settings and check the Add a Credit Value box.

In the new box, enter the number of credits needed to register for the course.

When you're finished, select Save or Save and Continue to apply your changes.
You don't need eCommerce integrations to set and use training credits. You can set credit values only for published offers, which would enable transactions without a payment processor integration.
Reporting on credit usage
Skilljar will record the transactions for credit purchases and make it easy to provide this relevant information to your finance teams and learning administrators. You can view and filter for credit purchase transactions via your order report.
You can view your order report and the transactions by going to the Training Credits page within your dashboard, selecting
the ellipsis icon (...) by a credit code within the table, and selecting View Order Report. This will show you a
filtered view of all transactions using that specific credit code string.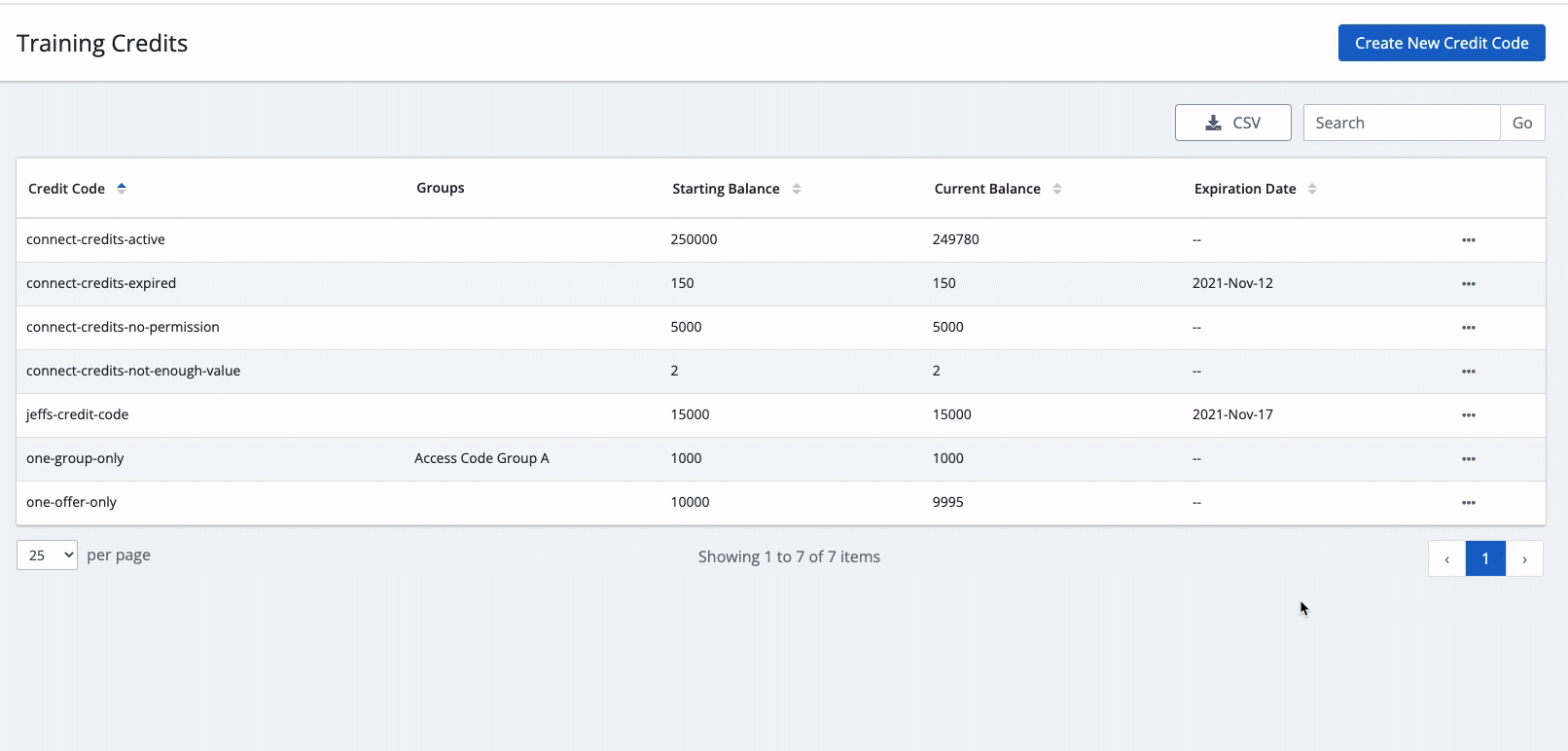 You can also download your order report by selecting the
CSV Download
button. This provides a file with all the relevant data about the purchase, including the code used, the number of credits redeemed, and the external ID string.